I'm not sure how to guide you to read this. JR was born in Bangkok, Thailand, far away from the grandparents. The days leading up to the birth were eventful. Clae wrote a letter to her parents describing the events and I wrote to my parents. I have found the two letters and they almost need to be read together to make the most sense. I published my letter as Ponogram #29 – 1969 - Year of the Rooster and here is Clae's letter. You will have to decide the order in which you read, but you should read both.
You will find editorial comments at the end of both P-grams to help you interpret the text.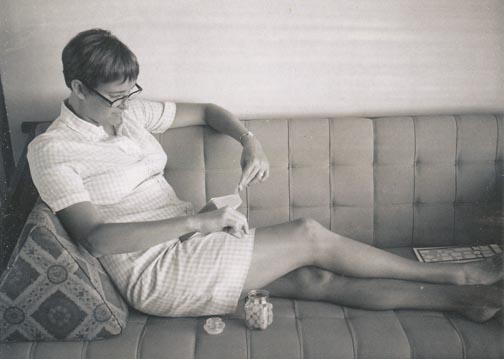 Clae in Bangkok with JR cooking

Dear Mom & Dad,

Well, J.R. and I are finally home from the hospital. We are both well and happy. Fortunately for Norm and me, J.R. is a very good baby. He cries every 4-5 hours until fed & changed, and cries when being changed or bathed. Other than that he either sleeps or lays awake happily as long as he can see someone.

Let me tell you about my "operation" or "how I spent my summer vacation."

I gained quite a bit of weight with the pregnancy (max 36 lbs) and one of the clinic Drs I saw was concerned that I might develop toxemia. There are four stages of toxemia, 1) excessive weight gain, 2) water retention – swelling of hands and feet, 3) high blood pressure, 4) passing of protein in the urine. Each of these steps is more serious than the one before, and the fourth can kill the mother or baby. Toxemia is an illness of pregnancy and all traces disappear after delivery.

I had been taking diuretics for about a month before my last office visit, and still was swelling in my hands and feet.

On Oct. 27th I went to the Dr, and my blood pressure was up, so the Dr tried to get me in the hosp that day. There were no rooms, so it was arranged for me to have one the next day.

The purpose of my stay was so they could watch my blood pressure and give me stronger medicine to clean out the water. After that was done (in 3-5 days) they wanted to induce labor and thus prevent any harm to J.R. and me.

So! Tuesday back to the hosp. There still wasn't a room, so Dr Gibson was paged. He said for them to put me in the Intensive Care Unit until a room was ready. This was at 10AM. Norm stayed with me, and we both agreed I should stay dressed until moved. At 5:30PM we were still in ICU and no room was available. I didn't think much of spending the night in ICU, and Norm didn't want to leave me there so he tried to reach Dr Gibson and couldn't. He then asked the nurses if there was any medication I needed during the night. When they said no, he took me by the arm and we left the hosp. The nurses all stood around with their mouths open.

Wednesday morning we came back and a room was available. I didn't see Dr Gibson until Thursday evening. I couldn't help but wonder how important it was for me to be there when he hadn't seen me since Tues morn, and then in the admitting office.

He told me Thurs that they would move me from the surgical ward to O.B. Friday, then induce labor Sunday. By Fri evening the nurses kept asking if I wanted to go home or at least off their floor. I asked about Dr Gibson and was told he was on vacation for 3 days.

Somehow the nurses got coordinated and I was moved to O.B. Sunday afternoon a nurse came and told me they were going to induce me. I told them like hell, not until I talk to Dr Gibson! Well, scurry, scurry, scurry, and Dr Gibson was on the phone and in town, so down to the labor room I went after calling Norm, who sped to the hosp so he wouldn't miss seeing his child born.

Well – it turns out that to induce labor is not just to give a shot in the arm. In fact it's a lot more than that. A 1-2cc ampule of medicine is put in 1000cc's of dextrose, then this is given intravenously through the large blood vessel just above the wrist. This causes the women to have contractions about every 5 minutes. Such fun. For 6 hours I had that thing in my arm. The Dr said I probably wouldn't have the baby until Tuesday so Norm went home. Monday 3 ampules were put in 1000cc of dextrose, and I lay there for 11 hours with contractions every 5 minutes. A half hour after they took the needle out my contractions stopped. Norm again went home, and I went to sleep while visions of IVs danced thru my head.

Monday while I was laying there like a stuck pig, Dr Gibson stopped by long enough to tell me he was going out of town that evening for three weeks, but Dr Youngberg would be back in town sometime Tuesday.

About 3AM Tuesday I started having labor pains, Dr Youngberg reported in at 3PM and I had J.R. at 3:19PM. How's that for cutting it close?

Both Norm and I are very impressed with Dr Youngberg.

Norm was able to be with me in the labor room and in the delivery room.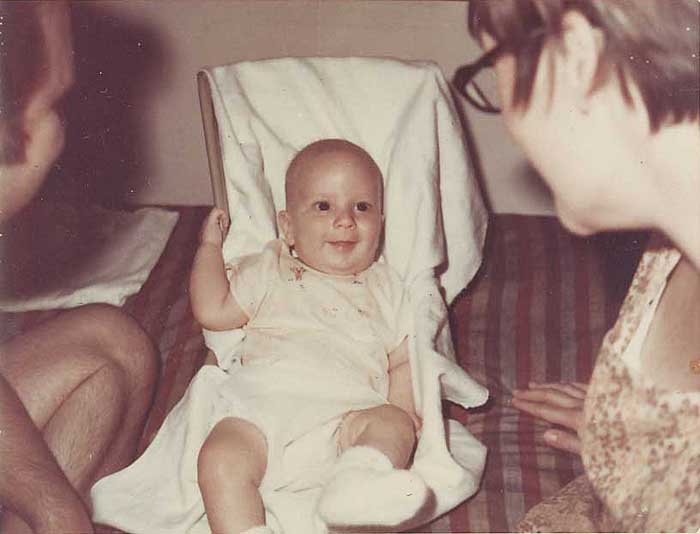 JR (about 3 mo old) with Norm and Clae

From Mon 10/27 until J.R. was born I lost 11 pounds, and by Sun 11/9 when I went home I'd lost an additional 12 pounds.

The hospital is a 7th Day Adventist missionary hosp. They do not eat meat of any sort, so the diet there was not quite like at home. It sure helps one diet, however.

For the12 days I was in the hosp Norm came to see me every lunch and dinner. We had an extra tray for dinner so he could "eat" too. Poor man. Between work, seeing me, and doing chores I normally do he had just enough time to get some sleep.

Good thing I got "sick" here. Our bill included the drs, circumcision, food, medication, anesthesia, private air conditioned room etc for 12 days, and totaled $327.61! I hate to think what it would have been at home.

The entire pregnancy cost $385.00.

Mom, you started writing every day just in time. I got your letters while I wasn't feeling well, and they sure were a bright spot. I had to have a baby before Norm let me hear what happened when dad went to the john in Las Vegas. It was worth it all the way around.

J.R. is one week old today, and has been home for 2 ½ days. So far the only casualty is a pin in mommie's finger. Not too bad for people who don't know what they're doing.

Our livingroom floor is soon going to have a rut worn in it.

Most of the neighbor ladies have made their calls, and now all the maids, drivers, gardeners, etc are appearing. All the female servants refer to J.R. as "our son", and all the males refer to him as "our brother". Any day now I expect the monks to show up and bestow their blessings. All the pertinent data such as sex & day of birth have already been given the monks. They predict he will be smart and "big like a soldier officer". Tuesday is a lucky day for boys to be born, and a boy for a first child is lucky, etc., etc., etc.

Norm's leaving for work now so I must close. More later.

Love Norm, Claire, & J.R.

Editorial Comments

ICU: Putting Clae in the Intensive Care Unit distressed Clae, but it scared me silly. The place was chaotic, the bed she was in had someone else's name and ailment record on it, and some of the nurses knew very little English. If we had left Clae there overnight, I could just see some poor nurse come in with medication or treatment for the person identified on the bed, and end up giving her something that could injure her or the baby! Normally Clae would not have let that happen, but if she was half asleep – yikes! We had to take her home! (This was copied from P-gram #29.)

Meals: Shortly after JR's birth we learned that a lady we knew had been in the same hospital as Clae. Her husband made arrangements for real food dinners to be delivered to his wife. I didn't.

Clae's dad in john: I honestly have no idea what that refers to.

Monks: Monks do not beg! They roam the streets every day, accepting. Our maids like every other Thai make sure the monks are offered their share. The monks are thus a part of the neighborhood and are made aware of events by those who provide their sustenance.

AFTERWORD

I hope you will read (reread) both Ponogram #29 and this one and then send me your comments. I have a feeling JR will look forward to your comments as well.