Clarence Carl Sandin was born in Bessemer, MI on February 17, 1897. His parents were Charles Eric Sandin and Hilma Leontina Anderson. (Hilma was born Jansdotter, may have used Johnson in the USA, but most likely used Anderson, her father's surname.) Clarence married Mamie Eleanora Tillner on December 26, 1917. They had four children. The children in birth order are Jean Shirley, Clarence Carl, Jr., Neil Charles Jay (aka, Bud), and Norman Albert (more recently known as Pono).
Dad was 5' 10" tall and weighed about 160 pounds except for certain periods when he gained a bit more. He had a proud bearing and purposeful stride. He had male pattern baldness starting in his 30s and died with just a fringe of white hair. Dad was a life member of Perry Lodge #350, Free and Accepted Masons.
BIRTH DATE

DATE OF DEATH

AGE AT DEATH

Clarence Carl

2/17/1897

8/2/1990

93

Mamie Eleanora

7/17/1896

9/29/1993

97

Jean Shirley

5/27/1919

7/22/1985

65

Clarence Carl, Jr.

11/27/1921

11/28/1921

infant

Neil Charles Jay

7/29/1923

4/28/2004

80

Norman Albert

9/11/1933

Hanging

in there!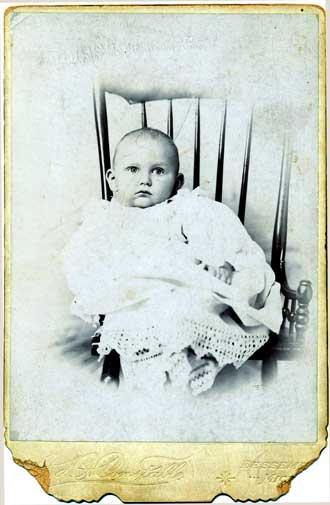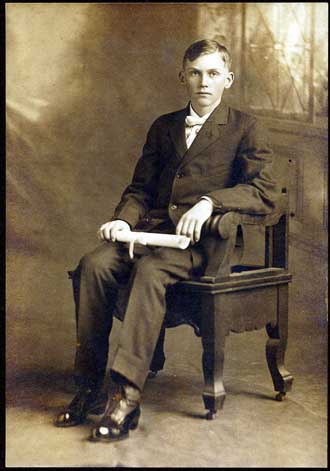 Clarence in October 1897 Clarence at Confirmation in 1912
Dad quit school during or after the eighth grade, in about 1911. He pursued many things in an effort to make a living. He was a house painter working for his Uncle Eckman and a clerk at the Anvil store where he also did grocery delivery. He worked for the Standard Oil distributor in Duluth, MN (and probably stayed with the Danielsons) for some time just before going into the Army in 1919.
He served in the Army for just a few months and was discharged at the end of WWI. He was stationed at Fort Custer, near Battle Creek, MI, and never left the United States. He was in Company E, 14th Ammunition Train, 14th Division. One of his duties was to accompany the remains of dead soldiers to their homes. Mom joined him in Battle Creek and worked at Kellogg's.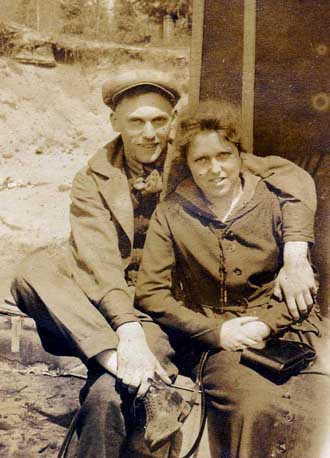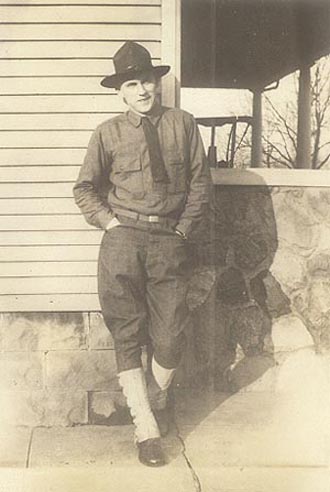 Clarence & Mamie in about 1918 Clarence in the Army in 1919
After his discharge he worked at the Anvil Location iron mine (Youngstown Mines Corporation) where he drove horses, trucks, and an ambulance on the surface, and was also a diamond drill operator in the mine. He probably sold suits for a while concurrent with other jobs.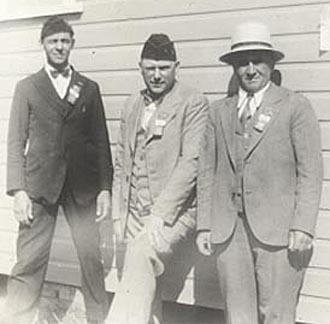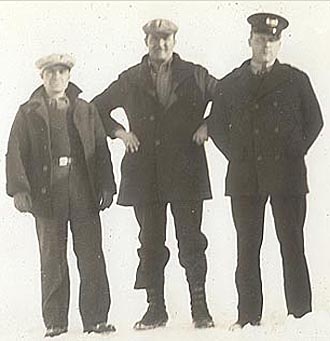 Clarence (center) in American Legion ~1924 Clarence (right) as a Constable
Dad was interested in politics and sought to get into public office. To enhance his chances, he became a Watkins products salesman in 1929. This door to door activity gave him the opportunity to meet and make himself known to many people. He also served as a constable in Ramsay. He joined the Ramsay post of the American Legion and became Commander. These exposures worked, since in 1930 he was elected and served as Township Clerk.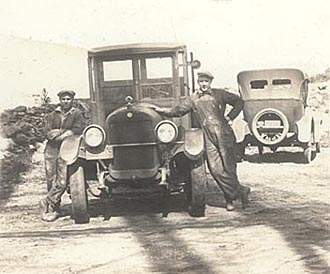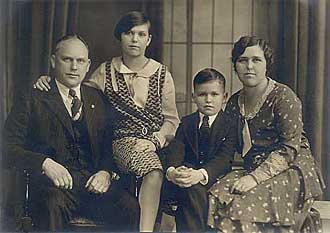 Clarence in ~1920 as a truck driver Clarence, Jean, Bud, Mamie in ~1930
In 1933, Dad got a position with the Michigan State Highway Department (now the Michigan Department of Transportation), where he remained occupying a variety of positions until his retirement in 1962. He started out as a rodman on a survey crew making $100 a month. In this position, he helped to establish the centerline for the western half of US 2 through the swamps and forests of the Upper Peninsula of Michigan. In early 1941, he worked on the original survey for the Mackinac Straits Bridge. He often told of driving the truck across the ice with the door open in case of a crack. They took depth soundings of the straits.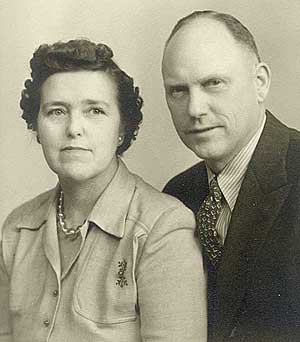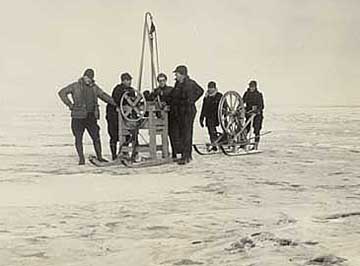 Mamie and Clarence in ~1935 Clarence (left) on the ice of Mackinac Straits ~1941
Dad recognized the need to stay mobile when working for the MSHD, so he built a house trailer soon after joining them. We stayed in the trailer one summer parked by Massati's cottage between Wakefield and Marenisco, another period at the Gogebic County Park on Lake Gogebic, and another at Gladstone in 37-38 when I was in Kindergarten. These brief stays were a harbinger of things to come. Jean and Hub moved into the trailer behind our house in Anvil when they married
In early 1940, Dad, Mom, and I moved into the trailer and Jean, Hub, and Sandra took over the house in Anvil. Bud was a senior in Bessemer High School and elected to stay in Anvil to finish. He stayed with the Tillners and with Grandpa Sandin and Lucile for varying periods of time while Dad, Mom, and I took off. From that time until we bought a house in Perry, MI, we lived in the trailer in (approximately) 20 different towns and I went to 15 different schools.
At some point, Dad got involved with highway construction during the summers and became known as one of the leading concrete slab inspectors in the state. During WWII he worked on the critical expressways that serviced the Willow Run Bomber Plant near Ypsilanti. He also spent some time as an inspector in the storm sewer system under the city of Detroit.
In the late 40's, Dad secured a wintertime position working in the MSHD experimental laboratory at Michigan State University in East Lansing, returning to the highways in the construction season.
Eventually he took over the MSHD supplies depot for the entire state located in Lansing. He occupied that position as departmental executive until his retirement in 1962. Jean, her daughter Sandy, Bud, his wife Jo, Mom and I all attended his retirement luncheon in Lansing.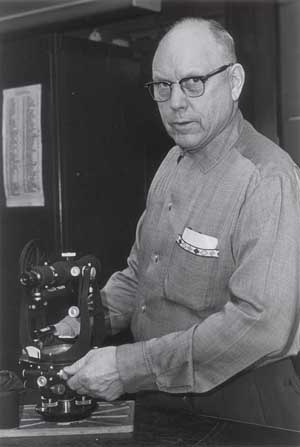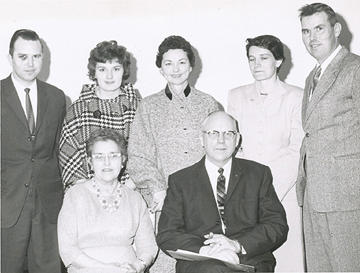 Clarence in MSHD lab ~1960 Norm, Sandy, Jean, Jo, Bud, Mamie, Clarence in 1962
Mom attended Michigan State Normal College in Ypsilanti for two years after high school and obtained a teaching credential. She taught some in the Bessemer area including night school for immigrants going for US citizenship. As we started traveling, Mom took a hiatus from teaching. In Melvindale in 1945, she did some substitute teaching, and in 1946 got a full time position teaching second grade in Perry. She continued to pursue educational opportunities and in 1952 obtained a Bachelor of Science degree from Michigan State Normal College. Mom continued to teach until her retirement in 1962.
Mom and Dad had anticipated retirement. They bought a cottage on Lake Gogebic in the UP and spent vacations getting it ready for permanent occupancy. They sold their house in Perry and moved into an apartment above the Perry bank to make themselves more mobile. In 1962, Mom retired at the end of the school year, Dad retired, I graduated from MSU and went off to Europe for the summer, and Mom and Dad moved to Lake Gogebic.
Initially, they stayed at the lake all year, theirs being one of a very few cottages occupied through the winter. Their friends the Pagodas lived just down M63 from them, and they kept track of each other during the winters. Sometimes storms left them isolated for days until the plow got through.
They left their car in the garage at road level and had to deal with a fairly steep hill about 100 yards down to the cottage. In summer they could drive down to load and unload, but in the winter the drive was left snowed in. Dad rigged up a sled with a box strapped on and ropes on either end. Hauling downhill, Mom pulled the sled and Dad used the back rope to steady it and keep it from sliding away. Hauling up hill, Dad pulled and Mom steadied from the back.
Wildlife was a part of life at the lake. Dad tamed some of the chipmunks by feeding them unshelled peanuts. They would put their front feet on one's hand; tuck one peanut in each cheek and a third one… somewhere… and hop away, only to be back in seconds for seconds. Squirrels and bats were discouraged, but were nevertheless present.
Birds were rampant. Sparrows, bluebirds, cardinals, and robins proliferated. Mom maintained a bird feeder with seeds, and Dad put up suet in a chicken wire rack. Both appliances were just outside the dinette window, and many hours were spent drinking coffee and watching birds feeding.
Raccoons, porcupine, and skunks visited. Deer were often seen feeding in the yard. One winter morning, the suet rack was missing and bear tracks were all around the cottage.
Along with the rest of the wildlife, grandchildren flocked. One summer, my son Kim and most of Bud's kids all stayed with the folks for a while. They slept in the small cottage next door, which was usually called the White House. Dad told them not to show their faces in the morning until they saw smoke coming from the chimney, indicating that Dad had started a fire in the kitchen stove and the day had officially begun. The kids had a ball and still talk about it!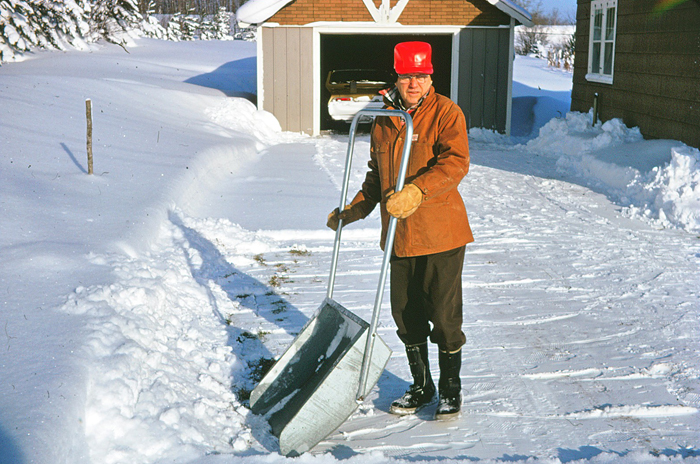 Clarence fights the snow at house in Bessemer in ~1970
After a few years, the long winters wore thin, and Mom and Dad started spending them in warmer climes. Phoenix, AZ became their winter playground. Then they bought the house in Bessemer and stayed there in the winter and at the lake in the summer. Eventually the two residences were too much to keep up, so they sold the cottage. Finally they sold the house and moved together into Hautamaki's, a care facility where they occupied a double room and slept in separate beds for the first time in their married life.
Dad took his stationary bike with him to Hautamaki's. He rode it nearly every day and used to brag about his total mileage. A friend visited him one day and Dad showed the friend that he was just a few miles away from turning over the 10000 mile odometer one more time. Less than a week after the visit Dad was dead. When I checked the bike, it was turned over and then some. He died in 1990. Dad was the oldest of a family of nine and outlived them all.
Mom slipped away slowly, eventually becoming bedridden. Bud retired and moved to Bessemer to be with her. Bud and Mom's sister Rubie spent part of nearly every day with Mom in her final years. She died in 1993. Mom was second oldest of a family of nine and left two sisters and a brother.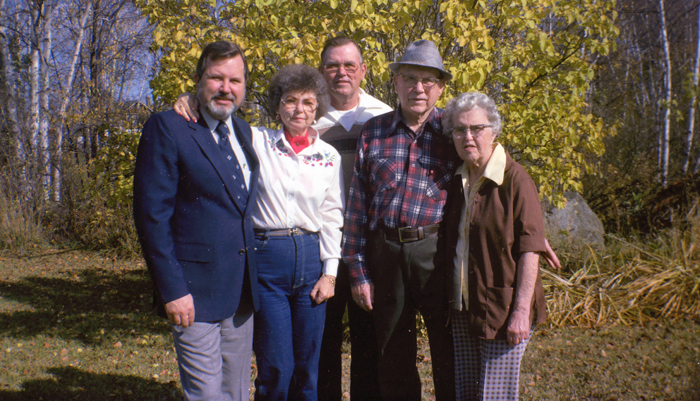 The family in 1981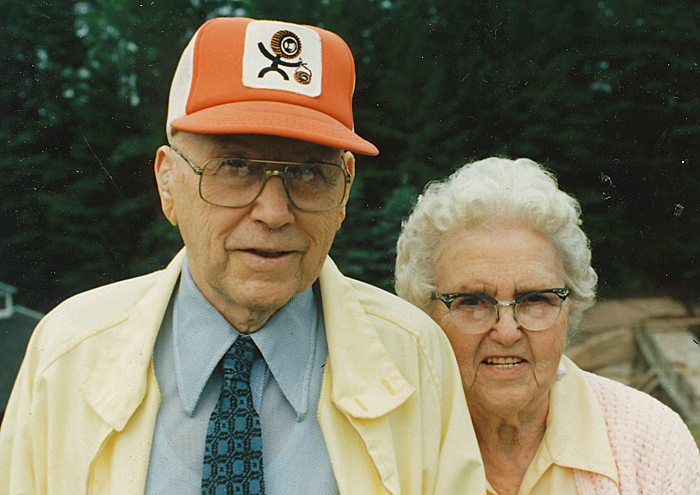 Clarence and Mamie Sandin 1983
AFTERWORD
It is difficult for me to accept, but Mom's birthday in July and Dad's birthday next February will mark 120 years since their births!