I have lived in Hawaii since 1998, during which time I made an effort to learn about the culture, took Hawaiian language lessons, joined a senior bowling league with mostly locals, spent many hours at the Latter Day Saints Family History Library researching my genealogy and befriending local FHL attendants, and generally tried to become a part of Hawaii and Maui.
Somehow, until recently, the concept of Lāhainā Noon completely escaped me. I am intrigued by it and want to share it with you.
In the tropics (between latitudes 23o 26′ N and 23o 26′ S), the Sun passes directly overhead twice during the year. On these two days, at local noon, the Sun will be exactly overhead, and an upright object such as a flagpole will have no shadow. This phenomenon only occurs in the tropics; the Sun is never directly overhead in any other part of the planet. The northern reaches of the Hawaiian Islands, such as Midway Island, are north of the tropics and do not experience the overhead sun.
The "overhead sun" date varies depending on how far north or south you are in the tropics. Thus, for Līhu'e on Kaua'i, this occurs on July 11, at 12:43 p.m. Farther south, on the island of Hawai'i, the overhead sun date occurs on July 24 (12:27 p.m. for Hilo, 12:31 p.m. for Kailua, Kona).
Here in the Islands a term we often use for zenith noon is Lāhainā noon. This is a modern term, selected by Bishop Museum in a 1990 contest held to select a name for the zenith noon phenomenon. The name Lāhainā is said to be rooted in the meaning, "cruel sun," and while the sun in the Islands is almost never cruel, it can be pretty intense as it shines directly down from the zenith.
The chart below gives the overhead sun dates and times for several locations in 2020.
| | | |
| --- | --- | --- |
| Līhuʻe, Kaua'i | May 30, 12:35 p.m. | July 11, 12:43 p.m. |
| Haleʻiwa, O'ahu | May 28, 12:30 p.m. | July 14, 12:38 p.m. |
| Kāne'ohe, O'ahu | May 27, 12:28 p.m. | July 15, 12:38 p.m. |
| Honolulu, O'ahu | May 26, 12:29 p.m. | July 15, 12:38 p.m. |
| Kaunakakai, Moloka'i | May 25, 12:25 p.m. | July 17, 12:34 p.m. |
| Lāna'i City, Lāna'i | May 23, 12:25 p.m. | July 18, 12:34 p.m. |
| Lāhainā, Maui | May 24, 12:24 p.m. | July 18, 12:33 p.m. |
| Kahului, Maui | May 24, 12:23 p.m. | July 18, 12:32 p.m. |
| Hāna, Maui | May 23, 12:21 p.m. | July 18, 12:30 p.m. |
| Hilo, Hawai'i Island | May 18, 12:17 p.m. | July 24, 12:27 p.m. |
| Kailua, Kona, Hawai'i Island | May 17, 12:20 p.m. | July 24, 12:31 p.m. |
| South Point, Hawai'i Island | May 14, 12:19 p.m. | July 27, 12:29 p.m. |
Hawaii is the only US state where you can experience this phenomenon. It is complex and I encourage you to pursue an understanding on your own. Bishop Museum calculates the dates (one day in May and one in July) and some places in Hawaii where it is visible.

You will see the updated schedule for the year on the Bishop Museum site. Scroll down to Lāhainā Noon, pick a date and place, and I'll see you in Hawaii.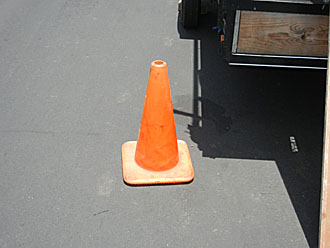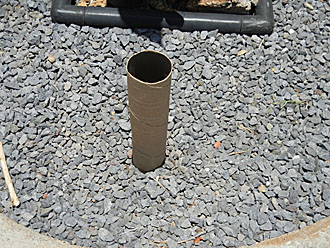 Traffic cones and 11" paper towel centers are perfect examples of items that illustrate lack of shadow at
Lāhainā Noon.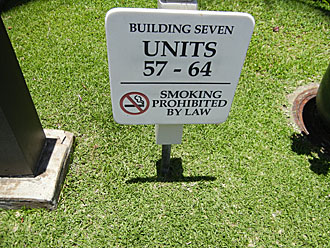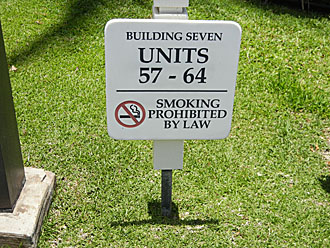 Thin sign faces result in thin shadows. Careful analysis of the shapes and sizes of the shadows of the sign and the light post left of it illustrate the movement of the sun within seconds of
Lāhainā Noon.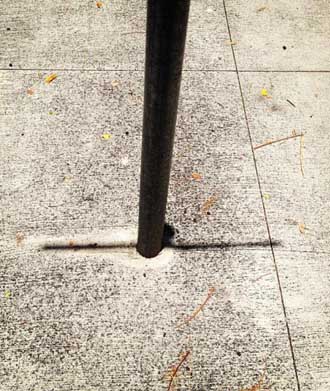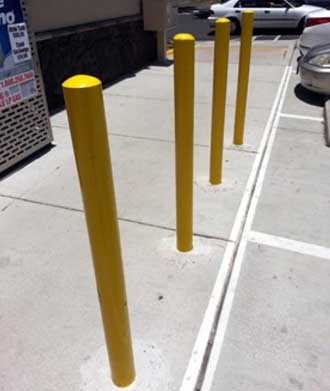 In the left photo, the vertical post has a flat sign resulting in a straight line shadow. In the right photo, note the shadows under cars, but NO shadows around the posts. This is because the sun is shining DIRECTLY upon vertical objects (the posts).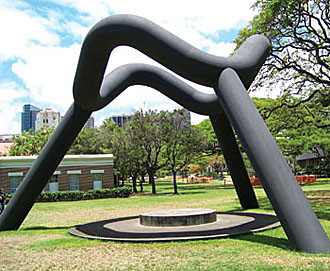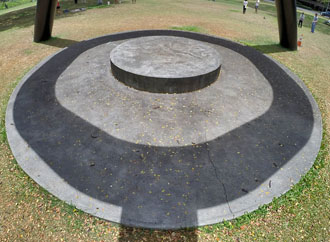 In July, one of Honolulu's most distinctive pieces of public art will be putting on a quiet little show, although if you blink you might miss it. The undulating ring atop Isamu Noguchi's "Skygate," that imposing black tripod near Honolulu Hale, will cast a perfectly circular shadow that fits neatly within the concrete base below it. It's a phenomenon that only properly occurs twice a year, during the Lāhainā Noon, when the sun shines directly overhead.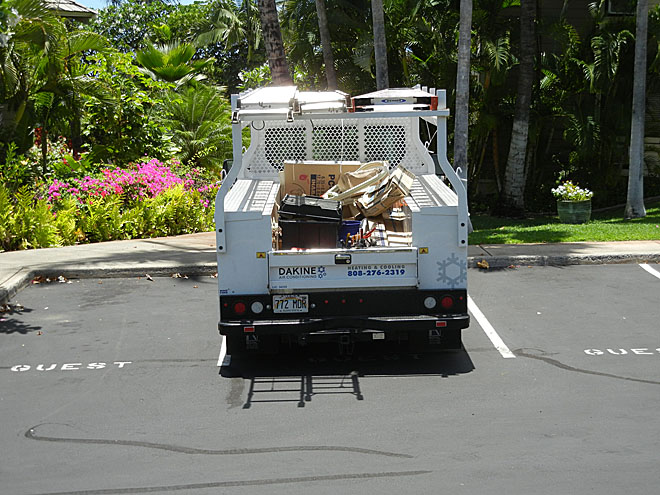 For a couple days and for 20 min. before and after the May Lāhainā Noon near my condo, I remained alert for interesting photo opportunities. One day a cloud went in front of the sun and I nearly gave up. I went out on the patio for a last look around and noticed this truck in a parking spot directly across from me. The sun came out and I took 5 shots.
I didn't really appreciate what I had until I downloaded the photos to my computer. The truck neatly paralleled the white parking lines; the ladder shadows paralleled the truck bed and the parking spot. The two long ladders were neatly displayed on the drive behind the truck with sun between them and between the steps.
It was like I had staged the entire thing with time, date, the sun, the workman, the parking spot and my patio. But everyone knows I'm not that clever. I just got lucky!
AFTERWORD
I must admit that some of you may have seen bits of this before, but now you have seen a lot more of Lāhainā Noon. Let me hear from you – I live for your comments!
[Visitor number
]