It's probably not unusual for people from different areas to have locally familiar individuals who are commonly seen on TV commercials. Here are a few Hawaiians known to most everyone.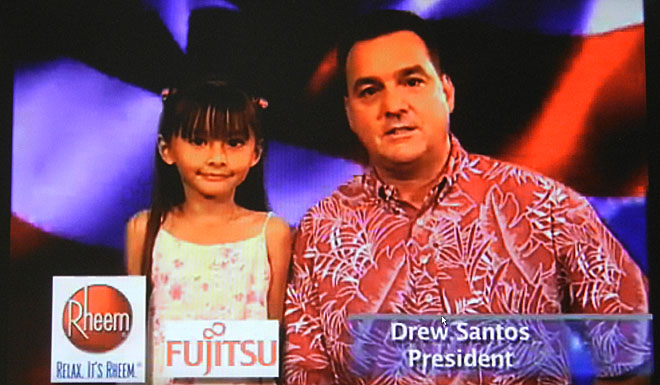 Keli Santos for Fujitsu
Keli Santos has been starring in Fujitsu commercials since the age of 3. She knew she loved her daddy, but quickly learned "I Love My Fujitsu!" Now a Hawaii familiar face, Keli has done more than ten commercials for Fujitsu. She enjoys volleyball, basketball, guitar, piano, ukulele, and going to school.
While Keli does not particularly enjoy the spotlight, she will always repeat her line "I Love My Fujitsu" when people recognize her at the malls, sporting events, or in school.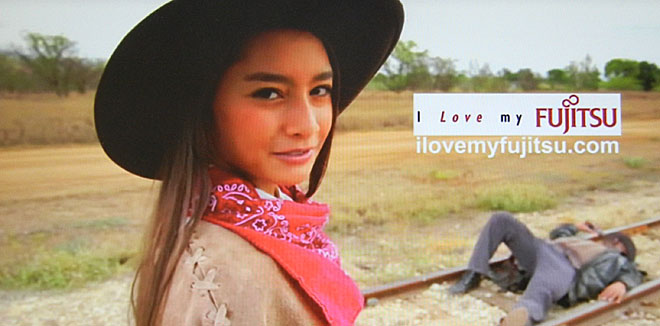 Keli does a shootout with a non-Fujitsu remote wielding bad guy.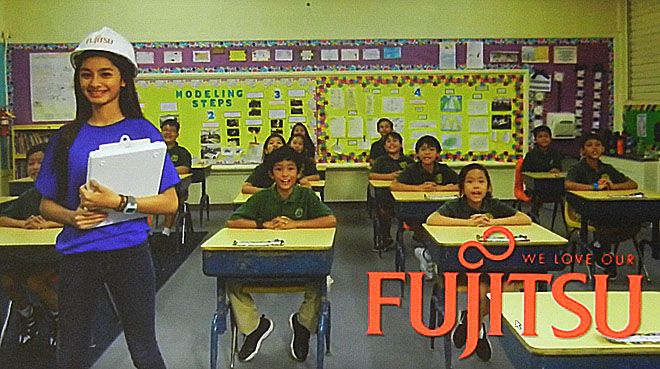 Keli leads younger kids in their motto.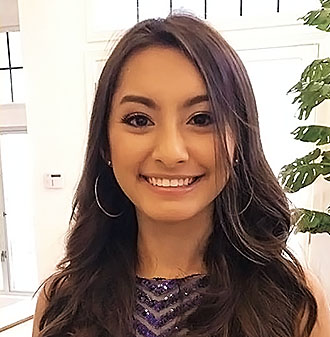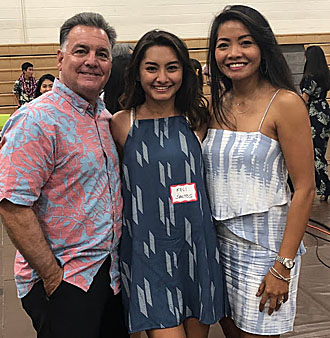 Keli, Fujitsu's spokesperson for 15 years is all grown up and off to college. She made her first Fujitsu commercial at age 3 and has starred in a bunch of spots. The state of Hawaii has watched her grow up through Fujitsu and the next chapter will be coming soon!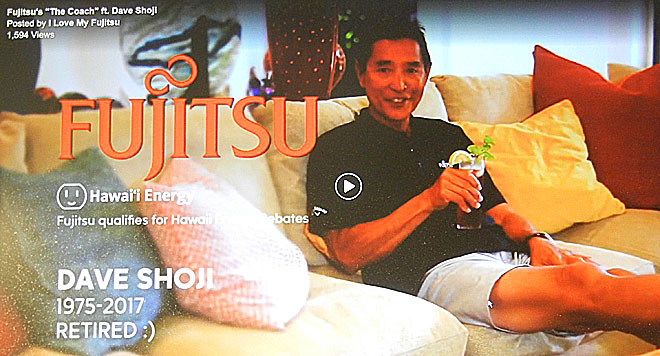 Dave Shoji for Fujitsu
Legendary University of Hawaii Women's Volleyball Coach Dave Shoji stars in a recent Fujitsu television commercial. Guess what he loves? Truly an honor to be able to do a spot that recognizes Dave's accomplishments and career, 42 seasons as Head Coach of the University of Hawaii Wahine Volleyball team, 4 National Championships (79', 82', 83' & 87'), 1,202 Career Wins, 5-Time National Coach of the Year, named one of the All Time Greatest Coaches by NCAA, named Coach of the NCAA 25th Anniversary Team, 25 Conference Player of the Year, 107 All Conference Academics, 86 All American Selections, 8 National Player of the Year Awards and 5 Olympians.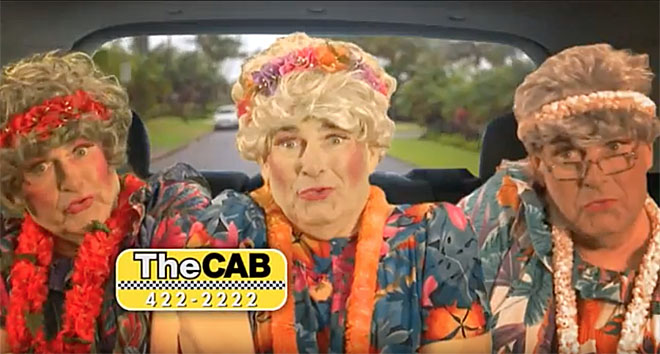 Frank De Lima for TheCab
After his comedy heyday from the 1970s to the '90s, De Lima became known more recently for his TV commercials promoting TheCab. As the local taxi company's authorized spokesperson, De Lima sings and acts as assorted tūtū (a play on TheCab's phone number, 422-2222) wearing a mu'umu'u and makeup. "Plenty people know my career but they really recognize me from the commercials," De Lima says. "They'll come up to me in restaurants, at the shopping mall, at the gym to talk about the commercials. They'll tell me which ones they like best."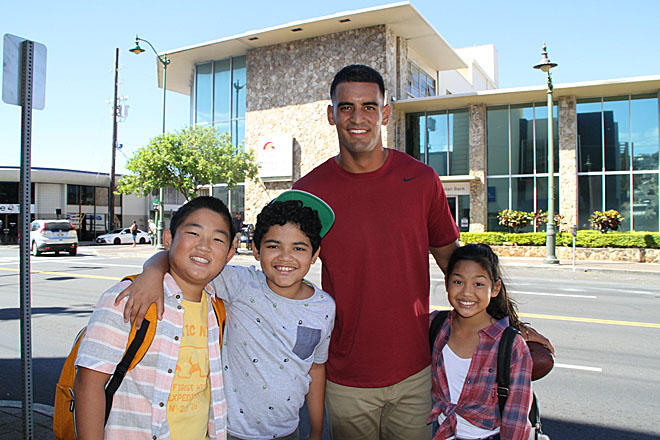 Marcus Mariota for First Hawaiian Bank
Marcus Ardel Taulauniu Mariota played college football at Oregon, where he was the starting quarterback from 2012 to 2014. As a Junior in 2014, Mariota became the first University of Oregon player, as well as the first Hawaii-born athlete, to win the Heisman Trophy. He went on to pursue a successful professional football career and become an admired spokesman for First Hawaiian Bank.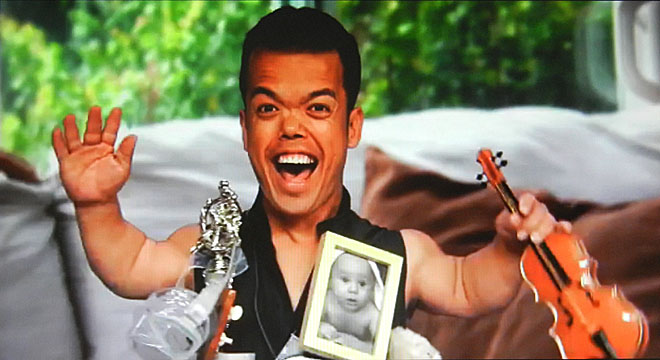 Kenny "Kenehune" Lima for Hawaii Self Storage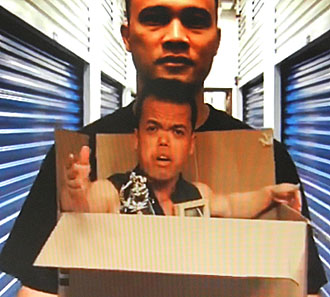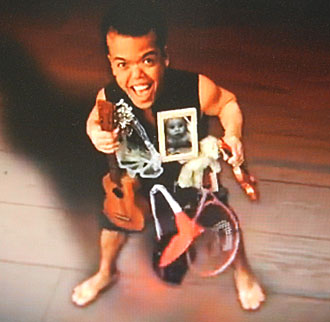 "Where am I???" "I'm back!!!"
In this spot, Kenny is stored away, but escapes and makes sure you keep your mess under control by getting a storage unit with HSS.
AFTERWORD
Here are three links to let you see samples for yourself. The links direct you to 30 second commercials and then go on to related material. You can decide to go on or cease viewing as you please. The first one actually chains several Keli Santos clips up to Dave Shoji.
Thirty second "I Love My Fujitsu" featured Keli Santos.
Thirty second TheCab commercial, "Cab for tūtūs" featured Frank De Lima.
Thirty second 2018 commercial, "Mess Control" featured Kenny "Kenehune" Lima.
On July 14, 2020, when I was in the midst of composing this Ponogram, I happened to see a Fujitsu commercial with clips of Keli Santos. Within the hour I saw a news clip about Frank De Lima, who had a Honolulu Zoo newborn baby lemur named after him – Frank De Lemur. I told you these were locally familiar individuals!
[Visitor number
]