MAUI FIRST CLASS
Long ago I knew a lady in California who had lived in Honolulu for a few years and had lots of company from the mainland. She told me she got tired of doing the WFI tour. My visitors don't usually stay long enough for the Whole Freakin' Island tour, but I try to provide some real excitement anyway.
The Friday evening before Helen arrived on Sunday, I happened to think about my driver license, checked it, and sure enough it had expired on my September birthday. So-o-o, first excitement on Monday morning (after breakfast) was to treat Helen to a stop at the Department of Motor Vehicles (DMV). Over the weekend I noticed that the little 2015 tag on my car license plate had been ripped off, so I had two reasons for the stop at DMV.
Replacing the little tag was trivial and cost 50¢, but rules had changed for the driver license, requiring birth certificate or valid passport for citizenship, two proofs of residency in the state, etc. I wasn't prepared for this and had to go home for documents and go back for completion. Helen was thrilled for the opportunity to get the full DMV experience and I'm sure she ranks it as the high point of her visit.
Helen and I worked together in Bangkok, Thailand in 1969-70, and have kept in touch over lo, these many years. Here are the "then and now" pictures – as you can see, we have barely changed over 44 years.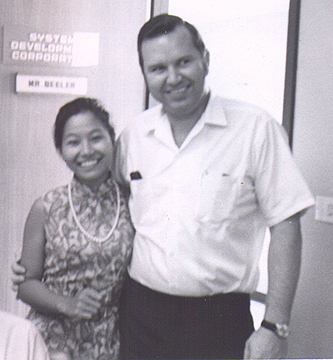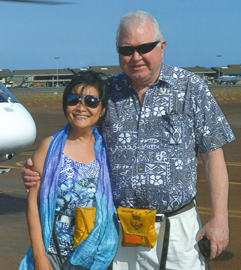 On Tuesday, we took the Air Maui helicopter tour over West Maui and North Moloka'i. The view was spectacular, the weather was nearly perfect, and the trip was well worth it, but over so soon. I took lots of pics, but will only show four that were special to me.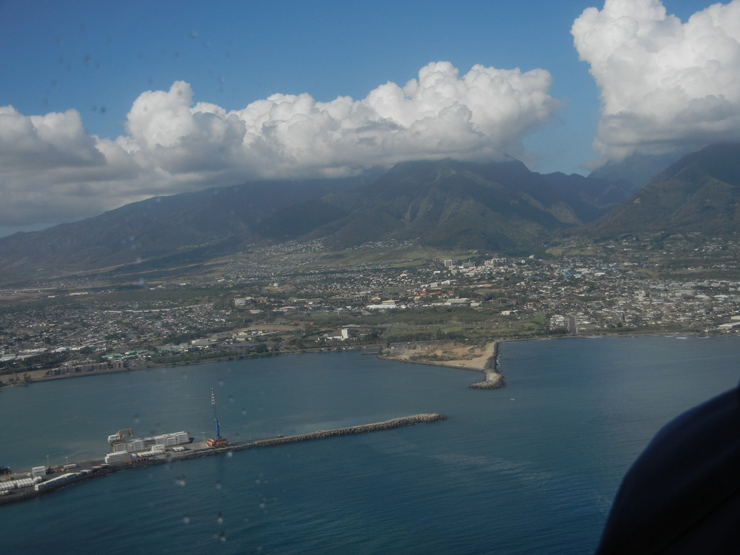 This is the harbor at Kahului, the cities of Kahului and Wailuku, with the West Maui Mountains in the background. (Click on picture for a hi-res copy that will allow you to zoom in on details.)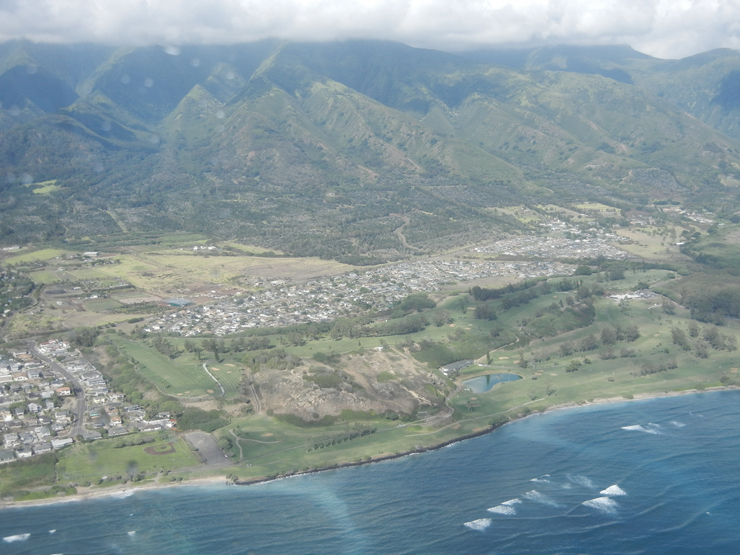 The Waiehu Municipal Golf Course, where I spent many pleasant hours and fought the ever-present winds most of the time I was there. (Click on picture for a hi-res copy that will allow you to zoom in on details.)
We went on to see valleys and waterfalls of West Maui and a distant glimpse of the resorts and golf courses of West Maui beyond Lahaina. All this was preparation for the spectacular cliffs, valleys and waterfalls of the north coast of Moloka'i.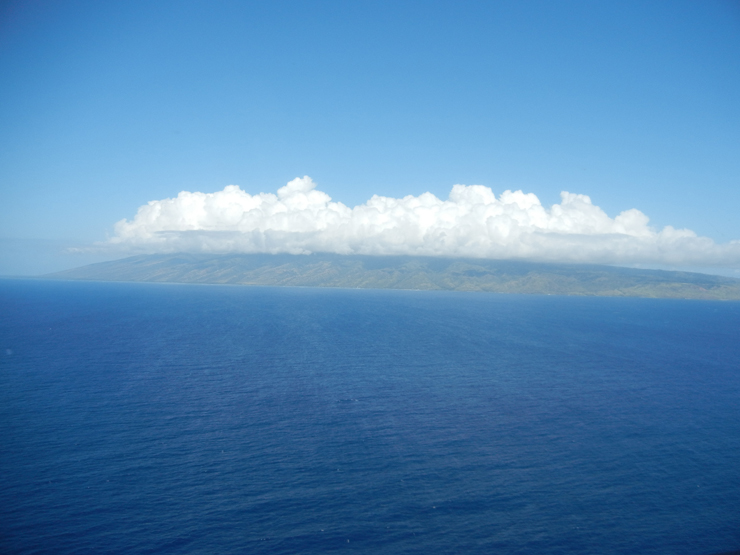 The island of Moloka'i seen from Maui across the Pailolo Channel. Trade winds were really down and the usually choppy sea was abnormally calm.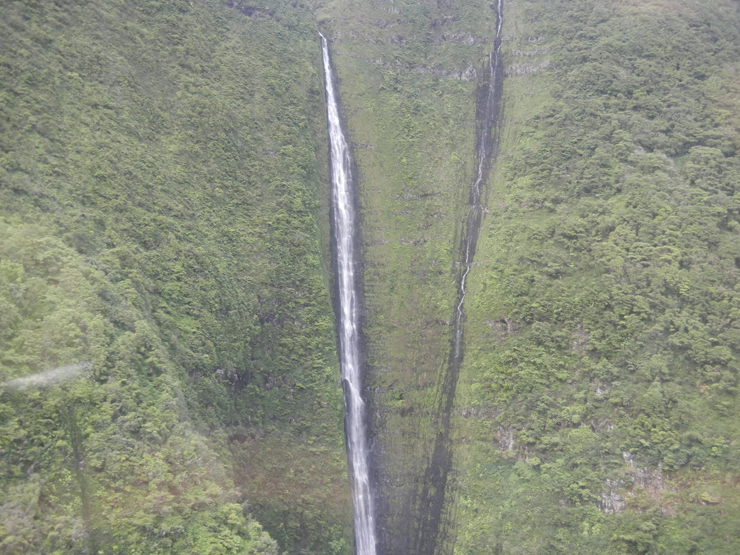 Just part of the grand-daddy 4000' waterfall on the north coast of Moloka'i with an idea of the steepness of the cliffs that prevail. Pictures can barely tell the story – you just have to see it for yourself!
On Wednesday we took one of my favorite tourist day trips. It starts with brunch at Kula Lodge with a stop at the Curtis Wilson Cost gallery. The view from the dining room is extraordinary! From left to right one can see South Maui, West Maui mountains and North Maui, with the entire "Valley" spreading from Ma'alaea harbor to Kahului harbor. Our valley is nontraditional, since, although it is between two ranges of mountains, it is bordered by the ocean at each end.
I am somewhat sorry to say that I have never purchased anything there, but I always stop at the gallery. Cost is my kind of artist and I always enjoy seeing his work, especially the jacaranda trees and other upcountry scenes. Although well worth it, the prices are a bit out of my range. Check him out online.
Next stop is the Tedeschi Winery at Ulapalakua for wine-tasting and a look at the ever-changing grounds. I've been there many times and they continue to remodel, add on, and improve. This time we watched workmen recreate lava fencing.
I had heard that there were ancient wiliwili trees right along the road beyond Ulapalakua and I asked at the Winery just where they were. I've seen many pictures of them and featured them in Ponogram #87, but have never seen them up close and personal. They didn't know, but got online and found out – "just keep going until you get out of the wet area and into the dry lava fields". I was determined to find them. I'm sure Helen was just as determined – at least she didn't object.
We drove on through forests with invasive ivy, carefully examining each small to medium tree for evidence of the gnarly trunks, khaki-colored bark, unique leaves, and possible flowers or seed-pods. I really didn't know when they bloomed – since then I learned that April-July is the likely season for flowers.
Finally we got out of the "wet" area and into the lava plains with low vegetation and soon saw what I could believe were the ancient wiliwili trees. We stopped and got out to examine the candidates.
There were lava fences and wire fences with barbed wire and it was not possible to get close to the trees, but I zoomed in to get pics and was soon convinced that these were genuine ancient ones. More correctly, these were keiki (children) of the old ones.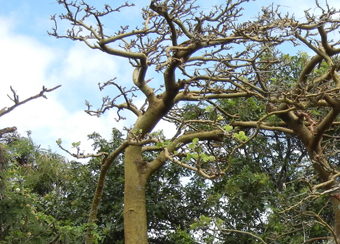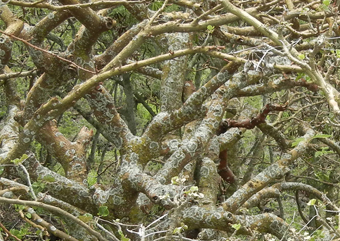 The first one we identified (left, above). Helen went across the road and found several more near the road and a number of singles spaced out across the field.
Typical gnarled trunks with fungal covering (right, above).
Empty seed pods (left, below) and branches with leaves (right, below).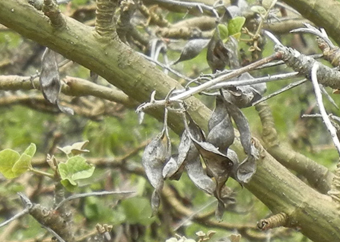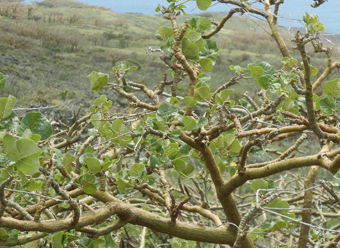 I am convinced that these are true exemplars of the ancient wiliwilis and I am thrilled to have seen them up close with my own eyes! I will continue to seek others closer to my place, but failing that, I will visit these friends in the spring with hopes of seeing actual blooms and later maybe harvest a seed or two for my nature collection.
The non-native wiliwili trees used as wind breaks along roads and between fields were pretty much wiped out by gall wasps a few years ago. A competitive gall wasp was introduced that seems to have eradicated the bad one. I am delighted to see that the ancient ones seem to have survived! Helen was happy as well.
On the way back home I showed Helen how close we were to my condo even though we had been driving many, many miles. Over the years I had tried many times to actually see exactly where I lived from that area. I found a slight turnout on the mauka side (mountain) and parked. Across the road on the maikai (ocean) side was a very small lava wall and it seemed like the view was quite open. As we looked, I could identify landmarks and with the zoom on my camera I was able to get locked in. I had finally found an overlook only about 2 miles from home (cross country) after driving about 50 miles! Another major triumph. Helen was overjoyed (I think).

This is the entire area around my condo taken from a road about 2 miles up the mountain near Ulapalakua. On the beach left – Grand Wailea Hotel and on the beach right - Andaz Maui at Wailea Resort. Foreground round brown area with black fence – new hotel construction. Next gray roofs – Wailea Town Center. Foreground – Wailea Gateway Center. Midway behind Gateway – Grand Champions Villas. Across Blue course 7th fairway – Kai Malu. (Click on picture for a hi-res copy that will allow you to zoom in on details.)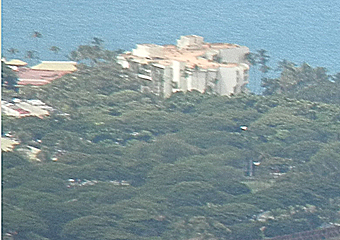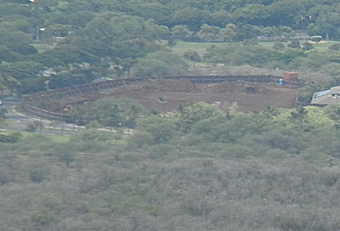 Grand Wailea Hotel. Construction area for new hotel.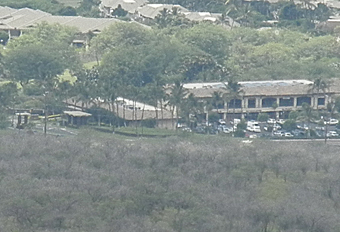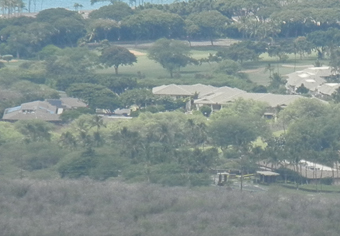 Gateway, Wailea Gateway Center. Wailea Town Center.
Grand Champions Villas (figure 8 shaped) with Kai Malu across 7th fairway.
AFTERWORD
Not the WFI, but I had a great time – success at the DMV, success at the heli tour, success at Kula, the winery, the wiliwilis, AND the viewing of my condo, and good weather throughout. Now Helen is on to see New Zealand and family in Thailand, but I'm pretty sure they have nothing to offer there to compare to the Hawaiian DMV or the ancient wiliwili trees of Maui!
I can't guarantee a complete tour of the Maui DMV to everyone, but I'm sure you can see it is well worth the visit! E komo Mai!