WUNDERKAMMER V
I'm considering changing the name of this series to "Wondercondo". I can hardly believe the stuff that is surfacing. I'm getting into the first footlocker and it is amazing me. It is truly a time capsule with treasures from as many as 75 years ago.
| | |
| --- | --- |
| In the early '60s I toyed around with art. It doesn't take an educated critic to see why these were the ONLY products from that period. Above is an oil reproduction of a surf scene. To the right is a self-portrait mirror image in pencil – note mole on "wrong" side of mouth. | |
| | |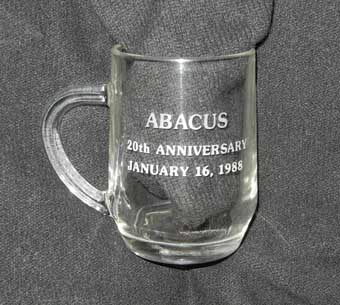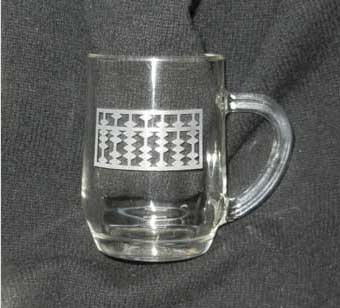 These mugs were favors at the 20th Anniversary party celebrating the founding of Abacus Programming Corporation in 1968. The abacus-like depiction is set to the corporate phone number.
Source of mugs: Germany, Germany, "Old Tucson-Famous Movie Location", and University of California at Los Angeles (from JR - his alma mater).

On the right is a 3" miniature mug labeled Grünberg Hessen, given to me as a keepsake by my dear friends Heinrich and Doris when I left Germany after my tour of duty in the Army in 1960.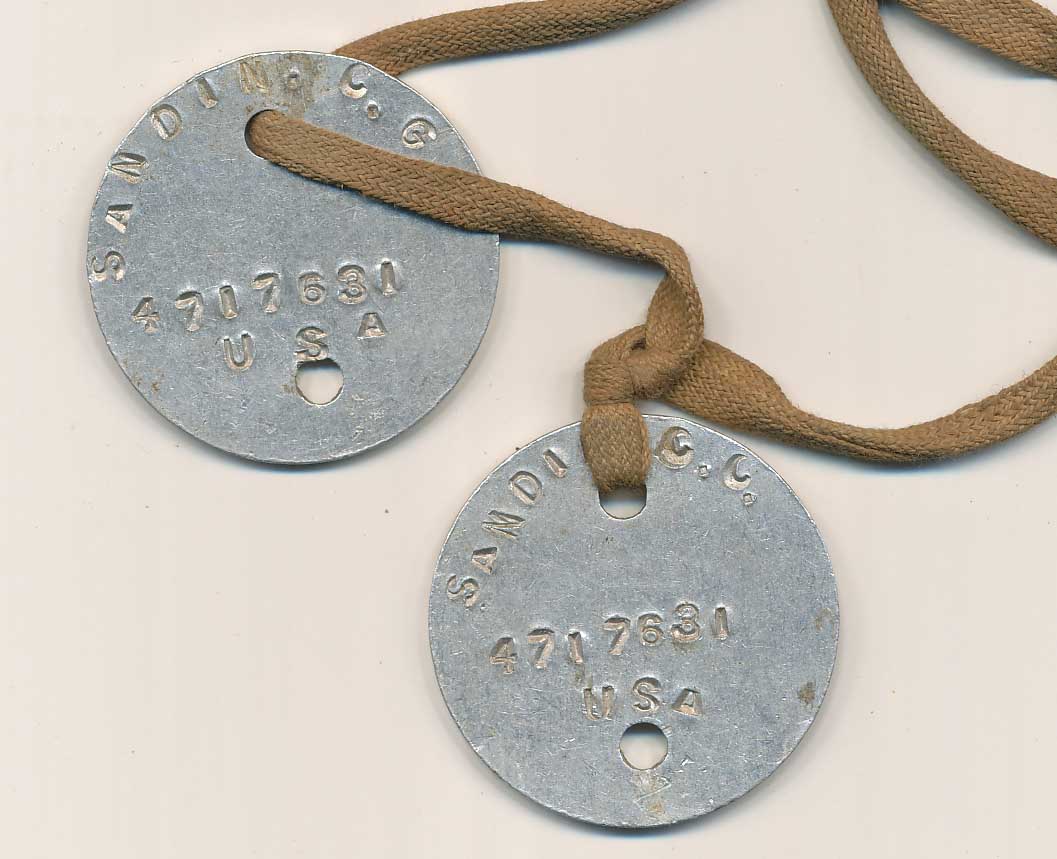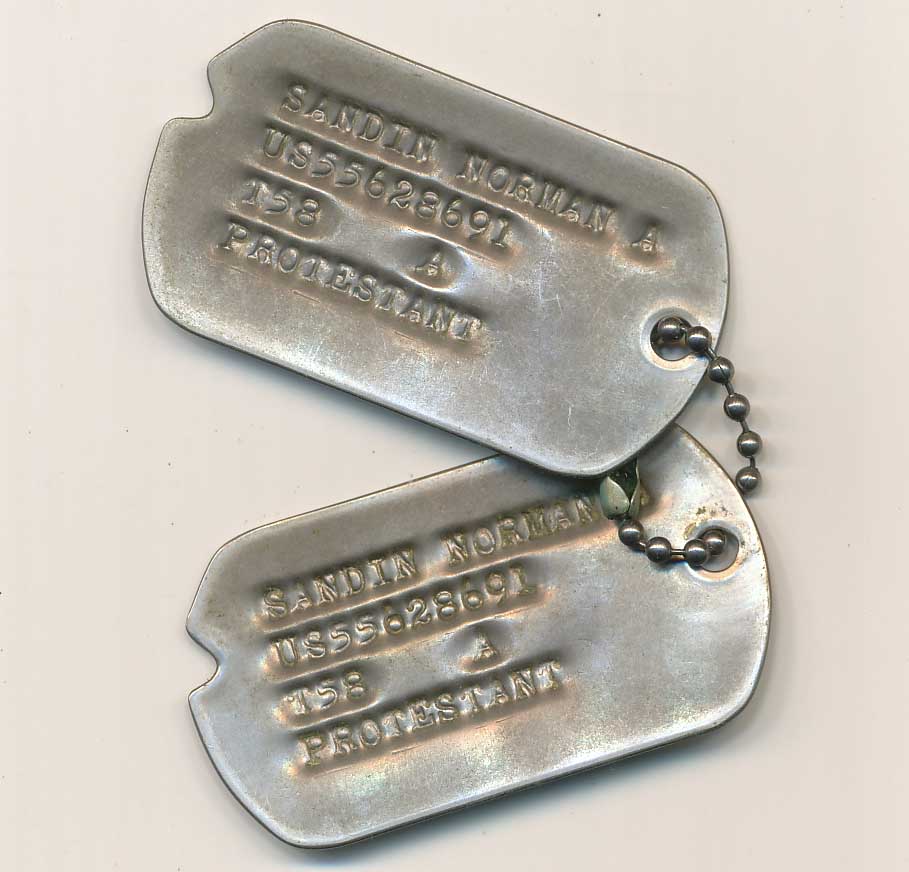 My father, C. C. Sandin was in the Army for just a few months in 1918, at the end of WW I. At left are his dog tags. He was stationed at Fort Custer, between Battle Creek and Kalamazoo in Michigan. Mom was with him and she worked in the Kellogg cereal factory in Battle Creek. Dad spent much of his Army time accompanying the bodies of dead soldiers to their homes. His mother died while he was there, a victim of the influenza epidemic.
On the right are Pono's dog tags. I spent most of my Army time from 1958-60 in Germany. You can find mention of my experiences in several earlier Ponograms.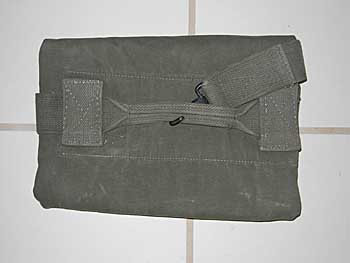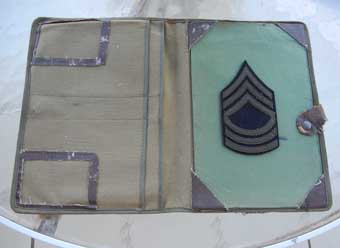 One of the artifacts that followed me home from the Army is this duffel bag. It is folded and prepared for full field inspection. I'm afraid to unfold it since I don't think I could put it back together. Always thought I would have a use for it.
The device on the right and the master sergeant chevrons belonged to my brother Neil (Bud). He served in the Army in WW II and was recalled for Korea. I don't know the Army name for it but I call it a correspondence kit or folder. Whatever it was called, it was obviously well used.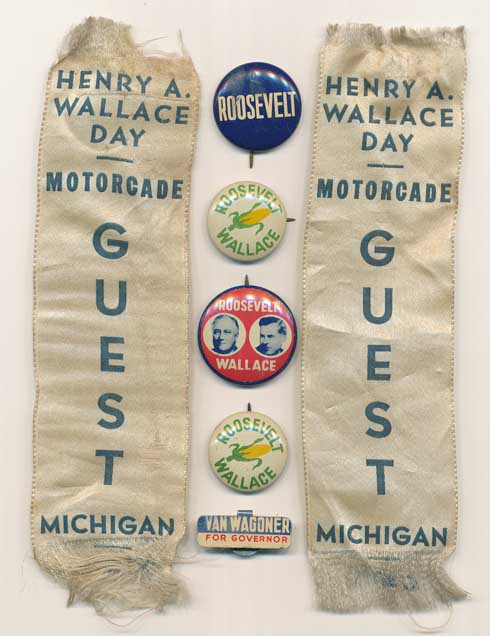 In his early adult life, my father was very active politically. Here we see involvement with the Roosevelt/Wallace national ticket in 1936 as well as the Van Wagoner Michigan ticket in 1940. He was also active in the American Legion and was Commander of his Post in about 1920. In around 1940, Dad and mom and I started moving about with his work and that seems to be when he lost interest in political activism.
AFTERWORD
After digging to the bottom of one of his two Army footlockers, Pono feels the need to extend a hearty thank you to Norm, who, over the years, found the time and incentive to gather, store, maintain, and transport piles of absolute junk, some of which morphed into absolute treasures with the passage of time. Absolute junk example: manuals and other training materials from Army artillery extension courses I took in 1958, which will now go to the trash (still not enough time to morph). Absolute treasure example: report cards from grade school, which will now go to the scanner and perpetual storage. You will see some of the items that morphed in future Ponograms (with luck).