GRANDPA AND FDR
I had the privilege of knowing and spending some quality time with my ex-wife's parents and her paternal grandparents. They were four unique individuals and were full of stories. I always enjoyed the stories, but I didn't always swallow them whole.
Grandma seemed to be pretty straight and I believed most of her stories. Grandpa was a bit into old age. A repeated conversation with him began "Where are you from?" My response "I was born in Michigan" resulted in "Oh, I was also – born in Hale and moved soon to Peck where we … Upper Michigan … Washington State ….. etc. - where are you from?" I would go around once or twice, but then try to get on another track. He did have a great memory of his days in the cedar forests. He bought and sold cedar poles for most of his life. Selling involved a lot of traveling, both to the logging camps and to utilities around the US.
Grandpa told of a plane trip on which he got to know Eleanor Roosevelt, wife of President Franklin D. Roosevelt. I took that one with a couple grains of salt, but Grandma and the rest of them supported the story.
Eleanor Roosevelt wrote "My Day", what we would call a blog today, detailing their lives as President and First Lady. It was published daily and provided verification of Grandpa's story. In these times of 140 character attention span, it might be tempting to read only the highlighted areas, but I recommend that you read the entire two articles to get the flavor of Eleanor and FDR's lives and how they folded in all sorts of "people".
1939-06-13 My Day by Eleanor Roosevelt
HYDE PARK, Monday—On Sunday we drove to church along a road which was lined with people the greater part of the way. There were masses of people in the village of Hyde Park, and outside the church. Crowds may sometimes become rather tiring, but both the King and the Queen said that they felt keenly the friendliness of these crowds and were deeply touched by them.
Bishop Tucker preached the sermon, and our own rector, Mr. Wilson, and Mr. Smith, the rector of the church at Campobello Island, assisted in the service. As soon as we reached home, everyone went to change into picnic clothes, and I dashed away to the top of the hill, taking Mrs. Myron Taylor and Major Henry S. Hooker with me. I hoped to arrive ahead of my guests, but a considerable number of cars got ahead of me. When I saw how much dust surrounded us, I realized that Saturday night's little shower had done little good, and I was glad that all the cars would be in place and parked before the President started to come up with the King and Queen.
On arrival I found that Miss Thompson and Mrs. Helm had everything all arranged, and all our guests filed by the President and Their Majesties as soon as they arrived. The children showed their interest in wide eyes, and one little girl made a deep curtsey very prettily. We have one man who builds roads through the place who has ten children, and he brought nine of them! The family made such a showing that both the King and the Queen inquired if all these children belonged to that one mother and father.
After lunch Princess Te-Ata and Ish-Ti-Opi gave a short program. The platform was built around the trees and the setting was quite perfect for the Indian songs and legends. This was the only American music which was not on our program at the White House, and I think I can say that both the King and Queen enjoyed it. I watched them when Princess Te-Ata was doing a story in Indian sign language, and they seemed much amused.
Ish-Ti-Opi is quite a remarkable actor as well as a singer. His song of the last weaving, when the old woman is putting into her blanket the end of her life, has much of the sadness which one feels in the songs and stories of both Negroes and Indians. A proud people, our American Indians, and I liked the grace with which both these representatives of the first inhabitants of our land carried themselves when they were presented to Their Britannic Majesties.
Nothing was planned for the afternoon, so we sat under the trees around the swimming pool. The President and the King went in swimming, while the Queen and Lady Nunburnholme, with some other members of the household, sat around under the trees with me and looked on.
I have had some interesting talks with both the King and the Queen, and am constantly astonished at their realization of the changed conditions which we are facing all over the world. Of course, in Europe they are even closer to many of the changes than we are over here.
The Queen told us that when she talked to her two young daughters over the telephone yesterday, they were much amused that she was about to go to luncheon, when the younger one was about to go to bed. They were not in the least interested in the heat of Washington, because they have been having a heat wave in London.
Dinner last night was very pleasant, but as they all had to leave about twenty minutes before eleven for the train, there was that feeling one always gets of watching the clock and not becoming too involved in any conversation after dinner, for fear the hour of departure will arrive.
I have always thought that having ladies-in-waiting and gentlemen-in-waiting would be rather trying, both for kings and queens and their entourage, but everyone seemed to know just exactly what to do and they made life much easier by their great thoughtfulness and tact in any situation. They always seemed near at hand, but out of the picture until something was needed.
A procession of cars drove down to the little Hyde Park station to see the royalty off, and a crowd was gathered in the village and at the station, in spite of the fact that during dinner we had a very heavy thunderstorm. The Queen remarked that this completed the cycle of weather they had experienced; having seen ice and snow and rain and great heat, they ended off with lightning, thunder and wind and a downpour of rain.
However, it was all over when we started for the station. There the King and Queen said good-bye and a word of thanks to everyone. They remembered each individual, the chauffeur who drove them, the State Police and the Major in charge of the detail of soldiers. Once on the platform of their car, they turned to stand until the train pulled out.
The crowd suddenly began to sing "Auld Lang Synd" and then the verse of another Scotch song. I saw the newspaper people writing notes hastily, and I am sure they sensed a feeling of regret, that seemed to be in every individual present, at bidding good-bye to this gracious couple who have endeared themselves to all who have seen them.
We stood and waved, but my mother-in-law reminded us of the old superstition that one must not watch people out of sight, so before they turned the bend, we were back in our cars and on our way home.
This morning the President and I start for West Point, and Mr. and Mrs. Walter Leavitt and their son from Spokane, Washington, are going with us. That I will have to tell you about tomorrow.
E.R.
(Copyright, 1939, by United Feature Syndicate, Inc.)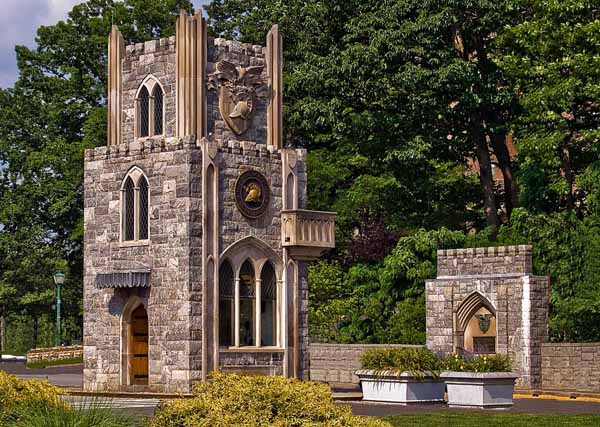 Thayer Gate at West Point
1939-06-14 My Day by Eleanor Roosevelt
HYDE PARK, Tuesday—As we motored to West Point yesterday, I went over in my mind the general impression of the past few days. I have so much confidence in the staff at the White House that I really never troubled about being able to make our royal visitors comfortable there. I did realize, however, that there might well be many little things which we did not understand, and which might seem a discourtesy to royalty when they would be merely thoughtless acts on our part.
I can only say that if any such things occurred, the training of kings and queens served them in good stead, for they never showed the slightest sign of being even put out about anything.
Perhaps the most personal impression which remains with me is the never failing thoughtfulness and graciousness of our guests. No one was ever forgotten, no one was ever greeted except with a smile, and everyone was greeted.
At Hyde Park the servants we brought from Washington suffered from a jinx which followed its course in three mishaps! My mother-in-law's serving table in the dining room has a center standard. Too many dishes were put on one side and in the middle of the dinner, the table tipped over. No one could think for a minute because of the noise of breaking china.
Later in the evening, with a tray full of glasses, water, ginger ale and bottles, one of our men going into the big library slipped and dropped the entire tray on the floor. And as a final catastrophe on Sunday afternoon, my husband, moving backwards across the grass by the swimming pool, almost sat on another tray of glasses and pop bottles!
On each occasion Their Majesties remained completely calm and undisturbed.
From the standpoint of the public, I think this country will have a kindlier feeling toward the English nation, because so many people saw and welcomed a smiling King and Queen. May it bring us peace for many years to come.
I had the pleasure yesterday of introducing to my husband the gentleman whose acquaintance I made on a plane flying from Oakland, California, to Seattle, Washington, last spring. We were the only passengers. Both of us enjoyed the sunrise and had our early breakfast together, and so had plenty of time to talk. Ever since then I felt I would like the President to meet and talk with Mr. Walter Leavitt, of Spokane, Washington.
He arrived with his wife and son on Sunday evening, and I stopped at Nelle Johannesen's, where they were staying, to guide them through the woods to the big house on Monday morning. We all left for West Point a little after 10:00, and in about five minutes my husband and Mr. Leavitt were talking about trees, which was exactly what I had expected.
At the gate at West Point, Mr. and Mrs. Leavitt got out and returned to their own car, while General Benedict got in with us. It was the first time that I had seen the graduation exercises held in the new, big armory. It is perhaps not as picturesque as it was out of doors, but it certainly is very convenient, and in case of rain, it will mean peace of mind for all those present.
The President made the address and handed the diplomas to all the boys, which is quite an undertaking. I saw him stop the line several times to mop his brow. I had a special interest in one of the graduates because I had known him ever since he was struggling to get an appointment, so I was glad to see him come by with the first step in his career successfully over. In the afternoon he married a young lady who has had the patience to wait six years, which I think augurs well for a happy future.
Afterwards an officer came up and told me of an interesting coincidence. President Theodore Roosevelt had given him his diploma, 28 years before, and yesterday my husband gave a diploma to his son.
We had a delicious luncheon in the garden of the Superintendent's quarters. It is a lovely spot, but my eyes are always held by the old copper beech tree. It is the most beautiful tree I know of its kind, and I don't wonder that people come from far away and ask to be allowed to see it.
After the President and his staff started back for Washington, I stayed on a little while and then drove back over the Bear Mountain Bridge all by myself, feeling for the first time that delicious sense of freedom when you really have no more obligations.
In leisurely fashion I drove over to Fishkill farms to thank Secretary and Mrs. Morgenthau for the delicious strawberries which we all enjoyed at the picnic on Sunday, and received some extra quarts because they did not think Miss Thompson and I had had enough on Sunday. A puncture on the way home delayed me but nothing had to be done, so I could chat inconsequentially with some people at the garage.
E.R.
(Copyright, 1939, by United Feature Syndicate, Inc.)
AFTERWORD
Clae's father Minard was about 22 at the time. He was assigned to drive the family car while his mother and father rode with the President. He joined the Presidential caravan with the usual police escort. Somewhere in their journey they went through a toll booth. Minard said he nearly peed himself because he didn't have any money on him. The convoy, of course, cruised right on through, with a grinning Minard following along.
I guess this story really happened.