WUNDERKAMMER IX
Oyez, oyez, oyez! Draw near and attend the presentation of another gallery of images of dark brown material from the wonderful condo of Pono. You who attend can never know when this material might stop flowing. The wise will pay attention.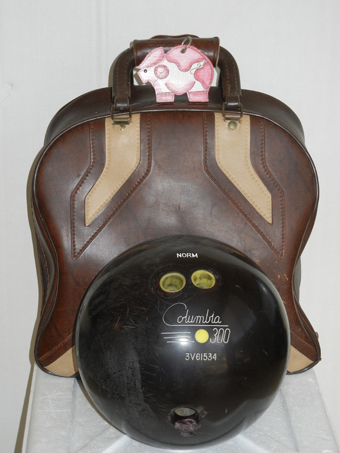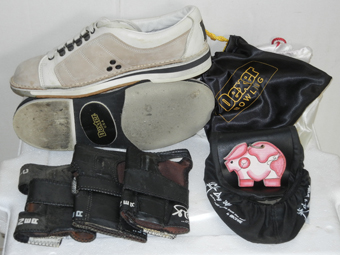 I still have the last two bowling balls and the carrying bag from my aborted bowling career. You can read all about that career here.
Accessories include shoes, sole protector for bar and men's room visits, a black bag full of alternate soles, two white shoe carrying bags, wrist braces, and "the pig".
Many years ago in California, whenever all but one of our team would strike, the one who missed had to buy "scratchers" for the rest. Since this might happen several times in a given night, the pig was awarded to the buyer, and he or she did not have to buy again until someone else had to buy and got the protection of the pig. Somehow I ended up with that artifact when our team broke up.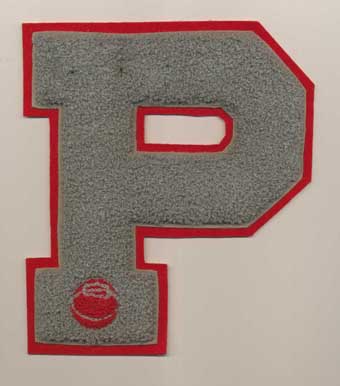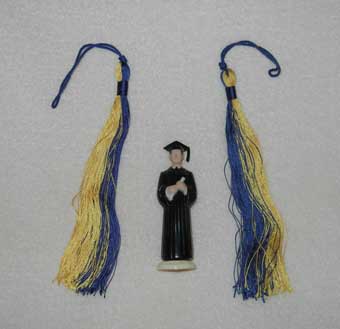 I have a Perry High School letter on my school sweater and I found this one loose among my souvenirs. I know I was "associated with" (I have difficulty saying I "played on" – see here) the varsity football and/or basketball teams for at least two years, so I guess that accounts for two letters.
Now this was a poser. I think the graduate image adorned a cake when I finished high school, but I couldn't imagine what I was doing with blue and gold tassels, since our school colors were red and gray (see the letter). Furthermore, I went to Michigan State College and University whose colors are green and white (fight, fight). And still more, University of Michigan sports blue and gold (fold, fold) and was our mortal college enemy. A bit of research finally answered the question – my graduating PHS Class of 1951's colors were blue and gold!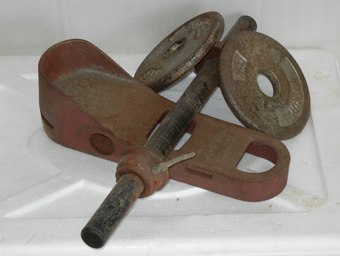 Stuart gave me this pyramid of weights. I have to confess that I don't use the 5s very often, but I do use the others associated with the set of exercises I do every night for my shoulders. These exercises were recommended by my physical therapist last time my bursitis kicked up. Now that I think of it, I haven't had any pain since that last episode in 2011!
In 1985 I had arthroscopic knee surgery and went through physical therapy (PT) for months afterward. I have always felt that I was treated poorly by them. Other clients had massages, hydrotherapy, heat treatments and various relaxing sessions, but the minute I arrived they strapped metallic torture devices on me and forced me to exert myself!
I don't recall how I acquired this foot weight, but it was the equivalent of what I experienced during PT. The goal was to improve the condition of the quadriceps in my right leg. I started doing lifts with nothing but a sock and shoe, progressed to the weight alone, then eventually to the foot weight with bar and added weights. There was an electronic device attached to the quads to make a noise if I didn't squeeze properly. (Or maybe I had to make it squawk.)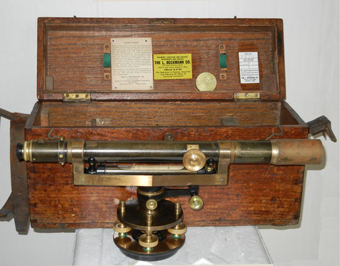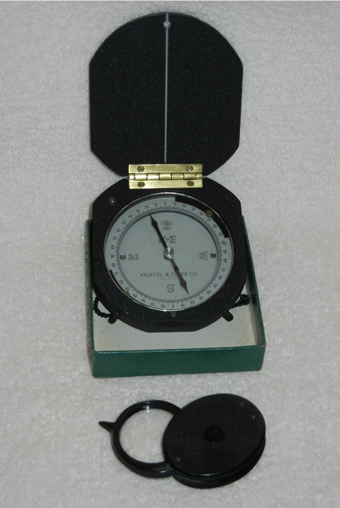 My dad's last assignment with the Michigan State Highway Department (MSHD - now Michigan Department of Transportation) was to run the unit that supplied and maintained the equipment for survey crews. As you might expect, when equipment got to a certain age and condition, it was disposed of and replaced by newer, better things. Dad had trouble putting these things of beauty in the trash can, and I ended up with a decommissioned dumpy level with carrying case, a tripod, and a level rod.
Dad left a compass and a couple magnifiers in his personal effects. Since I spent a few years with the MSHD survey crews, I treasure all of these beauties. You can read about my MSHD experiences here.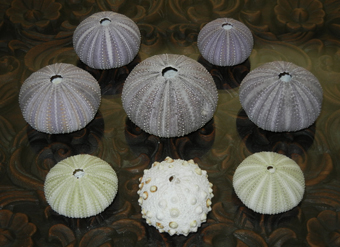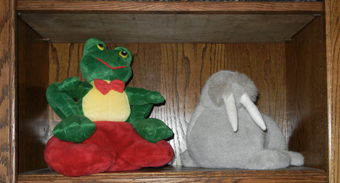 These are the exoskeletons (or tests) of sea urchins. They are beautiful and have many colors and forms. My upstairs neighbors are divers and have shared a few of their collection with me. I am happy to have them and I display them prominently.
On the right is a pic of a frog and a walrus.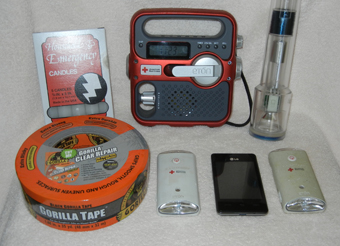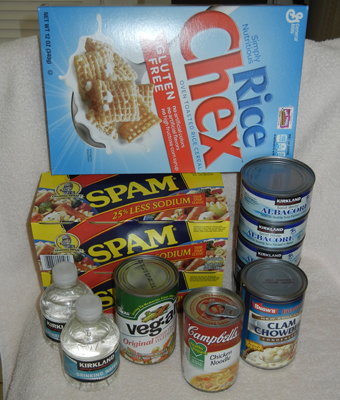 Every area on earth is subject to crises. The problem may be tornados, cyclones, flooding, droughts, hurricanes, wildfires, dust storms, blizzards, monsoons, earthquakes, asteroids, volcanos, solar flares and of course the man-caused incidents that are hard to categorize. Whatever we are subject to, we must be prepared to take care of ourselves for at least a few days after the disaster.
I have a minimal kit consisting of candles, a battery/solar/manual charge NOAA radio, shake-em-up flashlight, a couple rechargeable flashlights, a cell phone and some duct tape. Living in Hawaii makes the kit a bit simpler since maintaining body temperature is less of a problem.
In addition, I maintain food and water to last for several days. What you see is representative of what I have. The key is things that have reasonably long shelf life and are edible out of the package. I rotate these things over time to keep them "fresh".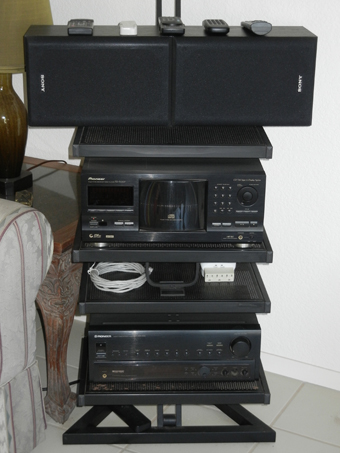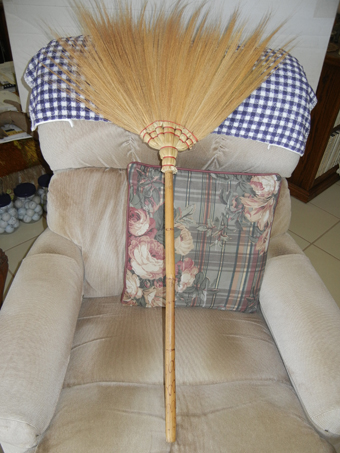 I've been through 45 and 78 records, but lost both the records and the players in divorces. I kind of hung up on CDs. This is a 200 CD carousel CD player with receiver and dual speakers. The carousel is about half full and I haven't purchased any new ones in a long time, but I do play some of the favorites occasionally and even dance about the living room when the spirit moves me.
The broom is a classic Thai style that came from Bangkok – the high quality broom store recommended by our secretary and girl Friday – Pim. Our Thai maid could take two of these brooms and corner every dust bunny and dead cockroach in the apartment in minutes. I've tried to find a partner for this one without success, but since it would only be for display, it hardly matters.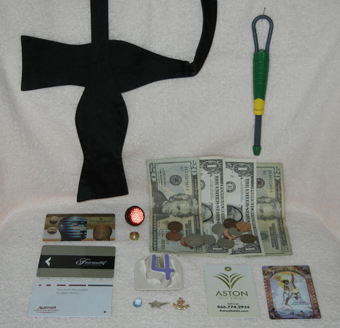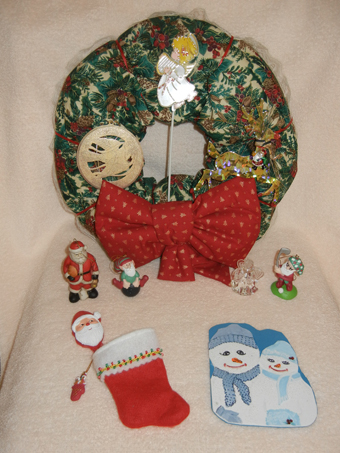 I've walked most mornings since my surgery in 2004 and I'm often the first one out on the street near my condo. Over the years I have found lots of things – some valuable but most not. Here you can see some of the items. See jewelry, entry cards to local resorts, tools, a bow tie, money, and a 4. Most recently I found a $20 bill in the street and picked it up. On the way back, I looked around that spot and saw what looked like a black rag. On closer inspection, it turned out to be a bow tie. Why did I pick it up? In my youth I wore clip-on bow ties, and I've always been curious about how to tie a bow. This one didn't smell very good, so I soaked it and washed it and, with the help of videos, tried to tie it. It doesn't take much to entertain old people.
In the past I've found two credit cards. One I turned in to the police, but they didn't seem to be interested, so the next one I found I cut up and trashed. Once I found a small plastic bag with white powder. I called the police and they came to pick it up and question me. Another time I found the "4". It still had some frosting on it! Some of the sockets and other tools I've turned over to the maintenance guys here.
Friends who live nearby have a big house and really decorate for holidays. They must have a garage full of decorations for each of the major ones. What you see in the right picture is just about all of my Christmas decorations. I remember how I acquired almost every one. I also usually put up the last year's cards. That's it for decorations, except that I often buy 4 of those small pumpkins. They last through the fall holidays.
AFTERWORD
I am amazed and amused at how many trivial items of junk have stories associated with them! I have been very pleased to find these memories come back to me as I run across the items. It makes it very difficult to put them away again and I can't imagine throwing them out.
In the past I have been restraining myself from referring to other Ponograms, but can do that no longer. Everything is related and we should admit that. You will see references to related Ponograms in this one. They may help you see why I keep so much junk.