A GATHERING
When I left the Midwest and moved to California in 1963, I had vivid memories of winter due to my last year of college requiring commuting in all kinds of weather and then getting snowed in at my brother's farm. The memories didn't stop me from visiting periodically until the late '70s when I finally resolved not to visit northern mainland states during the winter ever again. It took the birth of twin granddaughters Scarlet and Clover in Bar Harbor, ME on November 10, 2013 to make me break that resolution! I spent 11/20 through 12/7 in BH getting to know them. Plans included a couple days on either end in San Diego, CA to mitigate the jet-lag. Other players who joined in the gathering:
JR. Pono's middle son and father of the twins. Resident of Bar Harbor, ME.
Courtney. Super-mom of 3 year old Poppy and the twins.
Patty. Courtney's mother who spent a couple of months in BH helping with Poppy and birth of the babies. Her stay was from a few weeks before the births to a few weeks after. (Mini super-mom or maybe super-grand-mom.)
Charlie. Courtney's father dropped in for Thanksgiving week to meet the newcomers.
Stuart. JR's brother dropped in for a few days in December to meet and greet.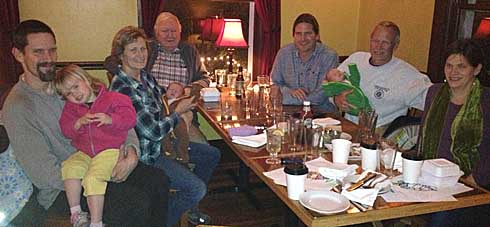 JR, Poppy, Patty, Clover, Pono, Stuart, Scarlet, Charlie, Courtney
The four of us travelers got to stay at Derby Lane Cottage, the rentals that JR and Co own. We had a great home-made and mostly garden grown Thanksgiving dinner at their home and then when everyone overlapped on 12/3 we had a night out at McKays Public House, (picture above) just a block and a half from JR and Co's place and from Derby Lane. That was the first night out for the twins.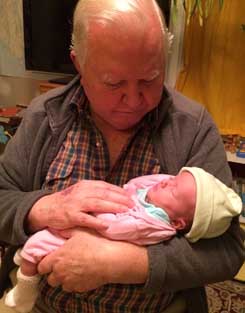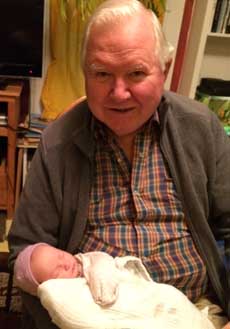 Left, Pono's introduction to Scarlet, the tiniest baby held since 2001 when great-grandson Justin was born.
At the right, the introduction to Clover, who was actually a couple ounces tinier than Scarlet.
The combination of germy plane flights and the likely proximity to 3-yr old Poppy and the twins led me to get an early flu shot. I also had my primary doctor check for other booster shots that might be due. Ended up with a tetanus and whooping cough shot the day before leaving. Got a dripping nose soon after arriving in ME. Had to medicate and take one day off from seeing the babies. I don't know if the shots were to blame or the germy flights.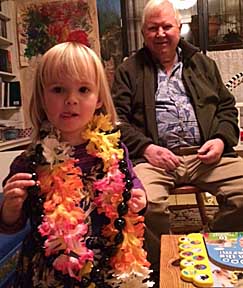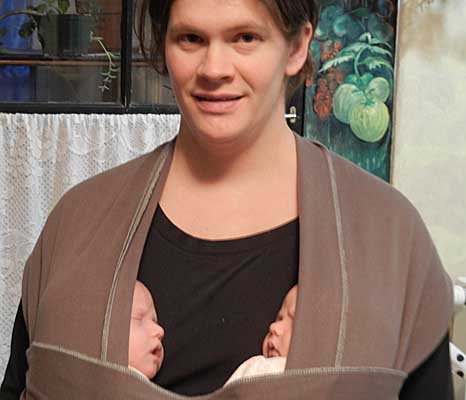 Poppy's third birthday on 11/22 called for leis and gifts galore and a day of redirection of attention from the newcomers.
Courtney obtained a new twin sized wrap similar to the one she had used to carry the baby Poppy and took the twins for a first walk in the cold winter air.
One evening after Charlie arrived, we three grandparents took the challenge of minding the twins and Poppy while Courtney and JR had their first few minutes "out" since the births. Three against three seemed sporting. I didn't actually time the event but I think we managed to keep the fussing to a tolerable level for almost an hour before sending an urgent text for mommy's return. Charlie thinks we got to an hour and a half.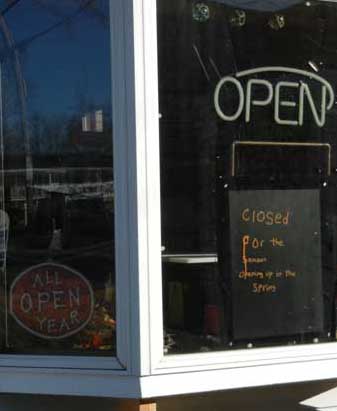 Around the end of October, BH starts closing down for the winter. Acadia National Park closes, tourists stop their treks to the island, and most of the primarily tourist oriented businesses go dark. Some places changed their minds recently (open all year vs. closed till spring) and some places were really ambivalent, and their signage reflected as much (probably open, 1ish or 2ish to 5ish?).
The horror stories we all see on TV when a weather event forces people to be stuck at airports are enough to discourage many a winter traveler. However, if you have to be stuck, plan to be at Bangor, ME. In fact, even if you don't plan to be stuck, this is what an A/P should be.
On my return, my first flight was from Bangor, ME to Washington, DC. I drove from BH, found the rental car return lot and left the car after checking the mileage. Walked 144 meters across the street to the terminal, found the appropriate car counter just inside and dropped the keys. Ticketing for my airline was about 144m away from the car counter. Checked my luggage and walked another 144m to the escalator. Up one floor and 44m to security where I was expedited due to age. Another 144m to my gate. What a piece of cake!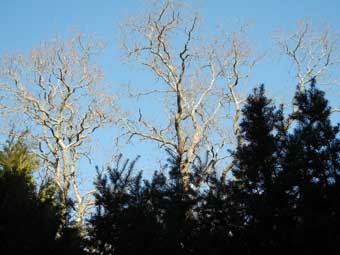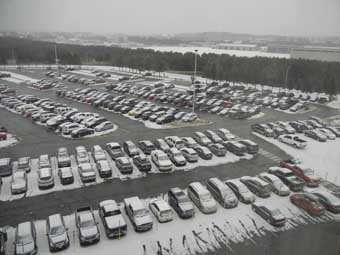 Sunset at Derby Lane before departure Snow at the Bangor A/P from hotel
Now the sticky wicket. I was a couple hours early, so I found a quiet corner and relaxed. About time to board, departure was delayed an hour. Then another hour, and another, and another – all due to weather elsewhere. When it became obvious that I couldn't make the connection to San Diego from DC, I walked 144m back to the escalator, down one floor, 144m to ticketing and got rescheduled for next day – DC to Denver to SD. They retrieved my luggage and sent me on my way.
Knowing the Bangor A/P, I walked 144m to the escalator, up one floor, 144m across the skywalk to the Four Points hotel and checked in. The check in desk has an arrival/departure board and tomorrow looked fine. I got settled in my room and went to the restaurant for a fine meal and a couple glasses of wine. In the room, I connected to the WiFi and set about postponing the hotel and car in SD.
Next morning when I went for breakfast, I found that my flight to DC was the only one delayed, but it was already scheduled too late for me to make connections. So, 144m across skywalk, escalator one floor down, 144m to ticketing and rescheduled for next day – DC to Phoenix to SD. Back to hotel and arrange to stay over another night. So I had to postpone hotel and SD to Maui flight, cancel the car rental in SD, and rearrange the A/P to home ride in Maui. With lots of communicating to do, I spent a bunch of time getting acquainted with the Microsoft Surface that Stuart gave me when I left SD and the TracFone I purchased before the trip. It started to snow in Bangor. I walked the A/P terminal for exercise and took what we used to call a "personal maintenance day" in the Army.
Next morning I had to get up at 4a to get ready and do "all" that walking. I checked the flight online and that and the weather looked much better. Got to gate and settled in to wait. When it neared time to board, I noticed the agent (same guy who had been at ticketing each time) getting ready to help board a person in a wheelchair. He got the chair ready and then put on a heavy parka, zipped it to the top and covered his head. I thought this a bit strange, but noticed others similarly preparing, so I did the same. Indeed, we moved through the gate, down one flight of stairs and a slippery ramp, and out onto the runway for a 144m walk through the fresh (but light) snow to the waiting plane.
The flight to DC was uneventful and I found the gate for the connecting flight quite easily. We boarded on time and then sat waiting in the deicing queue for hours. Missed the Phoenix to SD flight, but ticketing got me a seat on a later flight. Rest of the trip was pretty standard, but the Bangor experience was so convenient and comfortable that I have trouble complaining about a two day hang up that was certainly out of anyone's hands. I learned to appreciate things like WiFi, cell phones and even texting (which I previously had no use for).
Due to all the uncertainty, I had cancelled my car rental in SD and that was great for me. Stuart and Jen picked me up at the A/P and my hotel had a shuttle to get me to the A/P for return to Maui.
So it took me 5 days to get from BH to Maui and I got home so disoriented I didn't know what time or what day it was for quite a while. I think jet lag is more serious for the elderly.
AFTERWORD
I thoroughly enjoyed the trip and its primary reason of meeting the twins and spending time with relatives. The travel glitches, the weather, health issues and other minor stresses were barely noise compared to the music of the three little ones! I hope that all of you had similar warm experiences over Thanksgiving and Christmas and that the New Year will be good to you.