WHAT IS TEACHING?
In my final year of college in 1962, I took Education 101, a basic, introductory class. I don't recall why I took it, but I suppose I was either curious about the subject or else it filled out some obscure requirement and sounded easy. Let's say it was the former.
I had forgotten about the class until I ran across the following paper. I interviewed my mother who had taught second grade for many years and had just retired. To get quite a different perspective, I also interviewed my high school buddy who was in his third year of teaching high school manual arts.
This is a paper I wrote for that class. I was sorely tempted to make some changes to the grammar and even the content, but I refrained, and here it is in original form.
WHAT DOES IT MEAN TO TEACH?
Mrs. Sandin: "Teaching is the process of creating an atmosphere conducive to learning."
Mr. Henry: "One is said to teach if he is the one associated with other persons as they learn."
In order to become better acquainted with teaching as a profession, the author interviewed two teachers with varied backgrounds and experiences. Mrs. Sandin is a second grade teacher with about twenty five years' experience, who retired last June. Mr. Henry is a manual arts teacher in his third year of teaching on a high school and junior high school level.
Many questions were put to each teacher, interviewed separately on January 22, 1962. The question "What is teaching?" is answered in the heading. Four other pertinent questions are reported herewith.
I. What has been the biggest problem you encountered in teaching?
Mrs. Sandin: To me, teaching has never had large problems, and the small ones are probably no different than one might encounter in any other field of endeavor. However, the problem which I would cite is more of a difficulty of the school system as a whole. I have always been sorry that I could not spend more time with the slower pupils in my room. Under our system we have rooms composed of children of widely varied abilities and it is difficult to properly apportion time to individuals without being unfair to some of them.
Mr. Henry: I thoroughly enjoy teaching but without the added rewards of satisfaction and the feeling of doing something worthwhile, I would find it hard to justify working for such wages. My biggest personal problem then, is trying to live within my income.
These two views can only be introduced to a student teacher in his first few weeks of experience. It seems that the experienced teacher tends to either forget or lessen the importance of the problems which loom so large to the student teacher.
II. What has been your greatest satisfaction in teaching?
Mrs. Sandin: I have always looked forward to the last three months or so of every year when the pupils seem to actually blossom out. It gives me great satisfaction to think I had some small part in this phenomenon!
Mr. Henry: On a personal, probably selfish, level, I have a sense of satisfaction in knowing that the administration, school board, and parents have faith in my abilities, common sense, etc. Of no less importance is the sense of accomplishment in seeing the learning process.
Apparently, the thrill of working with and seeing children develop is no less for the experienced teacher at any level than it is for the beginning student teacher.
III. What do you consider the most important preparation that a prospective teacher can make?
Mrs. Sandin: I was away from teaching for several years while I was raising my family. When I returned, I feel that I was a much better teacher. The reason for this, I believe, is the answer to your question. Contact with children of the age group you intend to teach is the most important preparation you can make.
Mr. Henry: Student teaching! Student teaching was invaluable to me. I learned more about teaching in that three months than the entire rest of my college career!
Here again, experienced teachers agree with student teachers in the importance of practice and actual contact with children. Mr. Henry added that, if extended for a longer period, student teaching would weed out the persons who just aren't made for teaching. This concurs with most student teachers' beliefs that it is a time for decision.
IV. What one thing is basic to being a good teacher?
Mrs. Sandin: Rapport. A person who can achieve this harmony in the classroom is not just a teacher but an artist.
Mr. Henry: Some teachers merely lecture to their students and never know until a test is given if learning is taking place. Awareness of students and their responses is, to me, the sign of a good teacher.
Both in this question and in their definition of teaching these teachers have expressed the belief that teaching does not exist alone, but rather is a word used in connection with one who sets the stage for the act of learning. It seems that this concept is the most important thing a prospective teacher has to understand to properly prepare himself for his new role.
CONCLUSION: It seems that the greatest difference between the views of student teaching and the views of experienced teachers is the difference between surprising first impressions and the longer lasting mellowed feelings that come with acceptance of some of the minor annoyances, learning to cope with some of the greater difficulties and becoming closer to the thoughts and actions of children through experience and contact. The fact that so many experienced teachers speak of the elusive "greater rewards" of teaching is difficult for the author to understand and at the same time an enticement to learn more about the profession.
Norman A. Sandin
| | |
| --- | --- |
| | Mamie Sandin continued to take classes as she taught and earned her Bachelor of Science degree from Michigan State Normal College in 1952. |
| | |
| | |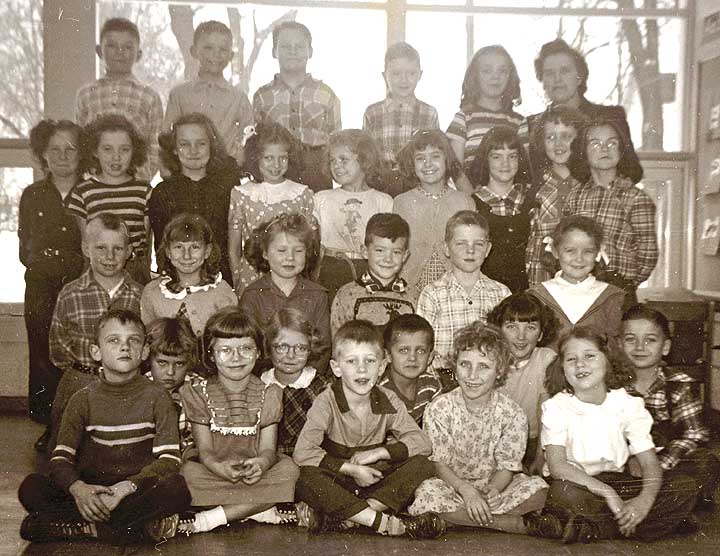 Mrs. Sandin's second grade class in 1950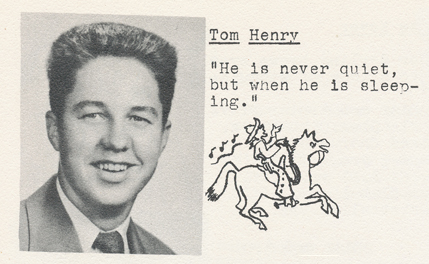 Tom Henry from the yearbook in 1951
AFTERWORD
For those who might be curious, I was awarded a B+ for this tome. I'm not sure I would have been so generous. This was the first and only course I took in Education at Michigan State University, but that department continues to contact me for donations.