WUNDERKAMMER IV
Here we are with yet another batch of wonders. I'm as shocked as you are. Seems like all the corners are wrung out, but, no, there are more artifacts.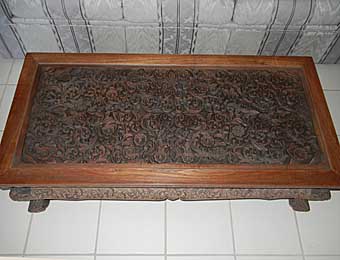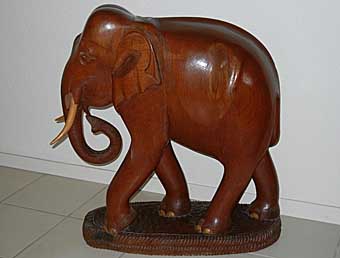 From Thailand, carved teak. The coffee table is 24" x 50" and has two matching end tables that are 24" x 24".
The elephant stands 30" tall. It is carved from one piece of teak except for the tusks. This one was the daddy. It's been poked and prodded and straddled by many children and has lost a chip from each of the tusk holes.
We sent similar but smaller elephants to my parents and Clae's parents. I learned years later that when my father received it he was sure I was razzing him for his lifelong Democratic views. Nevertheless, they kept it until just before moving into a nursing home.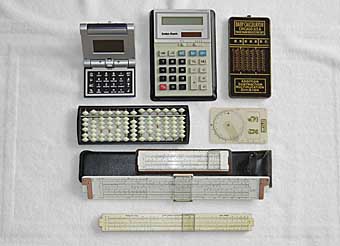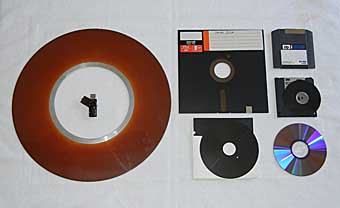 The abacus-like device was purchased when I worked for Abacus and wasn't actually used. In fact, the one-up, five-down format seems to be a cross between a soroban and an abacus. The large slide rule (log-log duplex decitrig) was given to me by my father when I was in an engineering program at Michigan State University. At that time every engineer carried a slide rule and the Engineering program included a mandatory, albeit non-credit course in its use. The rest of the calculators and slide rules found their ways into my possession somehow and never went away.
Here we have six different disks and a thumb drive to illustrate just a few of the ever-changing types of offline data storage. You may recognize disks by size – 16", 8", 5 ¼", 3 ½", by name – Zip, or by capacity – 4.7 GB. The flash (or thumb) drive in the center of the 16" disk holds 16 GB. These are just a few of the many varieties and sizes. If I could keep up I'd show you a device that holds a terabyte – Costco has one for offline backup. Last night I read about telescope programs that will generate petabytes and even exabytes of data.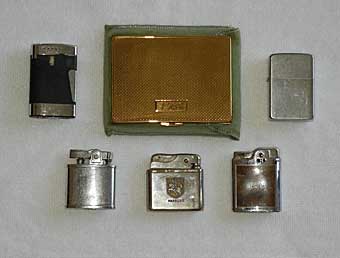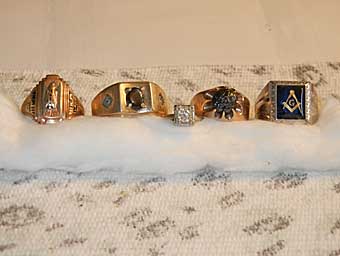 Yes, I smoked like a chimney for a few years and I probably lost more lighters than pictured here. See Ponogram #11, Pono the Addict. I was surprised to find this cache, including a cigarette case. I don't recall adopting the affectation of a case, but here it is with my initials on it.
The leftmost ring is from my high school graduation. The next ring came from Thailand. I really don't know if I wore it or if we gave it to my father. The diamond is my mother's. The next is a piece of hematite (grape ore) my father found when he was working in the iron mines in the Upper Peninsula (UP) of Michigan. Dad had the hematite mounted and wore it for most of his life. The rightmost one is my father's Masonic ring. Many memories.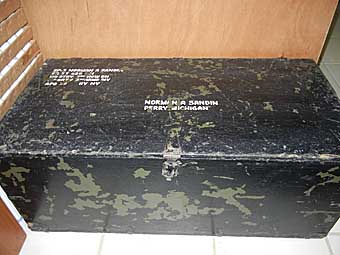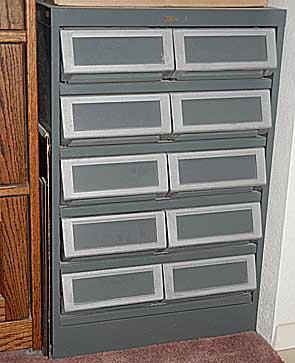 When I returned from Germany on the way to Chicago and discharge from the Army, I packed up two broken-down foot lockers with all of my treasures and shipped them to my hometown. As you can see, times were simpler then – name, town and state were sufficient as an address. I must open them one day and see what they contain.
This is a 10-drawer card file. Each drawer is just the size of a Hollerith card and would hold several hundred of them. Each drawer has a movable restraint to keep the card deck firmly together, and each drawer is separately removable from the cabinet for transport to a workstation or for processing by a computer. I acquired the piece when Abacus had no more use for card deck storage. It is great for heavy things like tools.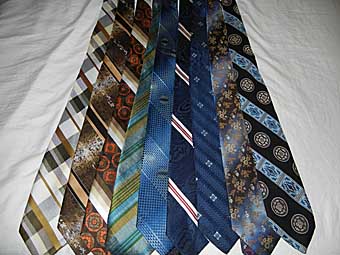 Tiepins and tie clasps! I'm pretty sure this is only a subset of what I have (or perhaps had). The cutout Indianhead penny, abacus, switch, and Thai headpiece reflect a hobby, an employer, an occupation, and a place we lived. The stones were all purchased in Bangkok when shopping was a fun thing to do on a Saturday. The two tie clasps were more practical than decorative.
Ah, neckties! Aren't they beautiful? The last time I remember wearing a necktie was in 2001 at the 50th anniversary of my high school graduation. Time was when I was strangled by one nearly every work day.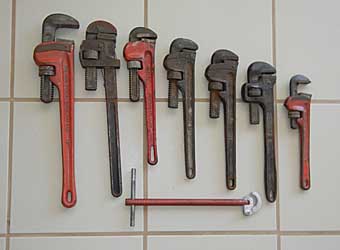 Why do I have tire chains in Hawaii? Crammed into a small box, they make a very effective door stop. These chains fit a 1971 Pinto and were either used or threatened to be used during a trip to Big Bear in California in the mid-70s.
In a moment of lucidity a few years ago, I allowed JR to sort through my tools and select any that he wanted. For obvious reasons, he left every pipe wrench he encountered. I doubt if this assortment would be worth more than the value of scrap iron – does anyone have lead pipes in their properties anymore? I think copper and PVC has replaced close to 100% of lead and even steel pipes.
AFTERWORD
Surprisingly, I have received zero bids on these wonders from my vast audience (some say the audience is only half-vast). I could be disappointed, but I choose to be pleased. I take the disinterest to mean that apparently nobody sees anything worth robbing me to obtain!
Many years ago, one of my sons called dibs on the carved teak coffee and end tables – now if I could just remember which one. (Just kidding – I'm sure I'll remember if he offers me a room when I visit his town.)