Over the years I have gathered pictures of places where I've spent periods of time and it occurred to me to share them with you with a brief summary of my adventures. Of course, my age makes the promise of the word "brief" difficult to achieve. I made liberal use of references to existing Ponograms to help limit the volume. Here is my attempt.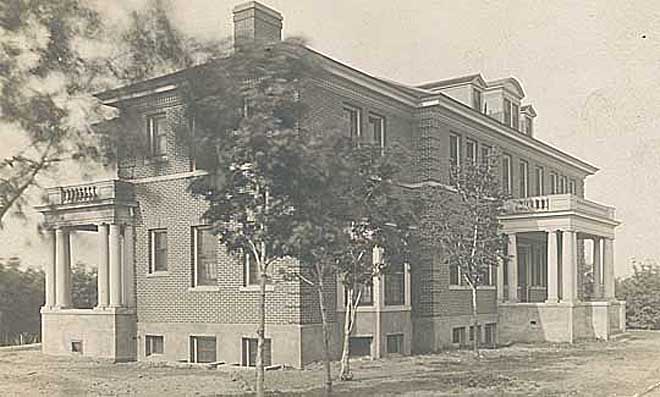 This is the Newport Hospital in Ironwood, MI, famous the world over as the birthplace of Norm "Pono" Sandin. Pono and his mother spent 10 days here and were billed $44.50. I think I remember my dad telling me the doctor got another $25.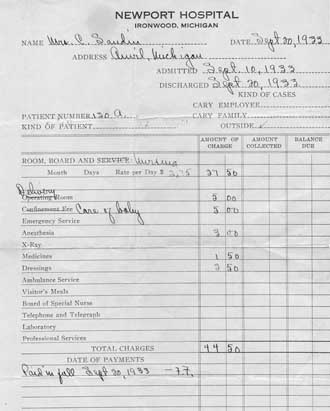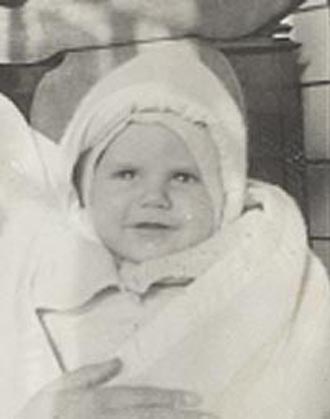 I still have the bill from Newport Hospital (above, left), but the building was a pile of rubble last time I drove by. Pono long before he was Pono (above, right).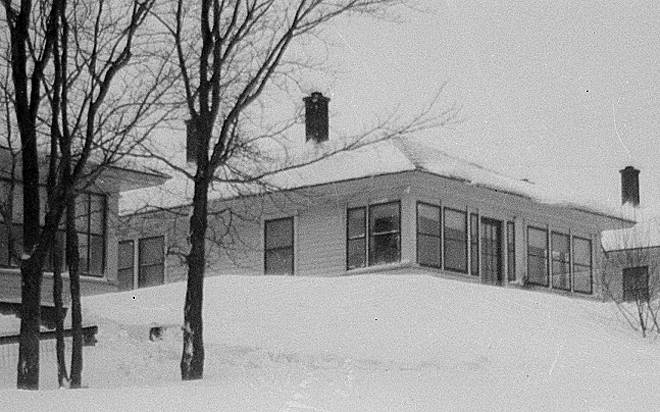 This is the house in Anvil Location, MI that my parents lived in when I was born and for about six more years. Dad got a job with the Michigan State Highway Department (MSHD) and he was stationed in various towns as road work was scheduled. He worked away from home during the week for a while, and came home weekends, but that got old.
Dad built a house trailer (left, below). I'm not sure what his original plan was, but when my sister Jean married, she and Hub lived in the trailer behind our house for a while. Soon, Mom, Dad and I moved into the trailer to follow the road work. My brother Bud stayed with our grandparents to finish high school. Jean and Hub moved into the house and they occupied it for the rest of their lives.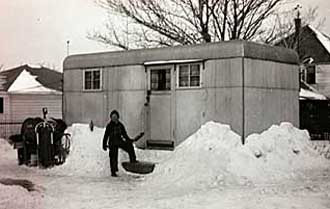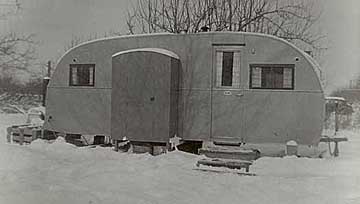 Pono with the home made trailer in Marquette, MI (left, above). In about 1941, the folks traded up to a manufactured trailer (right, above) and with that we traveled all over Michigan. After finishing HS, Bud lived with us in the trailer for a while but he soon joined the Army.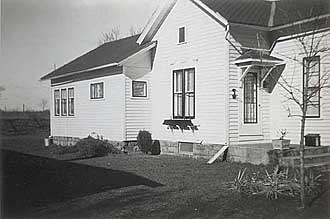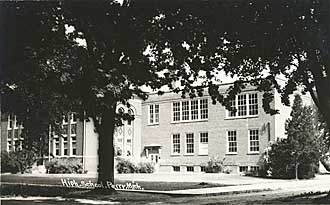 In 1946, Mom got a teaching job in Perry, MI and we moved our trailer there. After I had attended some 15 different schools and we had lived in 20 different towns, Mom convinced Dad that we needed some stability and some indoor plumbing. We bought the house in Perry (left, above) and I went through High School in Perry (right, above).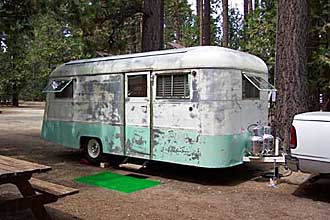 This is not the actual trailer we bought when Pat and I married in 1952, but the form and size are correct (above, left). The rounded roof of ours was white like this one, but the rest of it was dark green. The two-year short story of the trailer experience can be found here.
The next four years were filled with turmoil starting with sale of the trailer and a move to an apartment in Perry (represented above, right). It is probably not worth trying to track this period. By its end, I was divorced and married a second time, living in various places in lower MI, and employed by the Michigan State Highway Department as my father had been.
In 1958, I was drafted into the U. S. Army. I spent a brief time at Ft. Leonard Wood, MO and then went on to Fort Hood, TX for training (above, left). Most of the 27 month enlistment I was stationed in a castle in Butzbach, Germany (right, above). The castle was built in the 1500s by Hessians and occupied in WWII by the German military.
Transit to and from Germany was accomplished by luxurious troop ships (right, way above). The trip took a week or ten days depending on weather. Pictured ship is the USNS Geiger, my home for the Bremerhaven to New York trek.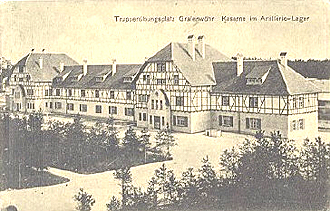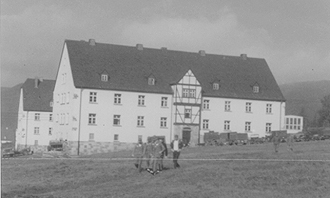 While my "permanent" residence in Germany was the castle, we did field training exercises at Grafenwohr (above, left) and Wildflecken (above, right). We also did periodic "bug-outs" to keep us flexible. Given the notice to bug, we packed most of our stuff into our various vehicles and moved out until ordered to stop and then set up camp for a few days.
I spent a month in Hanau at a Basic Non-Commissioned Officer Training class – see description here.
The most fun was when the survey crew to which I belonged went out to set coordinates for our howitzers. We would draw rations for the week on Monday and do our magic for the work week, getting back to the castle on Friday. We lived in tents and cooked for ourselves, but escaped the usual barracks BS.
After the two year draft period, I found myself with no real plan for the future, some built up leave, and the thought of going to a nuclear power plant operator school. I extended for three months, which exempted me from post-active reserve duty. By the end of that period, I sobered up and accepted discharge.
AFTERWORD
Next issue will bring us from Army discharge up to "now". Please write me with your guess whether I make it or not.