I'm a genealogist. I have spent thousands of hours and thousands of dollars on this activity. Many think that this is a worthless pursuit and I guess in some ways it is. The past is gone – the ancestors are dead – the contemporary relatives may or may not care about their cousins and in-laws. So why bother?
Well – let me describe a few events that I have found to be rewarding.
I found ex-wife Clae's paternal grandfather and father in the 1930 Census even though the Leavitt surname transcription was Seauett. The street name looked like Sound or Second and had no St. or Pl. or Ave. In light of the surname translation experience, I went to Google and searched for "620 Sound Spokane". Shockingly, the first full page of hits showed the very house! In 2017, it was or had recently been on sale. Pics, info, history, and all!
This is a clip from the 1930 Census showing the Census-taker's handwriting.
The house had been built in about 1910. For the 1930 Census Walter declared the value at $7500. The 1940 Census valued it as $5000. In 1950, Minard gave 620 Sound Ave., Spokane, Spokane, Wash. as the address to use to send his military mustering out pay. In 2017, the asking price was $359,900.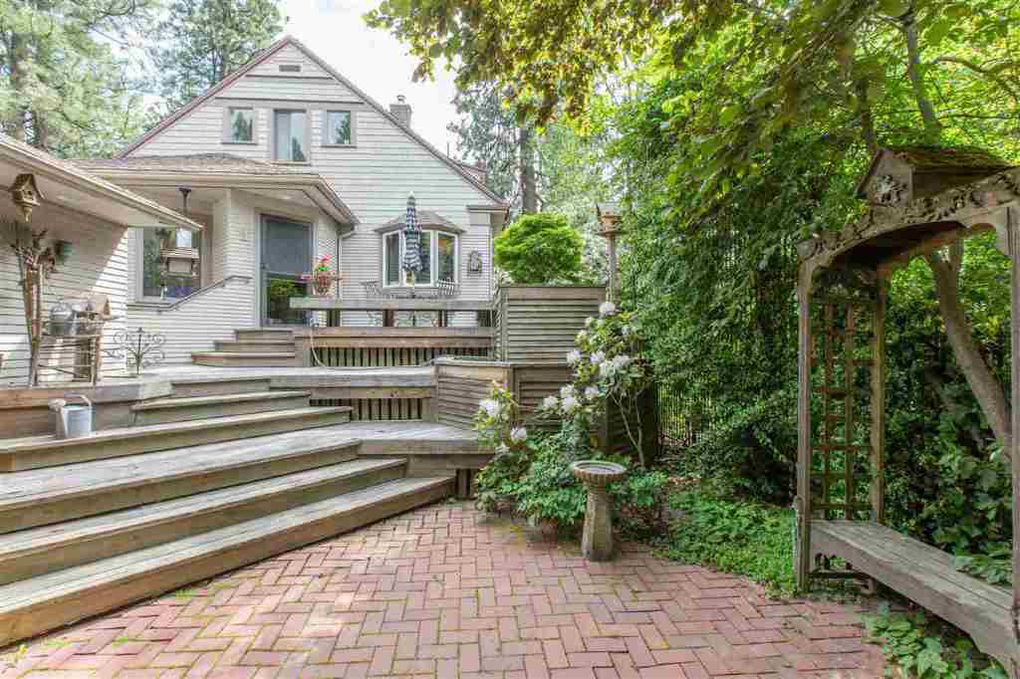 620 Sound Ave., Spokane, WA
Mary Norwood Nicholson, Walter's wife, once told me that she was the first white child born in Leadville, Colorado. Her birthday is listed as 1880-01-09, and she is listed in Leadville as 5 mo. old in the 1880 Census. It's hard to pin down her claim, but so far I have no reason to doubt it, but no source to confirm it.
In the beginning of a dialog we had more than once, Grandpa Walter told me that he was "born in Peck, MI and soon moved to Yale, MI". Since I started my search with that knowledge, I was not surprised to see documented evidence of him and his relatives in Peck, Yale, and various Michigan towns around there.
However, I literally lost my breath when I was filling in contributory documents and ran across the death certificate for Walter's maternal grandfather's brother, Howard Vansickle. The informant Julia Vansickle and the attending physician were from Shaftsburg, MI and the undertaker was from Perry, MI!
I lived in Perry during my high school and college days and lived in Shaftsburg when I was first married. Of course the death occurred in 1910 and my residency in the area was in the 1950s, but a random search now turns up LOTS of Vansickles and I can imagine having known descendents of Walter when I was there.
I looked up the informant Julia Vansickle in the 1910 Census and found that she was Howard's wife and they lived in Woodhull Township (also known as Shaftsburg). Their neighbor was a Spangler family with a young son named Merle. This Merle grew up to be Merle Spangler, the father of Ruth Ann, Betty, and Robert – all friends from high school and later. It's a small world!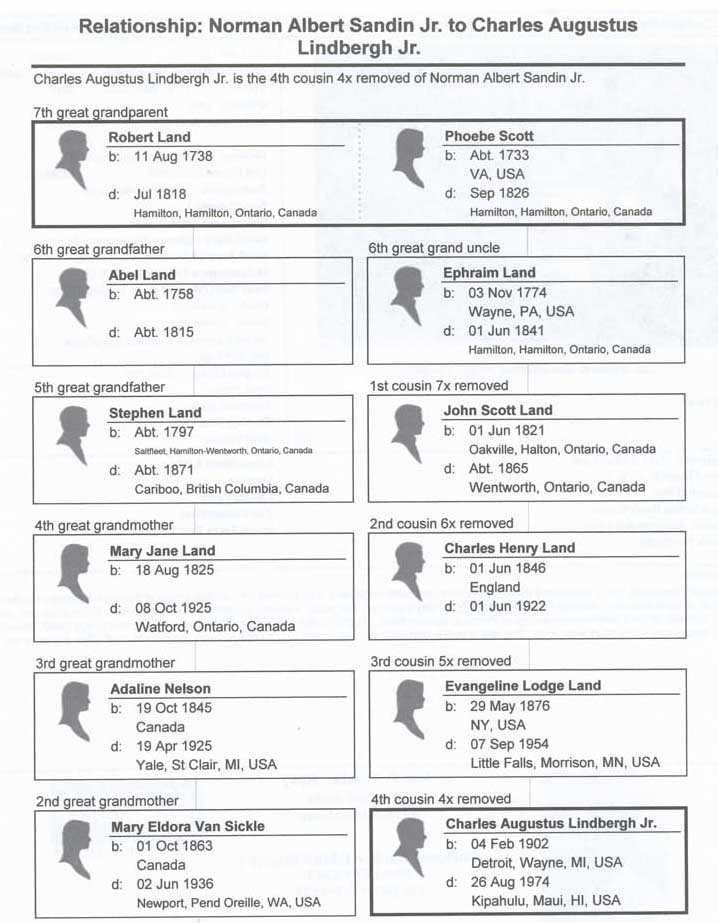 This is a relationship calculator chart by Family Tree Maker. All you need is a database containing all the connecting families and input of the two individuals you believe are connected.

In this case the individuals are my son, JR and "Lindy" Lindbergh – the first person to fly across the Atlantic solo non-stop. The chart is equally applicable to my son Stuart.

To follow the connection, start from lower left and proceed upward through the generations to the common ancestors – Robert Land and Phoebe Scott. Proceeding down the right side you get to the other individual, Charles Lindbergh! Each individual includes the relationship to JR, culminating in Lindy being JR's

fourth

cousin

four

times removed.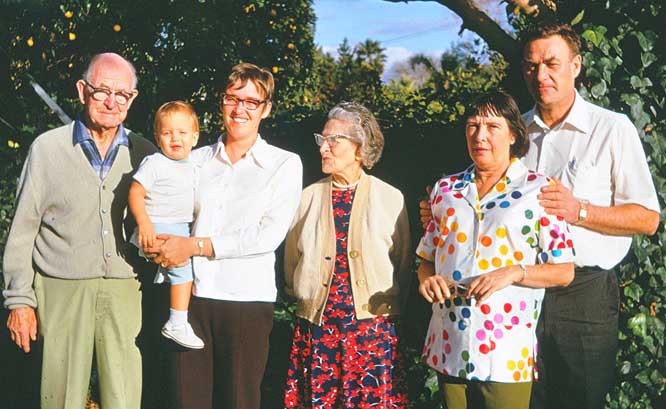 This is a four-generation picture of Leavitts with a little Sandin - Walter, JR, Clae, Mary, Lee, and Minard.

Taken in 1970 when Clae and I took JR on home leave from our assignment in JR's birthplace - Bangkok, Thailand.





AFTERWORD

Of course, like everything else in life, you take the bitter with the sweet. Robert Land, the common ancestor with Charles Lindbergh, has been described as follows:

"Folk Figure. A native of New York, Land later moved to Head-Of-The-Lake, Ontario, later Hamilton, Ontario, Canada, and became the first white man to settle there. After settling in Hamilton, he became part of the United Empire Loyalist movement and spied for the British during the American Revolution. He also became a well-known land baron owning 300 acres of land by 1782, and then up to 1000 acres of land by 1791. His son was Robert Land Jr., the well-known war veteran."