I ran across this word recently when I was looking for pictures of antique objects to use in the Swedish-English Pictorial Dictionary. In early times people often gathered their "treasures" into a cabinet or even a room for proper display. Thus, "Room of Wonders" – a mini-museum. It occurred to me that I have "treasures" tucked away in all corners of my place, with very few of them on display. I decided to photograph some of them to share.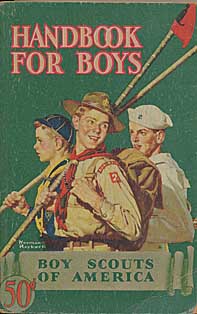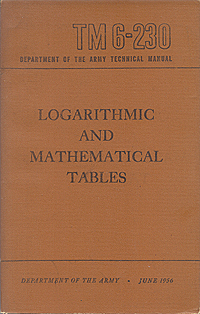 This is the 1943 edition of the Boy Scout Handbook. I got it for 50¢ and read it a lot, but we never settled in one place long enough for me to join.
I inherited Mom's 1946 edition of the Better Homes and Gardens Cook Book and, since the basics of cooking don't change much, and all I need are the basics, I use it quite regularly.
This is the 1956 edition of Army Log Tables. This is the actual source book I used when I was in the Army. I WAS a Computer in the Survey Section of the Headquarters Battery of a 105mm Howitzer Battalion.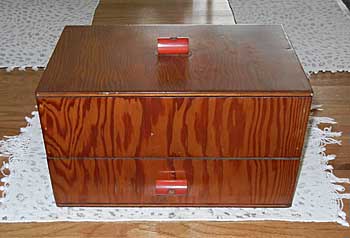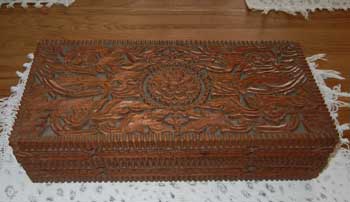 I took wood shop in high school and this box is one of the products of that class. Somehow it has survived marriages and divorces, travels galore, and lack of maintenance. Good work?
When we were in Thailand we sent my father-in-law this carved teak box. I don't know the appropriate name for it, but it is for overnight storage of spectacles, wallet and watch. When Minard died, I ended up with the treasure and used it as intended. It is still full of things that were important to me once, but since retirement, my watch, shoehorns, change, and any number of odd items, sit idle.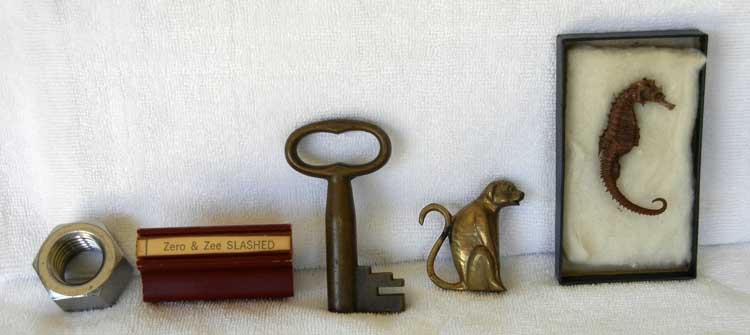 This is a potpourri of objects from my past. I simply can't talk about the first one. Oh, I know what it is, where it is from, and what it is for, but I can't tell you. I've probably said too much already.
In ancient times (60s) we used to write computer instructions on paper forms, submit them for manual conversion to punched paper tape or punched cards, for input to computers via appropriate readers. Variation in handwriting was an issue and some rules prevailed. To distinguish between similar characters our rules were O was the letter while Ø was zero, and 2 was the number while Z was the letter. To make this clear to the keypunch operators, a rubber stamp with "Zero & Zee SLASHED" was applied to each page of the submissions.
My father was friends with the sheriff of a town in Upper Peninsula of Michigan (UP). One night when we were visiting him I admired a set of brass keys he had on display and the sheriff gave me the smallest of the set. He said they were keys to the jail, but I now suspect they were very attractive display items. I still like it.
My parents and I spent many years in the cold of the UP. As an adult, I purchased the brass monkey above to test the climate in the UP. Sure enough, the monkey lost certain male parts, proving that it was cold enough to freeze the ……… off a brass monkey.
I'm not sure how the seahorse survived, but I believe it was purchased at the 1933 World Fair in Chicago and given to me by one of my relatives who lived there at the time. Since I was born in that year, I suspect it was given to me somewhat later.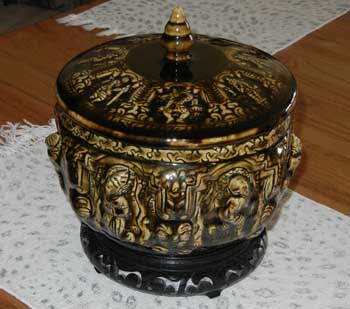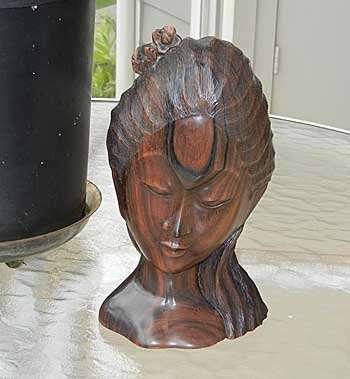 Ceramics made of Celadon are popular exports of Thailand. While assigned there, we purchased a number of things including this covered casserole with wooden base. It has never seen food or the inside of an oven (except when it was fired), but it is pleasant to see.
The carved head came from Bali, where we stopped on our return trip from the assignment in Thailand. The 7500 (somethings) price tag is still on the base. If this is in Rupiahs, at today's rate it would cost less than $1.
Muu Phèn Pail