UNLIKELY FRIEND
Over the years, I spent quite a bit of time with a guy who was as different from me as Oscar Madison was from Felix Unger in The Odd Couple. I was more cerebral while he was more physical. I worked in an office while a farm or construction site was his milieu. I was fond of watching baseball and golf while he loved football. I was a conservative dresser while he liked flashier garb. I liked my wine while he chose harder stuff.
When I moved to California, he thought I was nuts. He maintained that he would never leave the Midwest. He enjoyed country music and constant "noise" while I loved periods of silence without radio, TV, or recorded media. We even varied on trivial choices – my kitchen sponge vs. his dishrag, his peanut butter lived in the refrigerator while mine stayed in a cabinet, etc.
He was some 10 years older than me, and I often thought that left to normal life activities, we never would have met, let alone spent time together. But, Bud was my brother, and genetics threw us together. We did share a few commonalities – foods from our youth, politics (opposite from our parents of course), and (may God help us) our looks.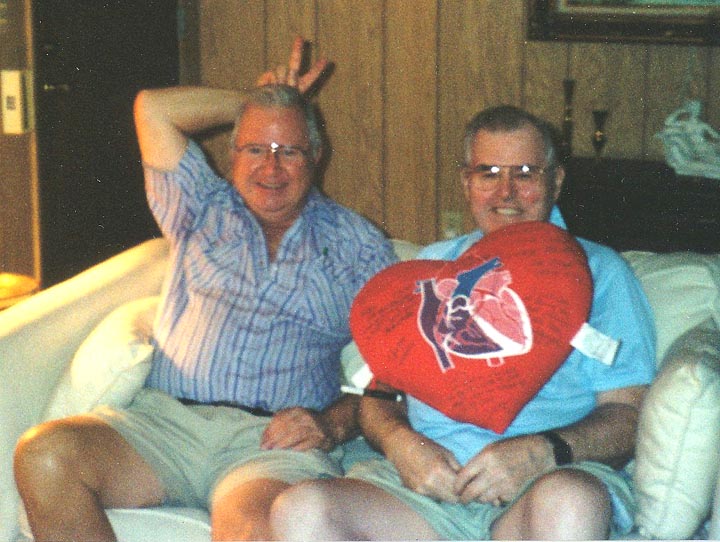 Pono with Bud – after Bud's triple bypass
Very few memories of Bud survive from my early childhood. Probably the very first memory is of Bud pulling me out of the water when I fell in while visiting grandparents at Lake Gogebic. I call it a memory, but it may be the memory of having heard about it from others. Bud recalls it as the heroic act of saving an infant from drowning. As I grew up I investigated the scene and it looks like he extracted me from about six inches of water. At certain times Bud indicated that perhaps he shouldn't have gone to the trouble. At certain times I wondered if the dip was really due to a slip on my part or if I was helped in AND out.
Bud stayed with grandparents to finish high school when Mom, Dad and I moved into the trailer to follow Dad's work. He spent some time with us summers and he was involved with driving Mom and I around while dealing with my appendectomy. Then he was off to the Army.
After WW II, Bud ran a gas station near Grand Ledge. One summer we parked our trailer behind his station and he and I spent quite a bit of time together. I "helped" around the station and Bud and I slept outdoors all summer. Later that year we moved to Perry. I bussed to Grand Ledge on weekends and eventually pumped gas and was able to give Bud a break to get away once in a while.
We bought the house in Perry and Bud sold the station to work in construction. He came to stay with us and we really got acquainted. We played Monopoly, card games like Bezique and Pinochle, did projects together and fought and argued like … brothers. I owed him bazillions of Monopoly dollars – winner always crowed like a rooster (too often it was him). We dug a big hole under the house to expand our "MI cellar". We stayed up all night to photograph a lunar eclipse. He teased me unmercifully with his outrageously stinky socks. He hit me on the upper arm until I came at him one time with an empty Coke bottle and he finally stopped that with Mom's advice.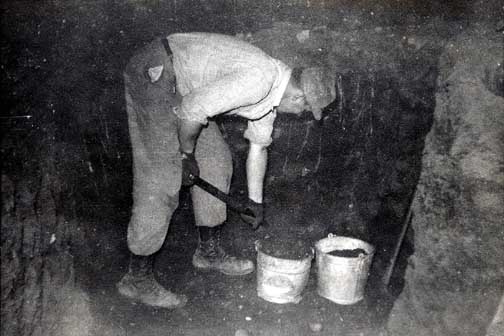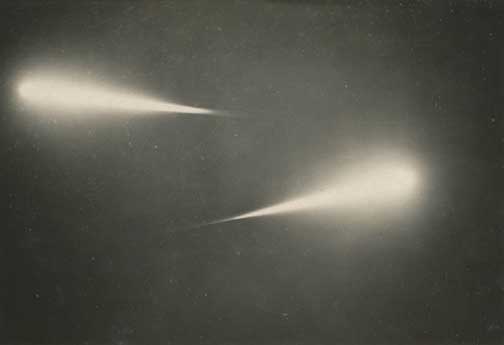 | | |
| --- | --- |
| Bud filled and I emptied | Lunar eclipse in 1949 |
Bud made a mistake when he was discharged after the war. In the hopes of eventually getting some Army retirement, he joined the Reserve. Sure enough, come Korea, he was reactivated! Never mind that by then he was married and his wife Jo was pregnant. So Bud went off to the Army once more, and Jo came to live with us. Their son Jim was born, Bud was discharged, they bought a house trailer and moved away.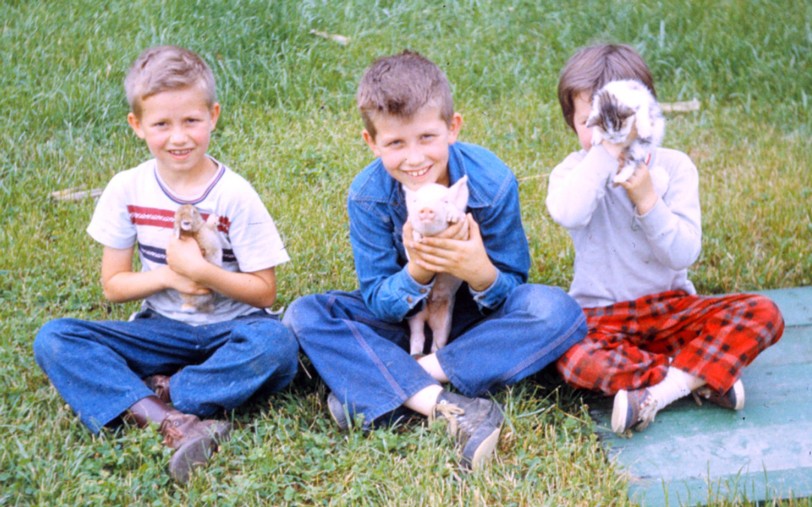 Bruce & bunny, Jim & piglet, Kathy & kitty
Bud and Jo bought a farm and started raising pigs and kids and corn and stuff. I visited them once in a while and had scads of new experiences. I shoveled pig poop, helped load pigs for market, swapped piglets from under heat lamps to the sow and back in the middle of the night, and cut wood. I took lots of pics of the kids as they were growing, enjoyed farm meals (e.g., a "half ton" of corn on the cob right out of the garden), teased the kids until Jo scolded me, and eventually left MI for CA while Bud thought I was nuts.
Years passed, Bud and Jo separated, Bud came out to CA against all of his pronouncements to the contrary. He stayed with us for a few weeks, started looking for a job, hooked up with Leisure World as a maintenance man, and moved into an apartment in San Clemente. We visited back and forth, traveled together to MI to see our parents, and worked together on house repairs on the fixer Clae and I bought (JR and Stuart called that concept "Budding" and still apply the term to doing work at the other's place). Bud often joined us on the Saturday after Thanksgiving and we had our feast then. We got to calling it Swedish Thanksgiving. After Clae's mother died, Bud rented an unfurnished place and took some of the furniture she had left.
Bud had no particular plan for retirement so he worked past 65. He finally retired after Dad died and decided to move back to the Upper Peninsula of MI (UP) to spend some time with Mom. We all thought she wouldn't last very long, but she hung on for three more years. He rented a place overlooking a lake for a while and then got a chalet with a great view of ski hills. He visited Mom at the nursing home nearly every day. Mom's sister Rubie visited nearly every day as well. The three of them spent hours together. Bud and Rubie read and chatted and did crossword puzzles. Mom couldn't hear very well. She was mostly bedridden and napped a lot but I believe she got some pleasure out of the company.
Mom had a favorite care giver named Verna who really treated her well. Mom could never quite get the name right and called her Myrna or Merva or whatever, but it didn't matter. Too soon after Mom went, Rubie, Verna and Bud all joined her.
After Mom died, Bud came back to CA and bought a double-wide in Hemet. We visited back and forth while I was in CA and then HI. Bud had a triple by-pass and his son Scott came out and spent a week with him during recovery. I spent the next two weeks with him. I really didn't do much, but I was there for company and support. The one "care" chore I had was to put on and take off the compression stocking on the leg that furnished the replacement vessels. This put me in closer proximity to Bud's malodorous pedal extremities than I ever dreamed I would have to be. Bud enjoyed my discomfort immensely and laughed all the while I did it.
The by-pass surgery took a lot out of him but he slowly improved. At some point he was diagnosed with prostate cancer but elected watchful waiting. The so-called roto-rooter surgery was done. That was not a cure, but only for symptom relief.
Bud sold his double-wide and Scott moved him back to MI near part of his family. I visited him there once and planned another trip, but he died before I got there. Five of his six children were with him at the end.
I think Bud and I were good friends. We had lots of laughs together and I admired him for his military service, his independence, and his three year service to our mom. We also had our differences but I don't think they got in the way of our brotherhood. When Mom died, Bud said "Well, we're orphans now, Norm." I think he was commenting on more than the death of our parents – we were both divorced and far from our children and prior homes. I miss Bud – my unlikely friend.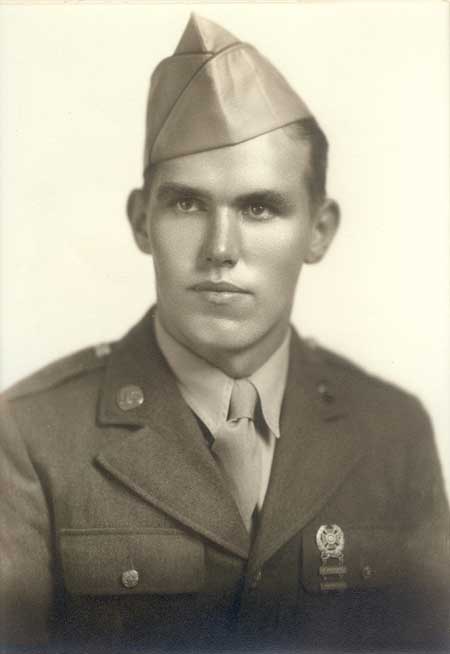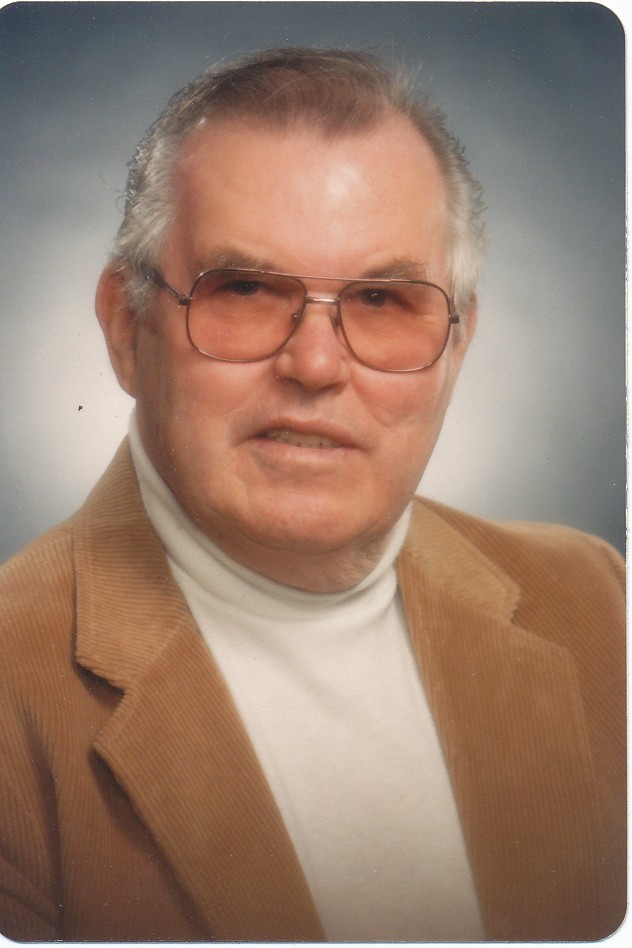 Neil Charles "Bud" Sandin – 1923-2004