PONO BOWLS
Bowling has woven its way in and out of my life from high school days until just a short time ago. As I started looking back, I found more and more details (and a few periods with no details). I had fun dredging this up and hope you will bear with me.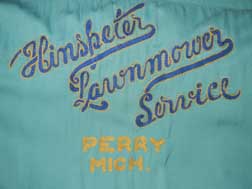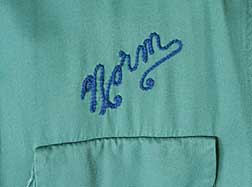 I was introduced to bowling by Clayt Hinspeter. He serviced my dad's car and I think his wife was in a car pool with Dad. Clayt sponsored a team and was desperate for a fifth bowler and I was game. Clayt found a ball that I could use and of course at that time everyone rented shoes so that was not a problem. Since I was a beginner, I had a great handicap.
We all rode together and Clayt usually drove from Perry to Owosso to the lanes. We often started out with a little incentive-builder. The favorite was a pint of Peppermint Schnapps. The bowling alley had no bar, but there was a bar next door. The drill was take your turn, change your sliding shoe, run next door, grab a short beer (10¢), chug, run back, change the sliding shoe, and be ready for your next turn. Rain and snow meant we had to change both shoes and be very careful, but it didn't stop the drill. At that time a 10¢ beer was two or three swallows, but it was amazing how many of them we could imbibe.
I think they conned me into being secretary for that league. I don't have any other memorabilia of that period except the shirt, but I did have a lot of fun and I thank Clayt for getting me into the sport.
After that, I left Perry and traveled all over the state with the Michigan State Highway Dept. (MSHD) so committing to a league was out of the question. Then I was drafted. I was in a bowling league while in Germany in the Army and acted as secretary but have no memorabilia.
Back from the Army, I went back to the MSHD, then went back to Michigan State University to finish my BS. Worked for a short time in Wisconsin and then moved to California. I joined a league of System Development Corporation employees and we bowled all over the West Los Angeles area. One year they talked me into taking the Vice President job. You know, just a slot that some name needs to be assigned to, no duties, no sweat.
About 15 minutes after I agreed to take the job, the President and Secretary ran off and got married and left me holding the bag. (Yes, you know who you are and you are reading this today – for shame.)
Clae agreed to take the Secretary job and I took over as President. (Clae is my ex-wife and this took place before we were married.) I think I have some assorted Pres., VP, Secretary, and Treasurer patches, and lots of hangovers to show for this period but that's it.
Clae and I married, went to Bangkok for a couple of years, came back with little JR, and settled in San Fernando Valley, CA. Before we left for Bangkok we disposed of the trophies we had accumulated. We removed the brass strips and started a general plaque (below left). Stuart was born and as the kids started growing up we got involved in bowling again.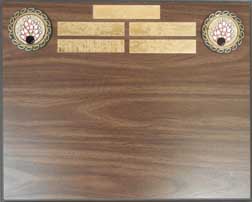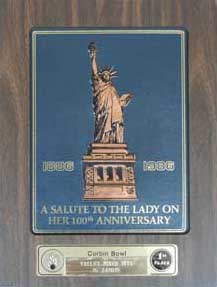 Clae and I got into mixed evening leagues and Clae joined daytime ladies leagues. I did OK, but Clae had a talent and actually won a fair amount of money. We did win First Place in the Valley Mixed Five in 1986 and we each have a plaque to prove it (above right).
For years and years we bowled in the Kids and Keepers league – 2 person teams consisting of one adult and one child. Clae teamed with JR and I bowled with Stuart. One year Clae and JR won the Southern California tournament for one adult and one kid. They won free tickets to Washington, DC and represented California in the US tournament. All four of us went and really enjoyed the trip. The next year Stuart and I took second place in that tournament while our friends Ben and Phil took first. We secretly hoped they wouldn't be able to go so we could, but alas, they went.

Kids and Keepers was always fun with healthy competition and parties at the end of each season.

Stuart and I both rocked one day. I barely beat him but did manage to win high series that season with 676 pins.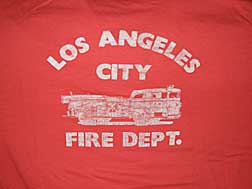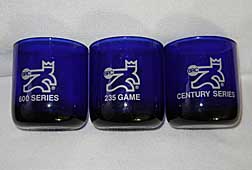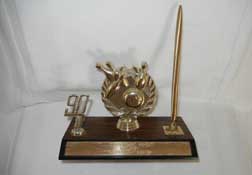 | | |
| --- | --- |
| 600+ series, 235+ game, 100+ over average | LAFD Champs - 90 |
| for 3-game series | |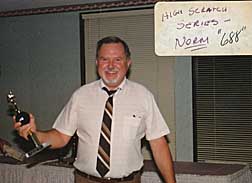 By far the longest and most productive association of my bowling "career" was with the Los Angeles City Fire Department league (LAFD). The league consisted of mixed teams of 4 people. Clae and I teamed with an LAFD Captain and his wife for many years during which he became a Battalion Chief. We were all regular bowlers and seemed to inspire each other. We won lots of awards and trophies.
One night we were somewhat behind at the end of the 8th frame. We ordered a fresh round of beer and all four of us struck out, adding 240 pins in the last two frames to win the game. In the big picture I guess we weren't that great, but we commanded significant respect in that league. I will never forget coming into the lanes the week after my 3-game 688 series and having this one guy drop to his knees before me.
Because most of the bowlers were fire fighters and their families the league catered to the three shift work schedule. Two shifts were available on a given day, while the third was on duty, so while two shifts bowled on Friday night, the shift on duty that Friday bowled on Thursday. It must have been a nightmare to plan for round-robin encounters, but because of that LAFD folks ran the league and neither Clae nor I got involved.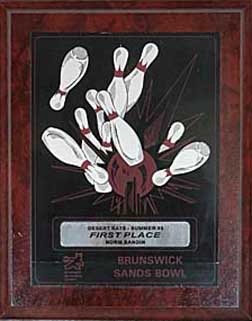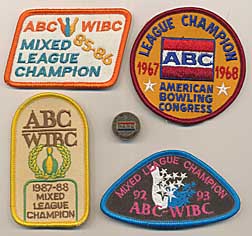 | | |
| --- | --- |
| Desert Rats – First Place S - 93 | Patches over the years |
After Clae and I separated I took an apartment in Lancaster, CA due to my work assignment. I joined two different leagues there. One was a normal evening mixed league and the other was a weekend day league. The first place plaque was from the weekend league. I found out after a while that most of the bowlers were from a local church. Towards the end of the season a lady from another team tried to convince me to ease up in favor of Larry's team because it was very important to Larry to win. She seemed to imply that it was the morally correct thing to do. Our team beat Larry for first place.
The evening league was an eye-opener. Perhaps I was naïve, but I always bowled the best I could and let the averages and wins and losses fall where they would. This league had folks who rather openly "managed" their averages. They would get together late in each game and estimate what was needed to just win the game. If it looked like the win was imminent, one or more of them would purposely miss a spare to keep average down and handicap up. Of course if needed they would do their best. I was shocked.
Before I moved to Hawaii, I donated all my trophies to the junior leagues in Lancaster. I kept all the brass strips from the trophies and "someday" I'll add them to the plaque shown above that we started many years ago.

When I moved to Hawaii I joined a mixed evening league and a weekend mixed senior league. The evening league had so much BS it just wasn't any fun. Average maintenance was blatant, but in addition to that, teams had lots of "extra" bowlers and they would tailor the team according to the quality of the opponent, sometimes substituting players between games.
The senior league was just a bunch of old people trying to keep active and it was OK, but there were politics, rules issues, cattiness, etc. that took away some of the fun. Also, I was one of about a half dozen haoles in the league and I learned about being in the minority.
All of that notwithstanding, I might still be bowling in the senior league, except that the bowling alley closed and the building became a self-storage warehouse. There remains another alley on Maui, but it is ancient with just a few lanes in poor condition and very little parking. So my bowling career ended.
Our friend who ran the Corbin Bowl in San Fernando Valley that we frequented for so many years moved to Maui soon after I got here. He had visions of building a big new facility and trying to attract tournaments from the mainland. His plans fell through and the last time I saw him he was guiding horseback tours through the Haleakala Crater and cleaning swimming pools. I think he found out that we locals wanted to pay about a dollar a line for bowling and he needed about $20 a line to pay for the mortgage.
AFTERWORD
Sound like a bunch of bragging? Let me put this in perspective. If you bowl in leagues, you win trophies, plaques, patches and pins. The leagues are set up for maximum winners with team 1st, 2nd, 3rd places plus high game and high series and then individual trophies for game and series, scratch and handicap, etc. dependent on the league and the imagination of the officers.
I never bowled a 300 game except in a no-tap tournament (285 was best). I never had a 700 series (688 was best). And I never carried a 200 average for very long. But for over 50 years I had a great time bowling with friends and family and I did have occasional good performances. If you bowled you can probably tell a similar story.