WHERE AM I TODAY? - 1
ANVIL LOCATION
I hated kindergarten! All the stinky kids, the rules and controls, the jerky movies with the blinds closed, they all disgusted me. I tried to convince Mom that I was sick, my stomach hurt, I felt nauseous, I had a headache and a fever, but that only worked once or twice. One day I was scourged off to school and decided to skip, but they found me so I couldn't try that again. Eventually, I settled down and started acting like a civilized human being (but I still secretly hated kindergarten, and never, ever got over all the stinky kids [except maybe one girl]).
The junior class always picked a boy and a girl from the kindergarten class to lead the grand march at the junior prom – guess which boy and girl got picked!
| | |
| --- | --- |
| | |
| | |
| I had to kneel with the girls – yuk! | Maybe girls aren't all bad |
Many Anvil memories and pictures are included in Ponogram #34 and there are mentions of Anvil in other P-grams.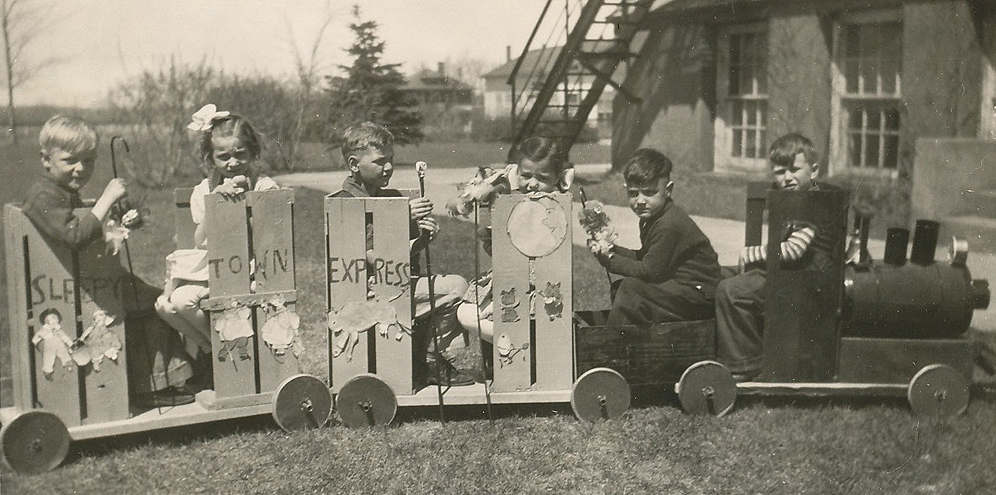 My turn to be engineer of the Kindergarten Sleepy Town Express
Dad's new job with the Michigan State Highway Department (MSHD) involved following the road jobs, wherever they were. He was working on the survey for US 2 across the Upper Peninsula (UP) of Michigan. For a while, Dad would spend weekends at home and drive to the job on Sunday night or Monday morning. That got old and expensive when dollars were scarce, so Dad built a house trailer to live in during the week and still came home on weekends. Then my sister Jean got married and they needed a place to live, so they moved in to the trailer in our back yard and Dad went back to commuting.
However, it was apparent that the distance to the job was going to get farther and farther, so another plan was devised. Jean would move into the house, my brother Bud would stay with the grandparents while finishing high school, and Mom and Dad and I would follow the jobs with the house trailer. And follow we did. Here are the dates of residence in each town and the school grades I attended in each. All towns are in Michigan.
| | | | |
| --- | --- | --- | --- |
| MOVE IN | MOVE ON | MICHIGAN TOWN | GRADE |
| 1938-09 | 1940-01 | Anvil | K, 1 |
| 1940-01 | 1940-04 | Watersmeet | 1 |
| 1940-04 | 1940-08 | Iron River | 1 |
| 1940-08 | 1940-09 | Michigamme (no school) | |
| 1940-09 | 1941-01 | Marquette | 2 |
| 1941-01 | 1941-03 | St. Ignace | 2 |
| 1941-03 | 1941-04 | Wakefield | 2 |
| 1941-04 | 1941-05 | Crystal Falls | 2 |
| 1941-05 | 1942-04 | West Branch | 2, 3 |
| 1942-04 | 1942-08 | South Haven | 3 |
| 1942-08 | 1942-08 | Battle Creek (no school) | |
| 1942-08 | 1943-08 | Ypsilanti | 4 |
| 1943-08 | 1945-07 | Dearborn | 5, 6 |
| 1945-07 | 1945-08 | Melvindale (no school) | |
| 1945-08 | 1945-08 | Fennville (no school) | |
| 1945-08 | 1945-09 | Kalamazoo | 7 |
| 1945-09 | 1946-06 | Jackson | 7 |
| 1946-06 | 1946-09 | Grand Ledge (no school) | |
| 1946-09 | 1951-06 | Perry | 8-12 |
For many of these towns I don't have a lot of associated memories, but Marquette, Dearborn, Jackson and Perry stand out.
MARQUETTE
I was absolutely thrilled! My teacher had recognized my birthday and given me a gift. I could hardly wait to get home and open it up. It was not a very big package, but coming from a teacher, it had to be wonderful.
Mom let me open it before Dad got home – it was a small jackknife, the kind every boy carried in his pocket in those times. Now I couldn't wait to get outdoors and find some wood to carve up. It was already too dark today, but maybe on the weekend.
OK, do I need to finish this story? I cut the middle finger on my left hand, had to have some stitches, got it caught in the car door the next day, it hurt like heck and bled some more, and to this day I don't remember what happened to that knife.
Geraldine Papineau Olson was a classmate whom I particularly enjoyed chumming with. One day when school was out I was talking to her as we walked away and pretty soon we were at her house. Her mom asked me in and not wanting to be a stick in the mud, I said yes. We had a cookie and started playing and in no time they were ready for supper and her mom said I'd better get home. Well, in the winter in the UP it got dark pretty early and so it was very dark when I got home. My folks were fit to be tied. It was very late and of course they had no idea what had happened to me.
I guess they got over it though, 'cause Geraldine and I continued to be friends and my dad used to mimic her and laugh because when asked her name she would say the entire thing and she had a cute little lisp that made Olson come out "Oten". Geraldine was only the first female of a great many to use her charms to get me in trouble.
A boy classmate lived with his father in a tarpaper thatched shack by the river. One day at his house we got hungry and had mashed potato and ketchup sandwiches. His mother was not around for one reason or another and the situation got me thinking. It resulted in an anxiety attack where I was sure something was going to happen to Mom, and Dad and I would be on our own with nothing to eat but mashed potatoes.
The cut on my finger, the scolding for not coming home from school, and the fear of losing Mom all faded away with time, but those memories will always be associated with Marquette.
| | |
| --- | --- |
| | |
| | |
| Handbuilt by Dad around 1938 | Purchased around 1942 |
BIG BLUR
After Marquette, there was a blur of towns. On one of the moves, I went from block letter printing in one school to cursive in the next. Since I never "learned" cursive penmanship, I guess my writing never was very good. In about 1942 we traded the home made trailer for a professionally constructed one.
In St. Ignace the combination of the sun reflecting off the perpetual snow and the perpetual wind off the water of the Straits made my face (the only exposed skin) "as brown as a berry". I blended in perfectly with the Native Americans who lived in that area. I also recall the wonderful smell of the candy which I think is still made and sold there.
Wakefield was almost a return to our home in Anvil, but of course the house was occupied by Jean and her family. The owner of the gas station where we parked our trailer helped me make a kite which flew beautifully. We kept adding string until it reached its limit. Dad took me on a long search for the kite but we never found it.
The main street of Crystal Falls is one great steep hill. The school was at the very top, so we naturally made arrangements to park the trailer behind a gas station at the bottom. The station owner had a daughter about my age who had a playroom above the station where we spent many hours.
West Branch provided a little variety since we parked behind a restaurant. Of course the owner had the obligatory daughter my age. I don't recall what the specific complaint was but I do remember her mother chasing me home one day when I was hanging around the restaurant.
Michigan was not a part of the usual range of the American chestnut tree, but I remember a friend having a huge beautiful one in his front yard. We collected the nuts and carried them and played with them, marveling at the size and perfection of each one. Just to be sure, I researched the blight that pretty much wiped them out in the early 20th century. Amazingly, there is a grove of some 600-800 trees near Cadillac, MI that have fought off the blight and remain to this day. Since West Branch is somewhat nearby, I suspect that is where I lived with the American chestnut that is so nearly wiped out today.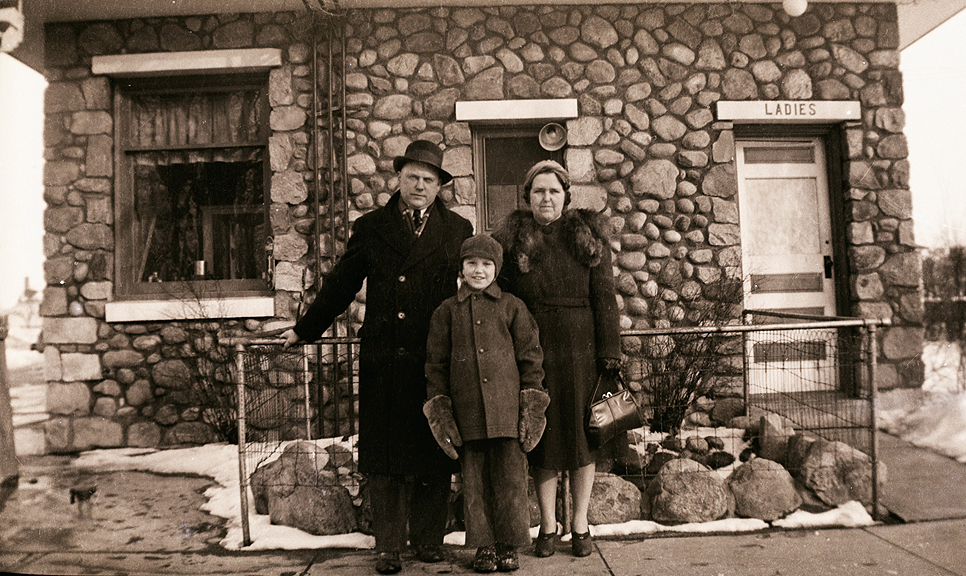 This gas station in West Branch was a regular stop for us
In South Haven we parked behind someone's home – maybe a fellow who worked with my dad. Only two events stick in my memory from there. Someone decapitated a chicken and proved the saying "ran around like a chicken with its head cut off". The other was getting chewed on by a neighbor lady for saying the word "heck". Strangely, I don't remember a little girl in that town!
Ypsilanti was the site of two vivid traumas and a couple of more pleasant memories. We had some sort of play about presidents in February. Teacher wanted whoever played Washington to wear long stockings with his knickers but he didn't have any. She surveyed the class and I was the only boy wearing long stockings. As if that public revelation wasn't bad enough, she wanted me to take them off and let what's-his-face wear them for the play! I refused and took a long time to get over the insult.
We lived in a trailer park in Ypsi and one of the other tenants had a couple of dogs. Once when they were away I fed and played with them. The dry dog food made its own gravy with hot water and the smell was one of the pleasant memories. The dogs were kept in a short chicken wire cage. They were not allowed out, so I went in the cage to deal with them. One day one of the neighbor kids locked me in. I was livid. When I finally got out I wanted to GET that kid so bad that my parents were afraid of what I might do. They stopped me until I finally came down from my anger, but I don't think I ever got over not having revenge.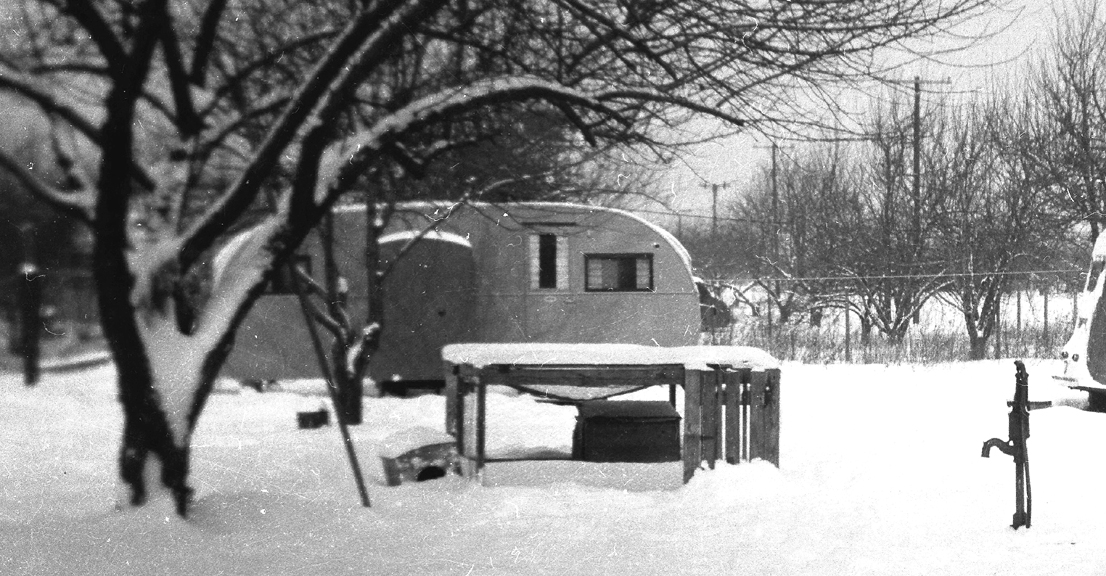 The infamous dog pen
Other good memories involved free fresh picked peaches from trees left over from orchards taken over by the state for expressways serving the bomber plant, fresh strawberries that we picked ourselves for 5¢ a quart, and a job I had gathering trash at an ice cream store and the sweet reward after I was done. Also I had a bike and a wagon and of course played house trailer. I would haul the wagon somewhere and set it all up and then pack it up again and haul it to another location. Play imitated life.
In retrospect, I guess the house trailer was a good psychological ploy by my parents. I got up in the morning in the same bed every day and it wasn't until I looked outdoors that I had to figure out where I was!
I was listening to some Hawaiian music as I wrote this P-gram and I wondered what Keali'i Reichel was saying so I found the jewel case for the CD. I found the Hawaiian portion, but then I read an English section that I have to quote for you. Apparently Lennon and McCartney had a hand in this also.
There are places I'll remember
All my life – though some have changed.
Some forever – not for better
And some have gone – and some remain.
All these places have their moments
With lovers and friends I still can recall.
Some are dead and some are living.
But in my life
I've loved them all.
My memories and the associated pics for this topic exceeded what I typically generate for a P-gram, so I split this one. Dearborn through the first year in Perry will show up in the next edition.