A WEEK IN SYDNEY
I'm not usually one to hold a grudge, and it's probably unreasonable to hold one against an entire country, let alone a major city, but to carry it for nearly 40 years without even giving them a second chance? I'll just relate the details and let you decide.
We were completing our assignment in Bangkok, Thailand and planning our trip home to California. We wanted to take advantage of being on that side of the world and see some sights, so I planned to use up all the vacation time I had coming and stop in some exotic places before returning to the grind. We would stop in Singapore, Bali, Sydney, and Papeete. Most of the flights were convenient enough, but getting in and out of Bali was not. They didn't have flights every day from Bali to Sydney and then only late in the evening. We signed up anyway.
Three days in Singapore went fine and three days in Bali worked OK also. Then at just about bedtime we got on a plane to Sydney with 6 large suitcases, a number of carry-ons (including a 30 lb. carved wooden frog purchased in Bali), and a 20 month old JR.
JR managed to sleep on the floor in a little cardboard bed supplied by the airline, but I don't think Clae and I got much sleep. The flight was 5 ½ hours, so we arrived in Sydney, Australia in the wee hours of the morning.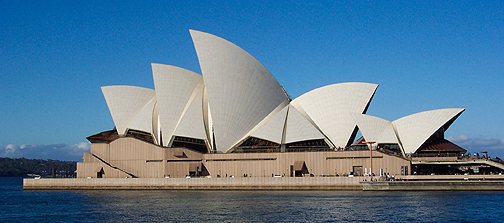 It was July, the middle of summer in Bangkok – but it was July, the middle of winter in Sydney. After having spent more than two years in Thailand, none of us had adequate clothing and it was cold! We had a receiving blanket to bundle up JR, and we opened luggage to find multiple layers of thin shirts and blouses for ourselves. We found a taxi and faced the next difference.
In Bangkok, we had two full time maids and a driver who was with us about 10 hours a day, but on call for more if needed. At home and most everywhere else we had but to crook a finger and our every wish was fulfilled. It could have been even better, but Clae insisted the maids call me Mister and not Master, and she wouldn't let them observe the 'no head higher than Master's head' rule, which would have forced them to their knees to hand me a drink when I was seated.
Sydney was different. The taxi pulled up to the hotel, the driver got out and opened the trunk and stepped back out of the way. After unloading the trunk, I paid the driver and he drove away. I had to wake the hotel clerk – no bellhops on duty at that time of the morning. Clae and JR guarded the biggest pile as I shuttled luggage from the curb to the elevator (at least IT was working at that time of the morning).
The room was frigid – since no one had been occupying the room, it wasn't heated, and apparently at that time of the morning, the heaters weren't working either!
The only thing open was a kind of pick-up store next door, so Clae went down to get some snacks to tide us over. She picked out a bunch of stuff and piled it by the cash register. The clerk totaled it up and she paid and that was it. They didn't furnish bags! I don't recall how she got that stuff up to the room, but I think I remember her looking a bit lumpy with a number of items tucked into clothing for the trip.
We finally got settled and warm enough to sleep and then slept well into the new day. We pulled ourselves together and went out to face the city. Not much in the way of restaurants was open, but we did find one. The menu was sparse. I ordered the lamb chops, having heard how wonderful they were. Right on cue, JR started fussing. Clae and I took turns walking him while the other ate. The lamb chops must have come from a day-old lamb – they were like a tiny kebob with only one little chunk of meat at the end. After this "snack" we set out to do a "walkabout".
Just a short walk from the hotel was a great park and we spent a lot of time there enjoying the outback (relative to the hotel, of course). The high-rise hotel had a pool on the roof, which was too cold to use at that time of year, but of greater interest to us, next to the pool was a laundromat with windows all around. Needless to say, with a 20 mo. old along, we spent quite a bit of time up there.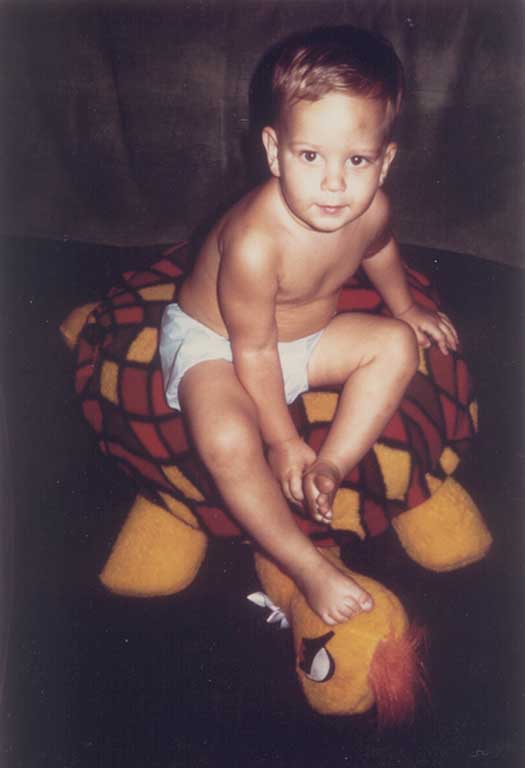 Another day we scheduled a bus trip to a zoo or wildlife sanctuary outside of the city. We took a taxi to the departure point on the Cay. The taxi driver made fun of us for pronouncing Cay to rhyme with "say". If they wanted to call something a "Key", why the heck didn't they just spell it that way? In fact, why didn't they call it what it was – a dock! And why would a bus tour leave from a dock, anyway?
On the bus to the zoo (I pronounce that to rhyme with "cuckoo", is that all right?), the driver asked for any non-Australians to say where they were from. Now just looking at us in our "layered-style" dress and wide eyed, confused appearance, I think one could guess we weren't from "around here". Since we were recently from Bangkok, but before that from CA, and before that .. da-da-da .. I couldn't decide what to say, so I didn't confess.
The zoo was interesting, but probably not a place for a kid. JR got into a blob of grease on a garage door hinge and it was a real mess to get off. We narrowly averted an international incident when he summarily kicked a baby kangaroo (I think they called it a joey, but they probably spell it with a "c"). Fortunately, since we didn't identify ourselves as foreign, they just assumed we were uncivilized locals and let it pass.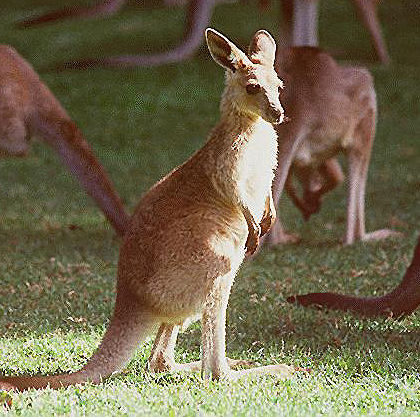 The bus trip back to the key was uneventful and all three of us got some sleep with the nice warm sun streaming out of the northern sky (!) into the bus windows. The sun set before we were dumped and of course it started getting cold.
Just a couple blocks away we found a taxi and felt lucky. The driver said "I'm not available." We asked how to get a taxi, since a couple had passed us by while we were signaling. The driver said we had to call! We were nearly a mile from the nearest phone. Anyway, to make a long story short, we walked all the way to the hotel, taking turns carrying JR, while the other cursed the taxi companies.
Another day while Clae was on the roof doing laundry, JR and I were in the room playing. For some reason, JR grabbed me by the ears and bonked me with his head. We both ended up with bruised foreheads. Thinking back on it, it seems JR needed a boo-boo on his forehead when he was an infant. This was only one example of many he experienced.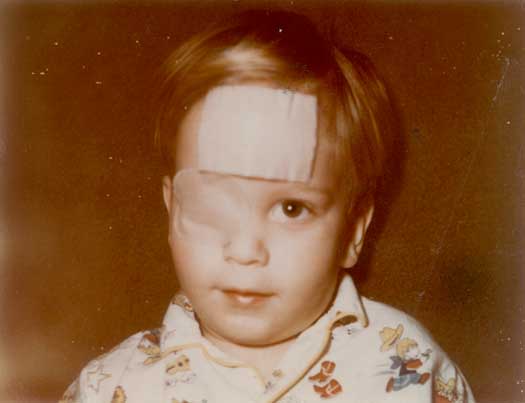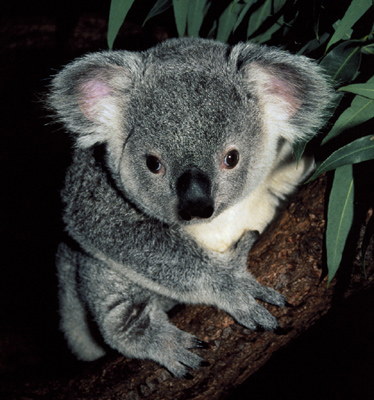 We added one more item to our carry-on baggage in Sydney – a koala replica for JR. They assured us that it was NOT koala skin, but rather kangaroo skin (I guess that made it OK), but it was a perfect image! JR loved it to death, literally. It got the name Nice and was a constant companion for JR. The fur was very pleasant to touch and the rubbing took its toll. Nice lasted a long time but went away completely bald.
The sun cruising across the sky somewhat low in the north never did cease to disorient me. My sense of direction just didn't work. Fortunately I never had to drive there, or I might still be trying to find my way back.
Sydney was and probably still is a beautiful city. However, in that year, and under those circumstances, it just didn't work for us. I would give city and country another chance, but for now, I'm not sorry JR kicked a choey!