Mamie Eleanora Tillner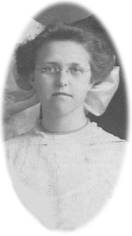 Mamie Eleanora Tillner was born July 17, 1896 in Bessemer, MI. Her parents were Albert Tillner and Frederika Johannesdotter. She attended Michigan State Normal College in Ypsilanti for two years after high school and obtained a teaching credential. She taught some in the Bessemer area including night school for immigrants going for US citizenship. Mamie married Clarence Carl Sandin December 26, 1917. They had four children, Jean Shirley, Clarence Carl, Jr., Neil Charles Jay (Bud), and Norman Albert. As we started traveling with Dad's work, Mom took a hiatus from teaching. In Melvindale in 1945, she did some substitute teaching, and in 1946 got a full time position teaching second grade in Perry. She continued to pursue educational opportunities and in 1952 obtained a Bachelor of Science degree from Michigan State Normal College. Mom continued to teach until her retirement in 1962. Picture is Mamie at her confirmation in about 1909. Mom and Dad were confirmed in the same class.
Mom was about 5' 2", although she seemed to shrink more than most people as she aged. She weighed about 110 pounds except for a couple of times in her younger life when she gained to a bit more. She started with dark hair, which turned to salt and pepper, losing pepper as she got older. She had beautiful, mostly white hair when she died.
Mom and Dad had anticipated retirement. They bought a cottage on Lake Gogebic in the UP and spent vacations getting it ready for permanent occupancy. They sold their house in Perry and moved into an apartment above the Perry bank to make themselves more mobile. In 1962, Mom retired at the end of the school year, I graduated from MSU and went off to Europe for the summer, Dad retired, and Mom and Dad moved to Lake Gogebic.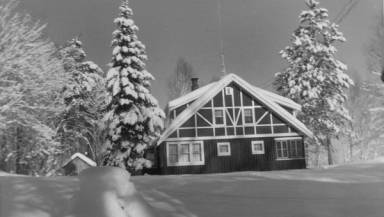 Initially, they stayed at the lake all year, theirs being one of a very few cottages occupied through the winter. Their friends the Pagodas lived just down M-64 from them, and they kept track of each other during the winters. Sometimes storms left them isolated for days until the plow got through.
They left their car in the garage at road level and had to deal with a fairly steep hill about 100 yards down to the cottage. In summer they could drive down to load and unload, but in the winter the drive was left snowed in. Dad rigged up a sled with a box strapped on and ropes on either end. Hauling down hill, Mom pulled the sled and Dad used the back rope to steady it and keep it from sliding away. Hauling up hill, Dad pulled and Mom steadied from the back.
Wildlife was a part of life at the lake. Dad tamed some of the chipmunks by feeding them unshelled peanuts. They would put their front feet on one's hand, tuck one peanut in each cheek and a third one… somewhere… and hop away, only to be back in seconds for seconds. Squirrels and bats were discouraged, but were nevertheless present.
Birds were rampant. Sparrows, bluebirds, cardinals, and robins proliferated. Mom maintained a bird feeder with seeds, and Dad put up suet in a chicken wire rack. Both appliances were just outside the dinette window, and many hours were spent drinking coffee and watching birds feeding.
Raccoons, porcupine, and skunks visited. Deer were often seen feeding in the yard. One winter morning, the suet rack was missing and bear tracks were all around the cottage.
Along with the rest of the wildlife, grandchildren flocked. One summer, Kim and most of Bud's kids all stayed with the folks for a while. They slept in the small cottage next door, which was usually called the White House. Dad told them not to show their faces in the morning until they saw smoke coming from the chimney, indicating that Dad had started a fire in the kitchen stove and the day had officially begun. The kids had a ball and still talk about it!
After a few years, the long winters wore thin, and Mom and Dad started spending them in warmer climes. Phoenix, AZ became their winter playground. Then they bought the house in Bessemer and stayed there in the winter and at the lake in the summer. Eventually the two residences were too much to keep up, so they sold the cottage. Finally they sold the house and moved together into Hautamaki's where they occupied a double room and slept in separate beds for the first time in their married life.
Dad took his stationary bike with him to Hautamaki's. He rode it nearly every day and used to brag about his total mileage. A friend visited him one day and Dad showed the friend that he was just a few miles away from turning over the 10000 mile odometer one more time. Less than a week after the visit Dad was dead. When I checked the bike, it was turned over and then some. He died in 1990. Dad was the oldest of a family of nine and outlived them all.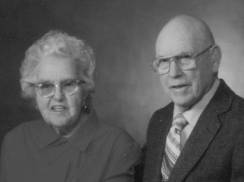 This picture of Mom and Dad was taken in about 1985.
Mom slipped away slowly, eventually becoming bedridden. Bud retired and moved to Bessemer to be with her. Bud and Mom's sister Rubie spent part of nearly every day with Mom in her final years. She died in 1993. Mom was second oldest of a family of nine and left two sisters and a brother.