Charles Eric Sandin
Charles Eric Sandin was born May 1, 1873 at Ljusnarsnäs farm, Ljusnarsberg parish, Örebro county, Västmanland district, Sweden. He was born out of wedlock to Brita Stina Jansdotter. His birth name was Karl Erik. Two years later Brita Stina married Per Erik Sandin (information on Charles' wedding papers says parents were Erik Sandin and Christina Johnson, the Americanized version of his mother's name). Per Erik was born June 3, 1840 in Ramsberg, Sweden and stayed in SE until his death February 17,1892. Brita Stina was born January 30, 1846 in Ljusnarsnäs, Ljusnarsberg, Örebro, Västmanland, Sweden and stayed in SE until her death November 10, 1907. Charlie had a brother Erik Victor, born December 23, 1878 in Stjernfors parish. Erik Victor took papers to come to the US in 1898. Erik apparently got no farther than Norway where he married and returned with his wife to SE. Erik died in Norway October 15, 1902. He left his pregnant wife in SE and she bore a son in 1903 and then returned to Norway. That son started a line in Washington state where there are Sandin descendants today (2011).
Charlie tended horses for a Count or an Earl in Sweden. Charlie left Sweden from Göteborg harbor on September 25, 1891 after traveling overland from Ljusnarsberg. He took the "Romeo" to Hull, England, with a final destination of New York. The emigrant agent he dealt with was C. W. Hällstrom of the White Star Line. He eventually settled near Bessemer, MI. A 'Carl Sandin', probably Charlie, filed a Declaration of Intention to become a citizen of the US on March 25, 1893 in Bessemer, MI. The same person (based on handwriting and reference to the aforementioned Declaration) became a citizen on May 19, 1902. County records indicate that Charlie was a US citizen at the time of his death.
Charles married Hilma Leontina Anderson on March 20, 1897 (Gogebic County records). Hilma and Charles were "half-first-cousins" (see Hilma bio). They had ten children, including one stillborn and two sets of twins, all born in Bessemer. The children in birth order were Clarence Carl, Arthur Leonard, Mildred Leontina, Elmer Victor, an unnamed stillborn, twins Kenneth William and Melvin William, Earl Roscoe, and twins Margaret Grace and Marion Grace. Arthur and Melvin died in infancy. Earl died in November 1918 and Hilma died a few days later - both victims of the flu epidemic. Clarence was in the army at the time. Margaret and Marion died in early childhood.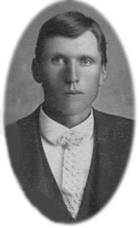 Everyone in the Anvil-Bessemer area knew Charles as Charlie. Charlie's experience with horses in Sweden led him to a job in the Anvil iron mine using horses to pull timbers for shoring the mine. He worked his way up to surface foreman in charge of timbers (often called surface boss), and eventually retired from the mine. He was also a Justice of the Peace. In 1937, Charlie married Lucille J. Kelly Tutt, who outlived him by just a few months. Charlie died on July 24, 1961 and is buried in Hillcrest Cemetery, Bessemer, MI. In northern MI, the family name was and is pronounced as if spelled "Sandeen", with the accent on the second syllable. This resulted in family records with the surname spelled Sandine, Sundeen, Sanden, etc. Many individuals in the family have tried to perpetuate this pronunciation, but eventually they all give in to a society that insists on pronouncing "in" as in. Picture is Charlie in about 1902.
Charlie was about 6' tall and remained relatively thin his entire life. He had fine hair that retained some of its brown color until his death. He spoke fluent English, but always maintained a bit of the Swedish accent. He was soft-spoken and dignified. He was the only person this author has ever known to actually use the words "like the dickens".
As surface boss in the mine, Charlie walked a lot, and after retirement he continued that practice. He and his second wife Lucille lived in a two-story house in Anvil. The house was on top of the hill on the east end of town, just after and across from the street that turns north to go downhill to Ramsay. Like most of the other houses in Anvil, it was a mining company house, and it rented in the early days for $4 a month. For comparison, the bungalows rented for $2. In the mid to late '50s, Charlie and Lucille moved to 613 E. Sellar St., Bessemer, where they lived until their deaths. That house no longer exists. A garage has been built on the lot.
| | | | |
| --- | --- | --- | --- |
| | | | |
| | | | |
| | | | |
| | | | |
| | | | |
| | | | |
| | | | |
| Unnamed | 9/6/1905 | Stillborn | Stillborn |
| | | | |
| | | | |
| | | | |
| | | | |
| | | | |