On 5/9 I flew from Maui nei to San Diego. Stuart (son) met me at the airport and we had a good visit, Mexican food, and margaritas. He had to leave on a business trip the next morning at 530a so we didn't stay up too late.
On 5/10 I met and had brunch with Chester Henry Larson. Chuck and I are ½ fifth cousins. We share a fifth great grandfather. Chuck descends from our common ancestor's first wife and I descend from his second wife. The two wives account for the "½" in the relationship. However, I'm holding out for extra credit (maybe ¾ fifth cousins). Turns out the first wife (Chuck's fifth great grandmother) had a sister who is MY fifth great grandmother based on another bloodline. So, Chuck and I share all the ancestors of these two sisters in addition to the aforementioned common ancestor and his ancestors!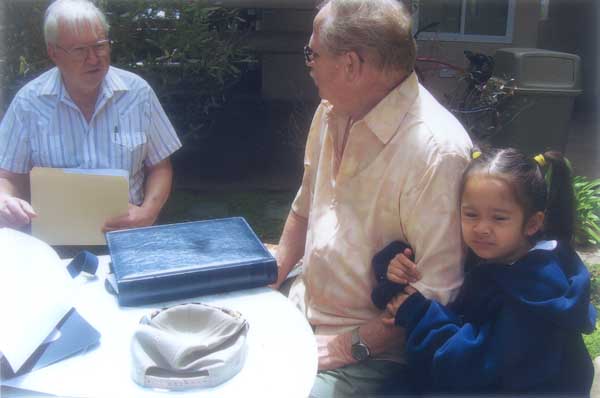 Pono, cousin Chuck, Aalana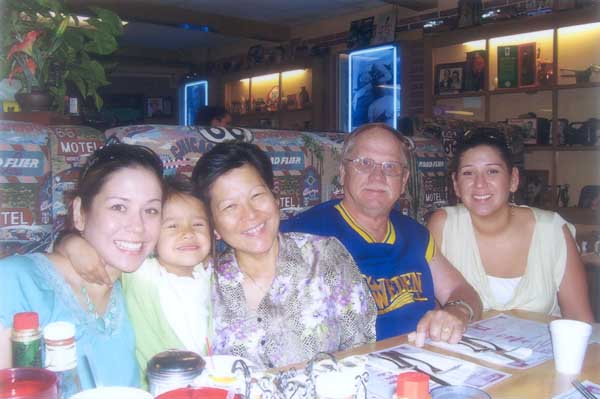 Chuck with wife, two daughters, and granddaughter
On 5/11 I drove up to Hemet, CA where my brother Bud used to live. I drove by his former home there and then left a note for his good friend Lea who lives nearby but wasn't at home. Dropped in on other friends Chuck and Vivian and begged a beer. Looked around a bit in Temecula, a huge bedroom community. Still lots of homes for sale for a wide range of prices.
On 5/12 I flew from SD to MSP. Picked up the Dollar rental car I had reserved while resisting the bait and switch. (Cleverly they tried to interest me in a sedan that was "more comfortable and gets better mileage" and only goes for $10 a day more.) Drove just a little way out of the suburbs to a Super 8 that I've had good experiences with and checked in. Walked over to the neighboring 24 hour restaurant and got there just after three ladies walked in and sat down. I sat at the next booth and recognized the lady facing me.
In SD when we were all boarding and getting settled the lady in front of me had some trouble getting her oxygen bottle hooked up and turned on. Since I was right there I helped her get it going. That same lady was the one facing me in the next booth and her two sisters who were on the same flight were with her. We had a good chat along with dinner and enjoyed the coincidence of our stopping at the same restaurant, some 40 miles from the airport.
If I can stop my mouth from watering, I'll tell you about my meal. I had liver and onions with bacon, mashed potatoes and gravy, cole slaw and a biscuit! Can't remember the last time I had that delicacy!
On 5/13 I headed for the UP. As I was driving along it occurred to me that I had the time and the opportunity to meet with Tory Sandin Stroshane in Ashland as I drove through, if I could just find her in the phone book. I stopped at the huge visitor center just west of town and was allowed to look her up and call her from there. (Note to self – plan to spend some time at the visitor center next time around – great views, interesting artifacts and even some genealogical resources.)
Met Tory, her husband and her daughter, had a great chat (I suspect that only a genealogist would agree with that evaluation) and continue to believe that regardless of all the similarities and parallels, our Sandin families have no blood ties.
On 5/14 I spent a few hours at the Ironwood Carnegie Library looking up obituaries. Found quite a few (primarily Carlson relatives) and also got data from local city directories. Met with Hub (brother-in-law) who still lives in the house my parents lived in when I was born. Hub observed his 90th birthday in February. He lives alone, cares for himself, mows his lawn in the summer and clears his driveway with a snow-throw in the winter. We had our usual rambling chat with many reminiscences. Hub looks great and seems to be doing just fine! I encouraged him to subscribe to Life-Alert or something similar and as usual he was way ahead of me – he has already been shopping for such a thing!
On 5/15 I had a serious attack of superlative deficiency! The library revealed to me and allowed me to use their new search mechanism for 100 years of local newspapers. The images have been available on microfilm for many years and a blessed lady looked through them and created an index of deaths. The process of finding obits has therefore been relatively painless. But now, (slobber, slobber) they have digitized the images, run them through an optical character reader, and created an index that is searchable by keyword and date range! …for 100 years of local newspapers! …that you can view and print! …that are free and available to anyone! INCREDIBLE!
(OK, settle down Pono, easy, boy, take a deep breath, have a sip of water.)
I input "king of Sweden" and "1907" and found a long lost article regarding a survey ordered by the king of Sweden as to what it would take to get migrants to return. I had been searching for the survey article since I found a reference to it in the book "Bessemer" by Rolando. ZIP – there it was!
I input "Sandin" and my birth year and got some 34 hits. I had time to look at only some of them but I found my birth announcement, articles about my father, brother, sister, uncle and other family members.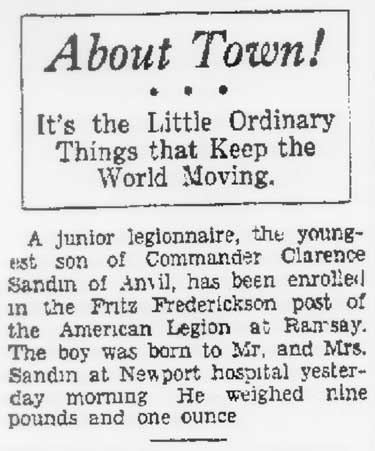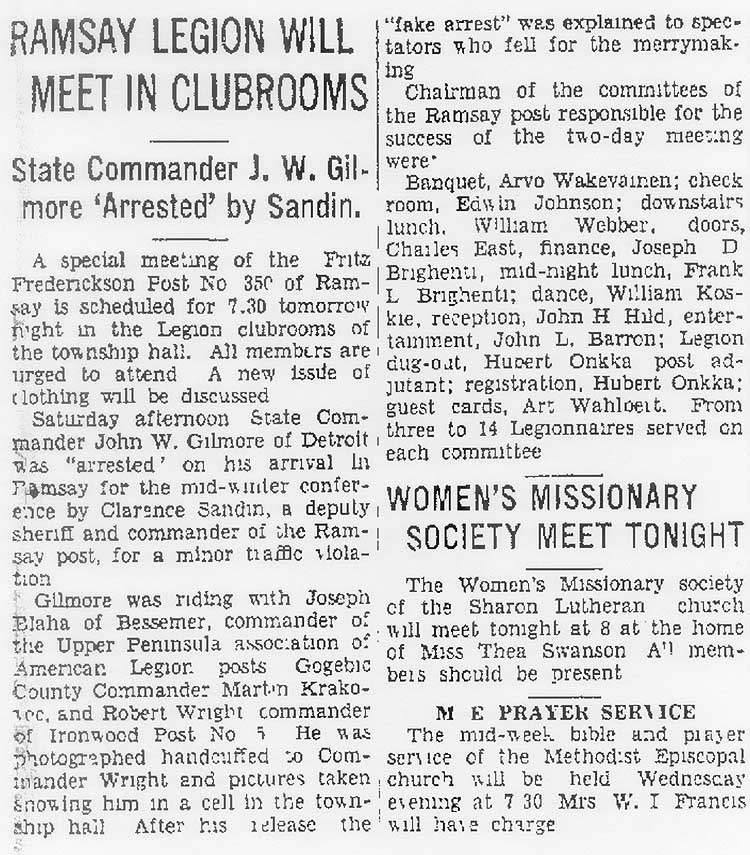 Now, the reality of it all. The system is still in work, not all newspapers or years are currently available, the software still has some glitches (took a while to get it running), and (worst of all) it is only available AT the library. However, the possibilities are enormous. That goldmine of images is sitting there waiting for me to start digging. Who knows what family mysteries will be solved, what unknown facts may be unearthed, what…..(OK, you're getting overheated again, Pono.)
Anyway, after the session at the library, I met with Roland (first cousin), his wife Carol and their son Craig (second cousin). I'm afraid I may have had some leftover slobber for them, but they seemed to tolerate it. We had a great talk, some wonderful baked goods, and a renewal of ties.
So, how long was I in the land of my birth? Two days, three nights, three pasties, lots of excitement.
On 5/16, I reluctantly left Ironwood and headed for Marquette. I got sleepy and stopped at a "scenic turnout" (or was it a "wayside" or a "rest stop" or a "roadside"). Whatever it was, it had a toilet, fresh, cool air, and a little river with a bridge and a walkway. Perfect opportunity to wash my rock in the waters with which it was familiar. I found a comfortable stone to stand on, dipped and washed my rock, and turned to leave. Surprisingly, the place I put my foot had no stone. Now, if I was clad in my normal sandals, it would be no problem. Shake my foot and let it dry! But no, I wore my only pair of shoes with socks and got soaked. Since I needed the shoes for the evening, I stripped the wet foot, put the shoe and sock in the sun on the passenger side of the windshield and drove barefoot.
That afternoon, I stopped at fellow Sweden lister Midge Waters' house in Negaunee. We had a good genealogical chat and I shared the article about the king of Sweden, since she had put that on her "watch" list at my request. After our chat, I drove on to Marquette, checked in, washed up, dried my sock and shoe, and took a short nap.
Around 630p I drove into Marquette to the Peter White Library. Some of the members of the Marquette County Genealogical Society (MCGS) were already there and I went about getting a laptop and the projector set up for my presentation. It took a while, but with several people contributing their chunk of knowledge about the equipment and environment, we succeeded. The group had their business meeting, Midge introduced me, and I gave an absolutely scintillating presentation about how I do Swedish genealogical research. Testamentary to the degree of interest is that only about 10 people fell asleep and only one actually fell out of his chair. Although I made it clear that my stipend was to be $7200 (just less than the current balance reported by the treasurer), all I got was a certificate for "outstanding contributions in the field". (Just kidding, Midge – I was thrilled by the recognition!)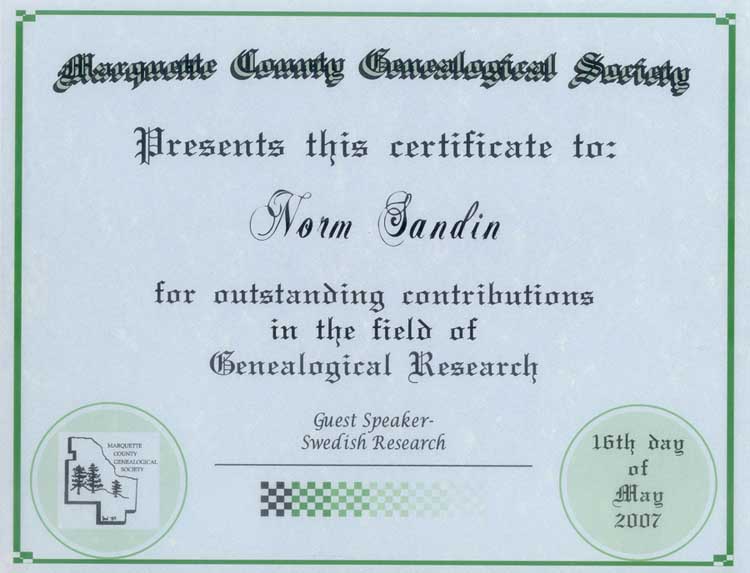 On 5/17 I headed east from Marquette on M-28. The highway is perfectly smooth, wide, with wide shoulders and wide cleared right-of-way (the better to see deer approaching the roadway). The terrain is rolling with many great vistas of Lake Superior. Add classical music from the PBS station in Marquette and you have an ideal journey. I thoroughly enjoyed that segment of the trip!
I drove through St. Ignace looking for the restaurant where I had a smelt dinner in 1998 and finally stopped at a place that felt right. Walked in, sat at a table next to the water, checked the menu, asked the waitress, and was crestfallen to find no smelt. Ordered lake trout and enjoyed the meal anyway. Near the end of the meal the waitress walked up and said "Guess what the special is for this evening?" Yep, they just got in a "mess of smelt" and it was the night's feature food!
I crossed the Mackinaw Straits on the big bridge, recalling that my father did the initial survey and soundings for that structure in about 1941. Celebration of the 50th anniversary of the completion of the bridge was just days away.
I found my motel, checked in, washed up a little, and went out for a walk. A couple of blocks away I went in the back entrance to a large mall. There was no one around although some stores were evidently open. Was this a movie set? Had there been a neutron bomb that killed all the people but didn't touch property? Was the place run by zombies who only came out after the sun went down?
I stepped into one very large store that specialized in Northwoods souvenirs and went through three large sections before finding a person sweeping. She told me that things didn't really start until after Memorial Day. The place had a skeleton staff and they were just getting ready, although if I wanted to buy something that day it could be arranged. From the size of the mall and that particular store, they must get tourists by the thousands in season! Out of season it is simply weird!
On 5/18 I cut straight south to Lansing and then east to Fowlerville where I found my home for the next few days, reported my arrival, walked around a bit and turned in for the night.
From 5/19 through 5/24 I spent time with Kim and Judy, Matt and Michelle, Kristy and Brad and kids Justin and Joel, Marian, Paul and Sandra, and Glenn. For those not familiar that would be my son, daughter-in-law, grandson and granddaughter-in-law, granddaughter and grandson-in-law with two great grandsons, Judy's mother, niece and nephew-in-law, and nephew.
This was my introduction to Joel and Michelle. Joel's birth and Matt and Michelle's marriage were events that occurred in the years when my wings were clipped.
I enjoyed seeing everyone, of course, but the two lads were definitely the highlights. I worked with Justin to identify a bird they had found injured (a woodcock), I played catch with Joel, we all watched some TV and exchanged crackers and cold germs, and I just generally got reacquainted with Justin and acquainted with Joel.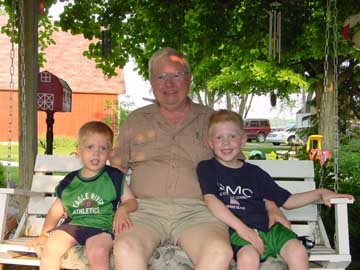 Joel, Pono, Justin
Kim and Judy showed me around Howell, a bustling community spreading out so fast the infrastructure can't keep up. Real estate signs on every corner, prices very reasonable (compared to Hawaii, of course). Brand new condos from as low as $110k!
They took me to a new seafood restaurant where I had (what else) smelt! Now smelt are not very big. They are usually gutted and decapitated, washed, lightly breaded and pan-fried. The tails and bones are about the same consistency as the breading and most folks simply eat them. This place, however, actually cut off the tails, deboned the fish and served them butterflied. With all that work for each individual (two to four bite) fish, it's hard to see how they can make a profit. Tasted great, though!
Kim works a few days a week at the day care center at his church. He and a partner take care of five kids who are just walking. A genuine "daddy day care" and he loves it! I visited him there and watched him in action for a short time. When I walked in unannounced I told the lady at the reception that I was shopping for a baby and I could just see her get ready to reach for the phone. Probably there are times I shouldn't be so flip.
I saw three or four live deer in the Fowlerville area and fair number of dead animals, I looked at condos in Howell and Williamston, did lots of visiting, enjoyed good traditional foods including lemon bars, potato sausage, coconut bars, and Swedish meatballs, and generally had a great time. I discovered that the Jeep I was driving had a proximity sensor in the back when it beeped as I got too close to a very low sign as I was backing up.
On 5/25 I met with my second cousin once removed Louis Anderson at the Michigan Library in Lansing. Lou is a retired Catholic priest from Grand Rapids. We had a good conversation about ancestors, life experiences (we each spent a couple of years in Asia), real estate (he has a condo in GR), and current families (he is helping me flesh out the branch that includes his sister). Lou is planning a trip to Oahu in September and will spend some time on Maui during that trip.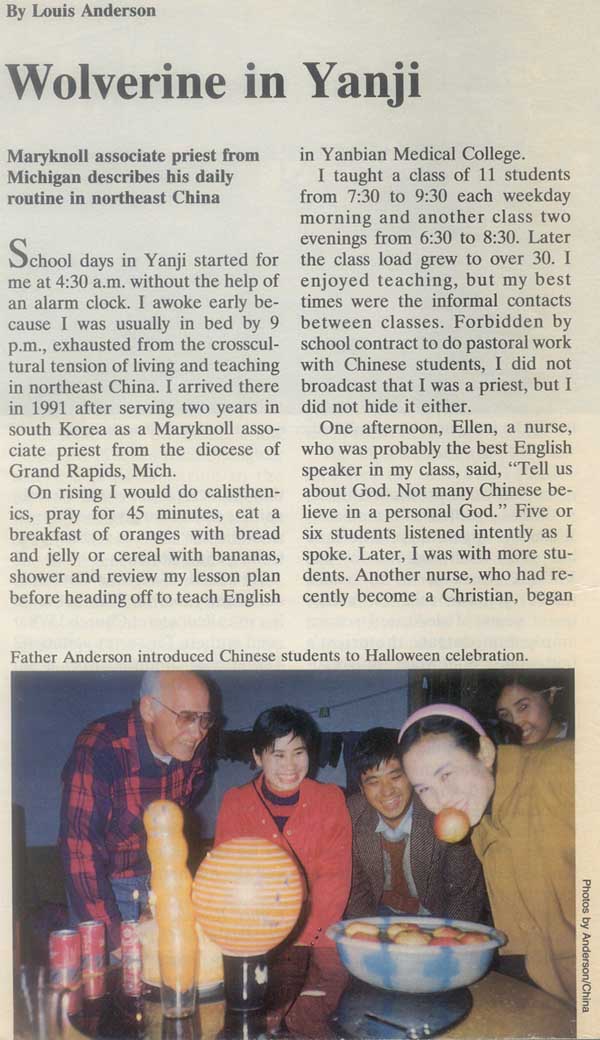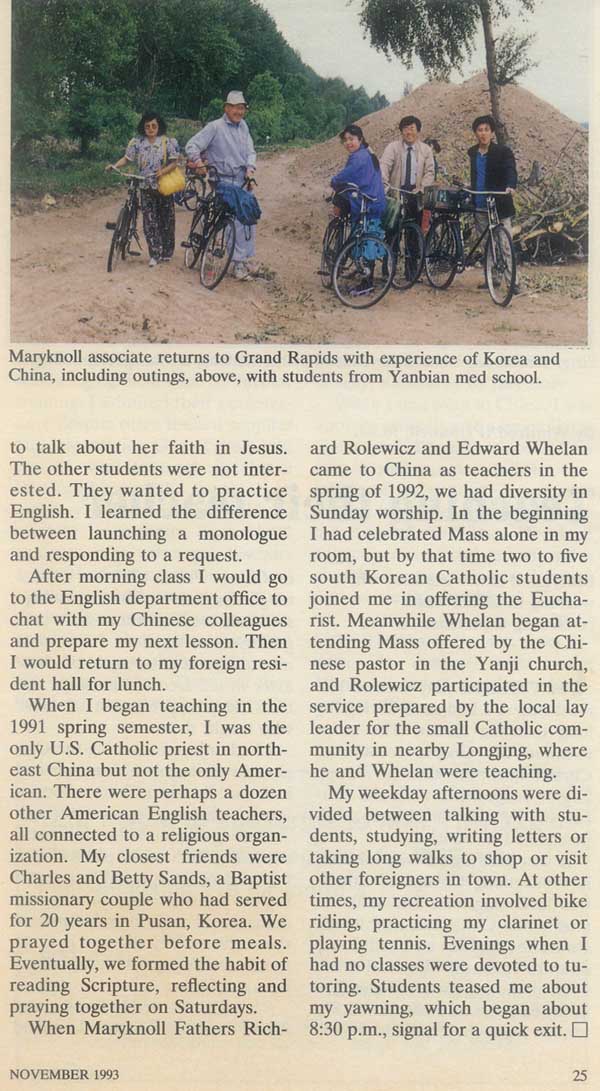 On 5/26 I headed straight south until I got into IN and turned west on the Tollway. That's a well maintained highway and a pleasant drive all the way to the 'burbs of Chicago. They have experimentally installed "animal presence sensors" on several miles of the Tollway. There are emitters and receivers parallel to the road every few hundred yards and when the beam is broken, a yellow light flashes on the post at one or maybe both ends of the beam. I did see one light flashing, but didn't see what caused it. The total price for that experience was $3.70.
Near the end of the Tollway I visited first cousin Charlotte, her husband Tat, and second cousin Bret (Charlotte's nephew). Bret and I have been in e-mail contact for a long time (he has graciously served as a conduit from me to Charlotte) and I know I saw him at Porcupine Mountains in the UP when he was just a kid, but it was good to "meet" him as an adult. We all talked family and health and Bret showed a CD he had made of video clips from their family get-togethers.
One of our discussions was about a set of "mystery photos" that surfaced some time ago on a website dedicated to info from the UP. I found an uncle and aunt in the photos and it turned out to be first cousin Roland's father's family. Again to shorten, the lady who posted the photos has concluded that they are all related to the Lindberg family. First cousin Charlotte's father and Roland's father were brothers. Charlotte looked over the thumbnails I had brought along and identified one of them as she and her sister Janet as kids. The lady who posted them delivered all the rest of the photos to Roland on Memorial Day. The mystery photos have found a home!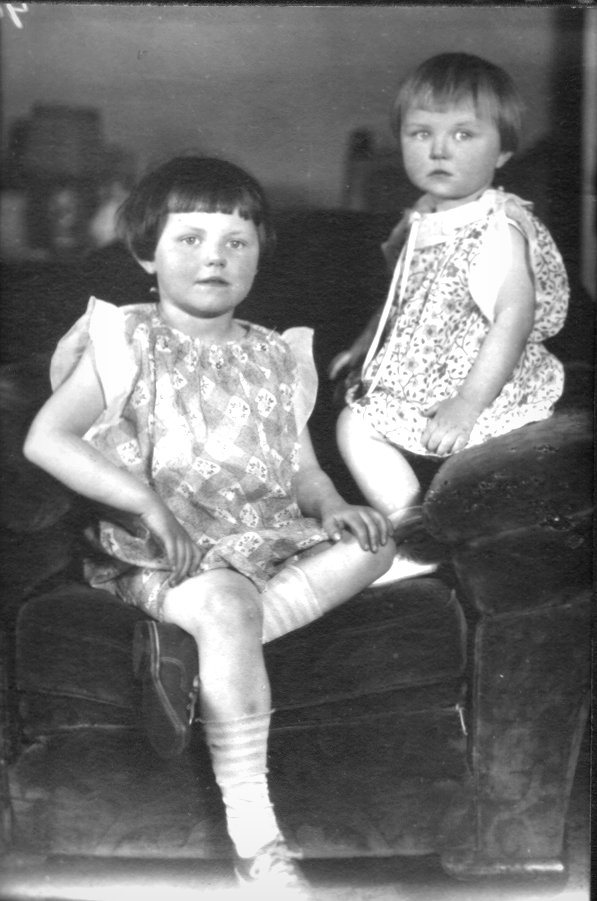 Mystery photo identified as sisters Charlotte & Janet from 1929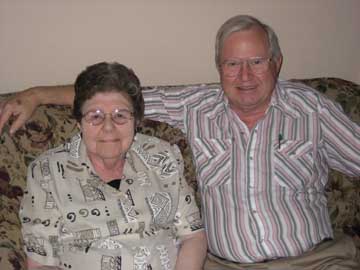 Charlotte and Pono - 2007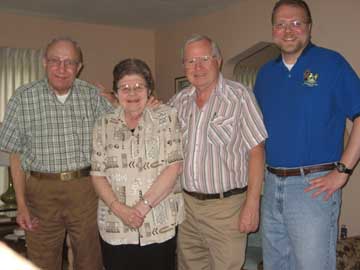 Tat, Charlotte, Pono, Bret - 2007
I headed north with a plan to get through the Chicago area and past the rest of the tolls. The Tollway was under construction with lane closures, narrowed lanes, reduced speed areas, heavy traffic, and of course the ever-recurring toll booth widening to about a hundred lanes. The sky opened up and it poured. On that unfamiliar Jeep I had to manage the lights, the wipers on the front and rear, and the window for each toll booth. Off ramps kept threatening to draw me off my path. By the time I got through the last booth I could think of nothing more than a room with a bed. Fares were 80¢ except for the last one which was either $1, or else the lady was making 20¢ per car on her own. I think those fares were all 40¢ last time I drove through.
I found a Courtyard by Marriott and crashed!
On 5/27 I visited first cousin Charleen and her husband Bill. We talked family and the human condition and I took off kind of early since I needed to do 200-250 miles to meet my travel goals for the day.
WI highways are a great place for a rule follower. If the speed limit is posted as 65, I set my cruise control to 67.5 and never had a problem. Almost everyone else did the same thing. I saw lots of police with their hair driers pointed at oncoming traffic. At one point a mini-convoy of two cars went by me at what I would guess was about 80 and I thought (probably actually said out loud) "They'll get theirs!" It wasn't 5 miles down the road that an officer had BOTH cars stopped. Don't know how that was accomplished at that speed, but it was. What a pleasure to see the rules mostly followed and actually enforced!
On 5/28 I made a quick dash back to the same motel I had stayed in after my arrival at MSP. I was forced into doing laundry before the plane flight due to a spill on my only pair of long pants. I got there very early, before the "special room" I had requested had been cleaned, so I drove around, found a cemetery, stopped and walked around (Memorial Day, you know). Now this may seem strange to you, but just as you can't understand WI geology without knowing about glaciers, you can't understand Pono without knowing about his interest in genealogy! It is not strange at all for a genealogist to wander about a random cemetery! I found lots of Scandinavian names, but no known relatives.
After the laundry finished I went over to the restaurant and had another liver and onions repast. When I came in I waved to the cook. He came over later to check on how I enjoyed the meal. I know he recognized me from the first time I was there.
On 5/29 my task was simple – slip into town, fill the car with gas, turn it in, check in to MSP and return to SD. I had done that many times before, knew exactly how it all went and expected no problem (what's that one about the best laid plans?). The gas station I always use is just by the Mall of America. I took the appropriate off ramp and there in all it's glory is the Mall – but wait, the gas station is supposed to block the view of the Mall. Everything was exactly right, but the gas station is now an open lawn.
No problem, I'll just drive to the next station. I went through industrial parks, green parks, lo-o-ong ramps, all kinds of airport services buildings, even a terminal, but no gas station. I stopped at a red light that I swear lasted 5 minutes. I would have run it since there was zero traffic, but there were 3 lanes of other cars waiting beside me. When I had just about had a conniption fit I finally spotted a station, pulled in and filled up. Since I didn't have a clue where I was I asked a guy how to get to the airport. He said Humphrey or Lindbergh terminal? I shrugged. I knew what to do from the old station but not from here. He directed me to the Lindbergh terminal and there I went. Things looked quite different, but it had been a while. I found a place labeled Dollar car return and followed the signs right back out. Second time around I found a sign that said leave car by Dollar sign, record mileage, etc., and stop at desk. I followed the directions but when I found the desk it was not manned. I found a box on the desk and left the keys and the papers.
Now, I'll shorten the story. I was at the wrong terminal for my flight. I had to take escalators up and down, shuttle trains hither and yon, more escalators, and finally found an appropriate counter where I was allowed to check myself in. I asked the lady if she thought I could do it and she gave me a big hand when I did.
On 5/29 I met my granddogs Bobo and Pig. They accepted me as one of the in-group. I got my feet wet trying to wash my rock in the ocean. Ocean Beach near the pier is posted with "NO alcohol, NO dogs" signs, but there are dogs and alcohol all over the place. Stuart and I went out for an early dinner and I tried and failed to stay awake.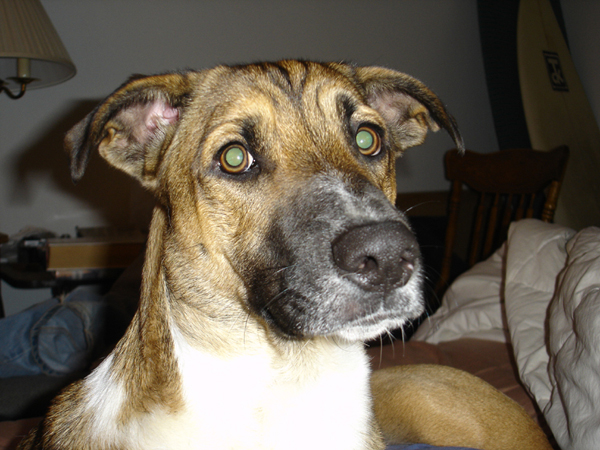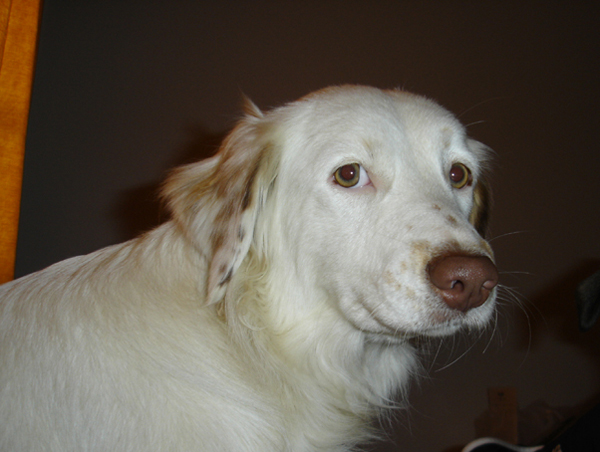 Bobo Pig
5/30 was devoted to a visit to Scripps Institution of Oceanography. I met several of Stuart's colleagues, saw the facilities, and experienced the view from Stuart's office. I didn't wait for sunset but the view is directly west – how can you go wrong?
We also toured the 'burbs of SD and saw another area ripe with real estate opportunities.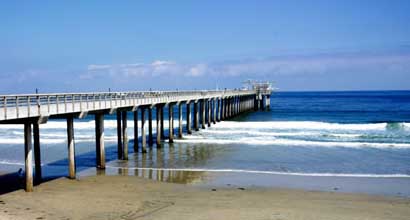 Scripps Pier - the view from Stuart's office
On 5/31 I returned to Maui nei and a many day recovery period! It is nearly over.
My "Midwest spin" this time was to fly in to MSP, drive north and east across MN and WI to Upper MI, east across the UP to the Straits, and then straight south to the Lansing area, where I spent the bulk of the time. Then I drove south to IN, west to Chicago, and north and west back to MSP for a return flight.
You might ask why I choose to drive so much. Part of it is because my interests lie in so many areas, and I'm not about to make a large number of tiny flights, but mostly it's because I love the drive and the direct exposure to the "heartland". I always end up with a set of observations that summarize the trip. Here are some of those thoughts.
Cheap big box stores, cell phone towers, fast food drive-throughs, Indian casinos and outlet stores have sprung up everywhere. SUVs and pickups fill the roads. Spring is doing its best and every farm has a huge lilac bush in full splendor, acres of newly mown lawn, and a pond complete with at least one pair of Canadian geese. The forests are greening with white lilies on the ground, the pastures are full of purple and yellow flowers, and the corn is as high as an elephant's toe. Scars left from snowmobile tracks and trails are healing and the miniature stop and slow signs that mark them plus the brush-free routes are all that remain. Increased activity of the deer is apparent with a dead animal so close to every 5 miles you can almost predict them.
Particularly in lower WI, the terrain is dominated by one moraine after another left by the glaciers. They are so prevalent and scream so loudly of their origin one begins to expect to actually SEE the glacier just over the next big one!
I stayed in 7 different motels in the Midwest and noted some interesting trends. Almost all offered Internet connectivity, either in the rooms or in the lobby. Almost all offered breakfast, ranging from a complete spread, through moderate offerings that included waffles and sausage-egg-muffins, through the basic cereal, coffee and bagel. Every motel had The Weather Channel available and it was important to watch it – every conversation starts with a review of today's weather. For obvious reasons, motels are turning green - compact fluorescent light bulbs ruled, and the green approach to laundry predominated (bedding changed every 4 days for longer stays unless you take action to have them changed more often, towels left on the rack are not changed – you must leave them on the floor or the tub). The savings must really be significant, if people act reasonably!
At home in Maui nei, I wear gym shorts and a raggedy old shirt. For "going out", I wear Bermudas and a non-raggedy (but still old) shirt and sandals. When flying, I really dehydrate, so I try to cover as much as reasonable. So, for the first time in more than three years, I wore long pants, shoes and socks. The socks felt really strange due to the neuropathy, and the shoes felt really binding since my toes were very used to being in the fresh air. I got to the airport early and decided to try to get my 2 miles walk in before take-off. Restrictive as the uniform was, I did about 2 miles of moderate walk. Then in SD, I did about a mile or so more. Now, I'm accustomed to doing 2 ½ miles a day in my sandals, but when I stripped for bed that night I had a beautiful blister on my great toe!
From Maui nei to SD, I gained (lost) 3 hours. The 3 days I spent there barely made up for it. From SD to MSP, I gained (lost) 2 more hours. The 4 days in that zone mostly compensated. From Ironwood to Marquette, I gained (lost) 1 hour. That change disappeared in the atmosphere.
Going back, I lost (gained) 1 hour from mid-MI to Chicago, again with little impact. From MSP to SD, I lost (gained) 2 hours. One day buffer in SD was not enough to recover. From SD to Maui nei, I lost (gained) 3 hours – I'm still recovering! I swear that man was not meant to travel through multiple time zones in a single day!
I don't know if it's old age or acclimatization or thin blood, but I really had personal thermostat problems. In SD I needed a jacket in sunny bright weather. In the UP I couldn't decide on berms or long pants, short sleeve or jacket, shoes and socks or sandals. In the car I used A/C and heater in the same day much more than once. In lower MI I caught a cold – the first in YEARS – runny nose and eyes, sore throat, sneezy (don't tell him, but I suspect the littlest great).
I know I've said this before, but maybe not to you. I return from travel with feelings much like those that occur on New Year's Day. I'm full of new ideas, plans, thoughts, concepts, and perspectives. Example – I was born during the recovery from the Depression. My parents were ultra-conservative and watched every penny. I was taught by example to "Use it up, wear it out, make it do or do without". You can see this in many (but not all) aspects of my life. This trip reminded me once again that $100 isn't the same as it was in 1940. Today, if a software tool costs $20 and will make my life easier, I should buy it, almost without thought. Face it, if I want a bottle of wine, or a meal, or a game of golf at that price or much more, I don't even think about it. Why, then, do I wear raggedy shirts at home, spurn thoughts of hiring someone to clean my condo, resist throwing out old, worn-out Christmas wreaths, and actually clip coupons for cents-off deals? These perspectives come under scrutiny when I travel and spend $200 a day (or more) on air flights, motels, car rentals, food and drink, gas, etc.! Will I change? We'll see!
Look back over the last 3 years or so. I drive to Kihei, Kahului, and Wailuku. I shop at THE Safeway, get my gas at THE Chevron, get mail and stamps at THE Post Office, buy some major items at THE Costco, keep all doctor appointments at THE Kaiser, occasionally make a cautious trip to an unfamiliar mall or a restaurant, and that's it! Now, I jump on an airplane and fly through three time zones to a place that most people still call "the States" and try to function there.
I KNOW how to function in the Maui environment I described and BASICALLY it's all the same in "the States", but every gas station has a variation on pump function (pay before or after, at pump or inside, etc.), many "big boxes" have self checkout now, every airport has its own security rules (belts, shoes, glasses off – or not) and every airline has its own check-in procedures (e-ticket self check-in – or not). The basics are the same, but the variations are infinite.
Wild example – I couldn't find normal labeled ticketing counters for Hawaiian Air when leaving SD. Hawaiian actually had three electronic terminals set up by the windows next to the Arrivals/Departures monitors with three agents. There was no line of people nor the usual luggage conveyor belt. The passenger enters a credit card on the terminal and so forth, gets a printed boarding pass and leaves checked luggage in a pile by the window. I'm thinking I could set up such a station and swipe tons of luggage before anyone stops me!
Hawaiian Air obviously has no clout in SD. In addition to the "check-in by the window", about a half hour before takeoff (and even before boarding started) the Hawaiian flight number was removed from the departures monitors and the information posted at the gate was changed to the next flight to leave from that gate (another airline – one with a real ticketing counter).
[Visitor number
since 6/15/07.]