Form Templates:
1 Form 2202-L-A
U. S. DEPARTMENT OF LABOR
IMMIGRATION AND
NATURALIZATION SERVICE
2 Form 500 B
U.S. DEPARTMENT OF LABOR
IMMIGRATION SERVICE
3 Form TBD
Type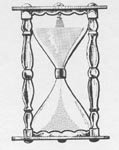 INTRODUCTION TO FORM TEMPLATES
In the course of genealogy research, I ran into a number of completed forms for my ancestors. Examples are "Declaration of Intention" and "List of Alien Passengers". Sometimes I had trouble reading them, both the handwritten or even typed parts, but also the row and column headings. I searched for blanks of these forms like there are for the U.S. Census forms, to no avail. So for the first of each such forms I encountered, I made a template.
For myself, I can copy the appropriate template and just add in the detail for my ancestor. The boiler plate on the form is then very clear and readable. Once entered, it is easy to cut and paste into Family Tree Maker or some other genealogy package, or share with other interested family members. The alternate to this is distributing copies of the actual forms and having each person struggle with interpretation.
I invite you to copy these templates for your own use. Please let me know of any errors or other suggestions. You can contact me at this email address.
Choose a form from the menu at the left.
[Visitor number