Clarence Carl Sandin
Clarence Carl Sandin was born in Bessemer, MI on February 17, 1897. His parents were Charles Eric Sandin and Hilma Leontina Anderson. (Hilma was born Jansdotter, may have used Johnson in the USA, but most likely used Anderson, her father's surname.) He married Mamie Eleanora Tillner on December 26, 1917. They had four children. The children in birth order are Jean Shirley, Clarence Carl, Jr., Neil Charles Jay (aka, Bud), and Norman Albert (more recently known as Pono).
Clarence quit school during or after the eighth grade, in about 1911. He pursued many things in an effort to make a living. He was a house painter working for his Uncle Hjalmer Ekman and a clerk at the Anvil store where he also did grocery delivery. He worked for the Standard Oil distributor in Duluth, MN (and probably stayed with the Danielson's there) for some time just before going into the Army. He served in the Army for just a few months and was discharged shortly after WWI ended (8/28/1918-1/10/1919). He was stationed at Fort Custer, near Battle Creek, MI, and never left the United States. He was in Company E, 14th Ammunition Train, 14th Division. Clarence told of eating raw onions to keep from contracting influenza, and of accompanying bodies of victims to their homes on the train. Mamie joined him in Battle Creek and worked at Kellogg's in the cereal factory. Picture is Clarence at his confirmation in about 1909.
(Note from the author: In the following, I often referred to Clarence and Mamie as Dad and Mom, and other family members by relationship or nickname.)
After his discharge from the Army, Dad worked at the Anvil Location iron mine (Youngstown Mines Corporation) where he drove horses, trucks, and an ambulance on the surface, and was also a diamond drill operator in the mine. He probably sold suits for a while concurrent with other jobs.
Dad was interested in politics and sought to get into public office. To enhance his chances, he became a Watkins products salesman in 1929. This door to door activity gave him the opportunity to meet and make himself known to many people. He also served as a constable in Ramsay. He joined the Ramsay post of the American Legion and became Commander. These exposures worked, since in 1930 he was elected and served as Township Clerk.
In 1933, Dad got a position with the Michigan State Highway Department (now the Michigan Department of Transportation), where he remained occupying a variety of positions until his retirement in 1962. He started out as a rodman on a survey crew making $100 a month. In this position, he helped to establish the centerline for the western half of US 2 through the swamps and forests of the Upper Peninsula of Michigan. In early 1941, he worked on the original survey for the Mackinaw Straits Bridge. He often told of driving the truck across the ice with the door open in case of a crack. They took depth soundings of the straits.
Dad recognized the need to stay mobile when working for the MSHD, so he built a trailer soon after joining them. We stayed in the trailer one summer parked by Massati's farm between Wakefield and Marenisco, another period at the Gogebic County Park on Lake Gogebic, and another at Gladstone in 37-38 when I was in Kindergarten. These brief stays were a harbinger of things to come. Jean and Hub moved into the trailer behind our house in Anvil when they married.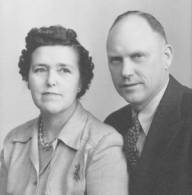 In early 1940, Dad, Mom, and I moved into the trailer and Jean, Hub, and Sandra took over the house in Anvil. Bud was a senior in Bessemer High School and elected to stay in Anvil to finish. He stayed with the Tillners and with Grandpa Sandin and Lucille for varying periods of time while Dad, Mom, and I took off. From that time until we bought a house in Perry, MI, we lived in the trailer in (approximately) 20 different towns and I went to 15 different schools.
At some point, Dad got involved with highway construction during the summers and became known as one of the leading concrete slab inspectors in the state. During WWII he worked on the critical expressways that serviced the Willow Run Bomber Plant near Ypsilanti. He also spent some time as an inspector in the storm sewer system under the city of Detroit.
In the late 40's, Dad secured a wintertime position working in the MSHD experimental laboratory at Michigan State University in East Lansing, returning to the highways in the construction season.
Eventually he took over the MSHD supplies depot for the entire state located in Lansing. He occupied that position as departmental executive until his retirement in 1962. Mom, Jean, Bud, and I all attended his retirement luncheon in Lansing.
Dad was 5' 10" tall and weighed about 160 pounds except for certain periods when he gained a bit more. He had a proud bearing and purposeful stride. He had male pattern baldness starting in his 30s and died with just a fringe of white hair. Dad was a life member of Perry Lodge #350, Free and Accepted Masons.
| | | | |
| --- | --- | --- | --- |
| | BIRTH DATE | DATE OF DEATH | AGE AT DEATH |
| Clarence Carl | 2/17/1897 | 8/2/1990 | 93 |
| Mamie Eleanora | 7/17/1896 | 9/29/1993 | 97 |
| Jean Shirley | 5/27/1919 | 7/22/1985 | 65 |
| Clarence Carl, Jr. | 11/27/1921 | 11/28/1921 | infant |
| Neil Charles Jay | 7/29/1923 | 4/28/2004 | 80 |
| Norman Albert | 9/11/1933 | Hanging | in there! |